Why Will Mortgage Professionals Fail To Reach Potential Clients in 2023?
As the mortgage industry continues to evolve and grow, mortgage professionals will face increasing competition for potential clients. This is mainly due to the rapid pace of technological innovation in the financial sector, which has made it easier for consumers to access loans and other financing options online.
To remain competitive in this evolving landscape, mortgage professionals must develop solid relationships with potential clients and provide high-quality customer service. This may involve offering personalized attention and support and using sophisticated marketing techniques like targeted advertising and social media outreach.
Ultimately, if mortgage professionals can adapt to changing market conditions and provide top-notch service to their clients, they have a good chance of remaining successful well into the future. However, if they continue to rely on outdated strategies and fail to adapt to the shifting needs of consumers, they may find themselves struggling to reach their potential clients in 2023 and beyond.
The 7 Biggest Mistakes That Cause Mortgage Professionals To Fail

1. Consistency
The biggest threat to businesses and the careers of independent professionals is a lack of cash flow. Making money without a degree often takes weeks, sending your career or company into an irreversible downward spiral. To surpass this, you must be consistent in marketing your new releases. Keep the processing department full of files and stacked graduation schedules.
But too many mortgage professionals only work in bulk. They do a little marketing and prospecting. Submit a few loan applications, then sit back and wait for payment. They're just too busy managing active applications or making enough money to pay their bills and epic happy hours that they're just thinking about the rest of the month.
Sometimes these loans are open and converted into dollars. At best, these mortgage professionals are starting from scratch next month. Consistency in marketing, prospecting, and income, is very risky and the quickest way to go.
It doesn't matter what kind of marketing you do. All media consistently produce the best results. This includes direct mail, phone calls, magazine ads, blogs, email marketing campaigns, and social media. With all the automation tools available today, there's no excuse not to use multiple marketing channels all the time on autopilot.
2. Not Being There for Inbound Leads

Mortgage inbound leads are generated from organic search, banners advertising mortgage refinance, email, and social media ads. Acquiring inbound leads is relatively easy. Too many mortgage professionals and real estate professionals drop the ball to handle these leads. If you can or want to take lead calls, you're saving money on marketing.
It's much better to break up incoming leads so you can bring them to life than struggle to follow up. Significantly improve conversion rates and marketing ROI. If you want, spread your budget further to generate even more daily calls and get it a few days a month. You can do it quickly by choosing the right features in your Google Adwords and Facebook Ad Manager account.
3. Not Closing & Asking For The Sale
We often avoid or hide from tough sales pitches from old-fashioned salespeople. However, closing without imposing a commitment and asking for a sale is a wasted opportunity. Some people need an extra push to apply and commit. When offering a well-used loan, you need to make sure there is added value. Help potential borrowers move on to the next step in the process. If it doesn't work the first time, touch it. Even when potential borrowers have concerns, they often sit at home waiting to call, text, or email to request a purchase.
Read More: MORTGAGE PAID MARKETING ON LINKEDIN FOR MORTGAGE PROFESSIONALS
4. Not Making The Most Out Of Every Lead
The mortgage professionals doing the most deals right now have worked to fill the pipeline last year and the year before. Instead of hanging up or blowing up faint prospects, add these contacts to CRM for mortgages. They immediately begin to nurture them and keep in touch. Many of these prospects are now ready to buy. They have better credit scores and have collected all the necessary documents to sign a loan.
5. Not Understanding Lifetime Value
Many mortgage professionals need help understanding or have never calculated the concept of customer lifetime value. Give it a try. You may be overwhelmed by the value of each prospect and new customer.
If you only make $3,000 on the average closing, it can add up fast. If you start a relationship early by helping a borrower with a starter home, they may end up moving and needing a new mortgage an average of every 5 years. To put it mildly, you could also use 10 years. If you get them on their 20th and make their last loan on the 70th, that would be $18,000. There's a good chance they'll buy a second home and at least one of their investment properties around this time. If you do a good job, they should be able to introduce you to at least one deal every time they do business with you, which means they're worth at least $48,000. You can also create this number for each transaction if you operate in the high-end market.
If each prospect was worth $48,000 or $480,000 or more, could you treat them a little differently? It should influence how much you invest in maintaining and nurturing them.
6. Failing To Accurately Calculate Cost Per Lead

When it comes to mortgage professionals, you want to ensure that you get the best return on your marketing investment. Among the most powerful digital marketing strategies is Facebook Ads – and mortgage professionals should leverage this platform.
To balance your accounts and accurately compare marketing decisions, you need to know your cost per lead. Many people don't. Or at least skip most of the math. If you don't know your exact cost per lead and cost per close, you'll either miss out on profitable new options that may be cheaper or go bankrupt by wasting money on options that are too expensive. Consider time and money to create marketing articles, set up new campaigns, and edit them.
Overall, mortgage professionals must pay careful attention to their cost per lead when using Facebook Ads to create a successful marketing campaign. Being mindful of the target audience, placement and budget will all help mortgage professionals get the most out of their investment on this platform. With smart strategies and a practical approach, mortgage professionals can ensure they get the best ad spend return.
7. Not Taking Advantage Of Marketing Automation

Mortgage Professionals are among the most important players in the home-buying process. Unfortunately, many Mortgage Professionals have yet to take advantage of marketing automation, a powerful tool that can help them reach and convert more customers.
Marketing automation is a strategy companies use to automate their marketing processes, such as customer segmentation, email campaigns, lead management, and content creation. It enables Mortgage Professionals to have better control over their campaigns and generate leads more efficiently.
By utilizing marketing automation tools, like Go High Level, Mortgage Professionals can increase efficiency in several areas:
Streamline communication with clients by automating emails based on rules set up within the system.
Personalize messages to match client preferences, interests, and lifestyles.
Automatically segment leads based on their activity and targets them with the right offer at the right time.
Track user engagement with campaigns such as emails and web page visits to refine future campaigns.
Mortgage Professionals can also use marketing automation to build relationships with clients after they close their loans. By leveraging the power of automation, Mortgage Professionals can send automated emails that keep clients updated about their mortgage payments and other relevant information.
Read More: THE BEST CUSTOM MORTGAGE CRM FOR YOU: GO HIGH LEVEL
The Bottom Line
Despite their best efforts, mortgage professionals will continue to need help to reach potential clients in 2023. At the core of this issue is the fact that many clients today are looking for more personalized and tailored services when it comes to securing a mortgage. Mortgage professionals, however, are often limited by strict guidelines imposed by lenders and regulators, which can make it difficult for them to provide individualized solutions or offer competitive rates.
For mortgage professionals to stay competitive in this evolving landscape, it will be essential for them to invest in innovative technologies and strategies that allow them to provide tailored services, build strong relationships with clients, and offer competitive rates. If they do so, they can avoid losing their clients to other market players who can meet their needs more effectively.
Hiring a digital marketing agency is cost-effective for companies looking to improve sales and grow their business. Digital marketing agencies help companies attract new customers, improve brand awareness, and generate more revenue.
Results That Gold Lion Technologies Are Generating for Mortgage Clients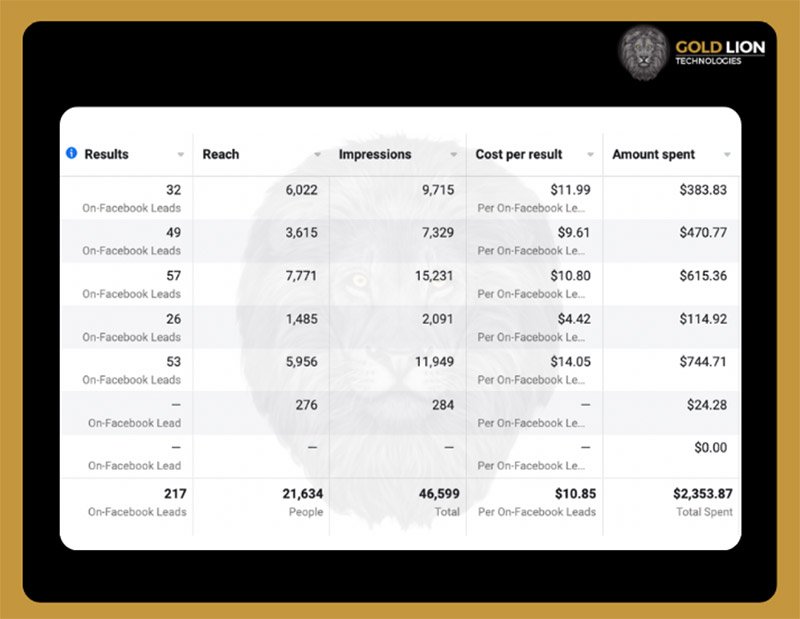 Ready to start growing your business with Gold Lion Technologies? Contact us for a FREE 30-minute business audit.