Mortgage Paid Marketing on Linkedin for Mortgage Professionals
LinkedIn is an essential tool for mortgage professionals. When mortgage loan officers consider LinkedIn marketing, they think about their profile, network building, and the organic reach they might attain with these marketing tools. However, LinkedIn has a powerful advertising platform that may be of benefit to lenders. Creating mortgage loan advertisements on LinkedIn can help you attract new leads and referrals. Today we'll go through how these campaigns work and show you how to design your own campaign that works best for your company.
The Fundamentals
If you're looking to use LinkedIn ads (which are similar to Instagram and Facebook), there are two steps involved. The first step is creating your campaign, and then secondly, crafting the ad itself. Let's go ahead and get started with learning how to set up a campaign.
The First Step to Success is Creating Your Campaign
Unlike Facebook, your LinkedIn advertising will not be hosted on LinkedIn itself. Instead, they use a separate system called the LinkedIn Marketing Solutions platform. To get started, simply click the "Create Ad" button.
If you've never been to the campaign manager, you'll be prompted to create a Campaign After right away. You'll be taken to the dashboard after completing that relatively simple step. Unlike Facebook, LinkedIn actually requires you to supply payment information before allowing you access to other features (Don't worry; entering your payment data will not result in any fees being charged to your account).
You'll find the Create campaign button on the top right of the screen, as well as a pair of buttons on the left side of the window labeled "Create Campaign." After you click that button, you'll be taken to a page where you can begin setting up your campaign.
Create a Campaign. To begin, choose which Campaign Group you wish to store your campaign in and give it a name. The most straightforward method to categorize campaigns is to utilize campaign groups. For example, you might run distinct ad campaigns for purchasers and sellers or different loan programs. If you want them kept separate, make separate campaign groupings for each kind of thing.
Read More: HOW CONTENT MARKETING FITS INTO YOUR MORTGAGE BUSINESS
The campaign name is for your own reference (it's not public-facing), so we recommend you give it a unique name that is easy for you to remember.
After you complete those two steps, begin setting up your campaign.
1. Choose Your Goal
You can select from various objectives for your campaign, and LinkedIn will adjust your ad based on your choice. This objective-triggered system creates an easy and efficient user experience by taking care of customization, ROI delivery, and reporting. Here is a list of available objectives to choose from:
Website Visits (Awareness)- LinkedIn states that these types of ads will also improve brand awareness. Consequently, if your brokerage has a new loan program that you want to make people aware of quickly, a website visits ad is the best way to go because you can create an ad specifically designed to drive traffic to the page on your brokerage website where all the loan program features and details are explained.
Engagement (Consideration)- Getting traffic to your LinkedIn Company Page is a typical problem for mortgage professionals. Engagement advertisements assist you in displaying an article you've written or your company page itself to potential customers, letting them learn more about the services you provide.
Video Views (Consideration)- These ads aim to cause your videos to be seen by people who will more than likely enjoy them. Let's say you post a lot of videos about past client testimonials or mortgage market conditions, for example. If that's the case, video views ads are an ideal way to get your footage in front of individuals who would find it most valuable and are, therefore, more likely to engage with your video content.
Lead Generation (Conversion)- A LinkedIn lead generation form will be shown to those people in the group who are most likely to engage with it. This form will have your ideal prospect's LinkedIn profile data pre-filled.
For example, if you were conducting a real estate investing workshop or webinar, you might distribute an ad to the rich people in your market, informing them about it. When they click the call to action button, a form (similar to a Facebook lead form) will automatically populate all of their information, making it very simple for them to sign up for the event.
2. Audience
After you've defined your target audience, the next step is choosing all the options in the setup window to ensure optimal results for your ads. This process begins by reviewing your client personas and ensuring they're up-to-date.
To start, click "+ Add new targeting criteria." From there, you will be able to finish choosing your ideal target audience by going through the rest of the available demographic details.
3. Budget & Schedule
After you finish your product research, it's time to set up your campaign budget, scheduling, and bidding options. You should begin with a modest daily ad spend to test its effectiveness; if the results are what you want after a few days, you can increase your budget. If not, it's wiser to start small like this as it conserves both money and allows you the chance to try another variation of your ad.
For example, suppose you want to advertise a loan program for income property in the high net worth sector. Rather than committing fully at first, you opt to spend 30% of your daily ad budget for testing purposes. As a result, you discover that your target audience is failing to convert and click through the lead form in the advertisement. By testing this ad early, you save yourself from waste. You would have spent your entire budget with no resultant increase in business ROI. The message is clear: test early and often test for the best results.
The campaign's scheduling process is simple. Select a start date for your campaign. You can choose whether or not your campaign should run continuously until specific end date.
4. Conversion Tracking
LinkedIn provides a valuable tool to measure the success of your ad campaigns through conversion tracking. By setting up conversion tracking, you can see which ads are performing well and adjust your campaign accordingly to get the best results.
Click "+ Add conversions." A new window will appear, where you can name your conversion, choose your settings, and decide how you want to track the conversions. A helpful "cheat sheet" will also pop up on the right side of the screen with instructions.
That concludes our campaign setup. Now it's time to get down and dirty with ad sets.
Ads That Will Help Your Mortgage Business Thrive
Now that you understand the basics. Let's discuss some specific ad types and campaigns to run so that people begin to recognize your brand, get more leads, and establish yourself as an expert in your field.
Single Image Ads
The single image ad is a great way to get your ideal customer clicking through to where you want them. The ads consist of only an image and some accompanying text.
If interest rates have decreased and you want to advertise that now is a great time to refinance, you could use one image in your ad campaign that links to a mortgage website's landing page. Keep in mind, though, that the LinkedIn ads for refinancing need to look different than Facebook's. This is because LinkedIn has a more professional setting than other social media platforms. Therefore, when creating these ads, remember who your target audience is on this site.
Working professionals who are constantly pulled into tedious meetings can easily relate to an image of corporate people in suits. As a result, you should use this kind of imagery in your ad copy. Moreover, craft your ad copy to speak to some of the pain points faced by your ideal client–in this case, a corporate executive. Automated systems that offer refinancing services without any hassle may appeal to them. You should focus on highlighting features in your product or service that address these pain points. You can quickly get their attention by guaranteeing in your ad that they don't have to take time out of their day for extra paperwork or visiting a title company. Instead, capturing this audience's attention with your offering will make them more likely to investigate what you're selling.
By having a lead form attached to your ad, rather than simply leading them to a landing page on your website, you can make it easier for prospects to submit their information. All they have to do is click the call-to-action button and fill out the form that appears with their already completed information. This makes it more likely that they will submit the form, which could help increase leads in the sales funnel.
Carousel Ads
Storytelling is one of the oldest forms of communication. People are so familiar with story structures that marketers have used them for years to sell their products and services. Carousel ads give you a chance to use this same technique to tell a story about your mortgage services and engage with prospective clients who are most likely interested in what you have to say.
Imagine that you have written a market report to engage high-net-worth execs who might be interested in refinancing their income property or taking out more loans to buy property. Your target reader is likely busy, so they won't just click through to read the whole report without knowing what information it contains. They also might not want to listen to a two-minute or three-minute video of you describing the findings, which is understandable. This is an excellent opportunity to use carousel advertising.
To create a compelling slideshow, choose 3-4 of the most important or exciting topics covered in your report. These topics will become your slides. Include a visually appealing image that represents each point, and use the captions below the image to highlight the benefits of that topic briefly. The final slide should include a call-to-action button so viewers can quickly take action on what they've learned.
Video Ads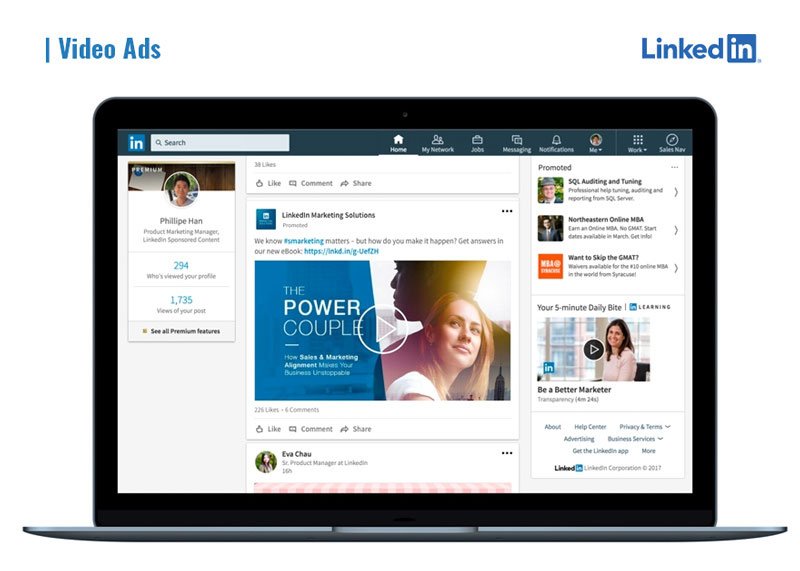 There's no denying that video is a widely used format for digital ads. When creating LinkedIn video ads, it's important to remember that this is a business platform and, therefore, your audience is busy. A great way to use video in your ad campaigns is to think of it like you would devise carousel ads.
By following this format, you can create a brief but compelling video that will attract your target audience and make them want to learn more about what you have to offer. This is especially useful if you're shooting a video from your conference room with the goal of getting people to refinance:
To begin, address their problem or challenge. For example, Executives who have to refinance their homes often feel stressed because it pulls them away from work.
Then, explain how your firm can help. For example, you might say, "Mortgage understands this and has put together a hassle-free refinance process that doesn't require you to visit our office."
Finally, talk about how they will feel/what they will accomplish by dealing with you. "You'll have more time, less stress, and be able to focus on the most important things in your life" is an example.
Lastly, you should always conclude with your call to action. Even though the ad has a call to action button such as "Learn More" or "Contact Us," make sure to end the video with a call to action statement like "Click the button below to learn more about how we can assist you."
Message Ads
LinkedIn message ads are very similar to the messages you receive from LinkedIn contacts on a daily basis. The only difference is that with this ad format, you're able to pay to send messages directly to your ideal potential clients, even if you're not connected to them.
The best way to approach a campaign like this is by treating it like you would any other sales letter for business purposes. In other words, make sure to include your name and explain why you're contacting the individual in question. State the value of what you have to offer and directly tell them what the next step should be (e.g., setting up a time for a brief call).
Read More: THE ULTIMATE GUIDE TO GOOGLE ADS: LEARN HOW TO CREATE SUCCESSFUL CAMPAIGNS
Conclusion
LinkedIn Ads may have a more extensive setup process than Facebook or Instagram, but it's worth noting that LinkedIn allows for a different kind of marketing. The core framework of LinkedIn is geared toward business, so there are opportunities to share in-depth information about your industry and market trends and be seen as a finance thought leader–things you can't do as quickly on other platforms. It's a beautiful method to add extra dimensions to your marketing mix while also improving your company's overall standing in the market. The more diversified you are, the more likely you are to generate leads, which will help you develop your brokerage.
Hiring a digital marketing agency is a cost-effective strategy for companies looking to improve sales and grow mortgage businesses. Digital marketing agencies help companies attract new customers, improve brand awareness, and generate more revenue. Ready to start growing your business with Gold Lion Technologies? Contact Us for a session for a FREE business audit.