Top 10 Marketing Strategies for Mortgage Professionals in 2023
Marketing can be challenging for any industry, but it can be even tougher for mortgage professionals because their customers are very specific. People aren't standing in line to apply for a mortgage.
For this reason, it's important to step up your mortgage marketing efforts to reach more prospective customers and enroll them in your lending program. Want to know how? Read through some of the 10 most effective marketing strategies for mortgage professionals in today's digital environment. These tactics can help you generate more leads, stay connected with your customers, and grow your business.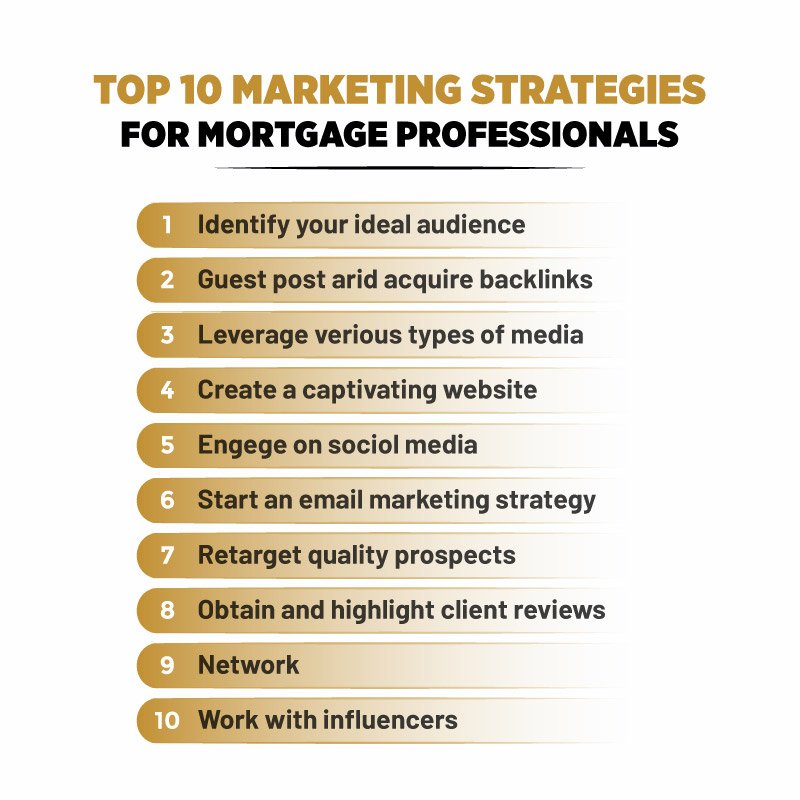 Read on to find out how you can revitalize your marketing efforts.
1. Identify Your Ideal Audience
Whether you're a relatively new mortgage professional or have been in the industry for years, the first step to digital marketing is identifying your ideal audience.
Even if you think you know who to approach, you should rethink your current practices. As your business grows, your ideal customer can also change.
A great way to focus your energy on the right customers is to create "customer personas."
These personas list traits you want to find in quality leads. You can also create personas for buyers who need more time to be ready to buy or for low-quality leads. After creating these templates, mortgage professionals can quickly classify prospects and identify quality leads.
2. Acquire Backlinks & Guest Posts
Guest posting involves submitting your blog content to another company for publication on their website. Focus on businesses related to the mortgage industry, including lenders, realtors, and title agents. An excellent place to start is the company you already work for on a daily basis.
When writing these guest posts, be sure to include a link back to your page. Discuss the type and amount of links with your host in advance to avoid unexpected disagreements. A link to your site from another website is called a backlink. Google uses these types of links in its ranking process. Quality backlinks help your website reach its first page of search results.
3. Leverage Various Types of Media
As a mortgage professional, you must use different media types effectively. Optimized blog content is a core part of any digital marketing strategy, but more is needed to generate quality leads. You also need to integrate videos and images into your digital marketing campaigns.
Video is especially appealing to the modern consumer. You don't have to flood your site with videos or have a million YouTube followers for this strategy to work. A few carefully-placed videos will do the trick.
For example, having a video on your "About Us" page can make your visitors feel more confident in choosing you, leading to higher-quality leads overall.
4. Create a Captivating Website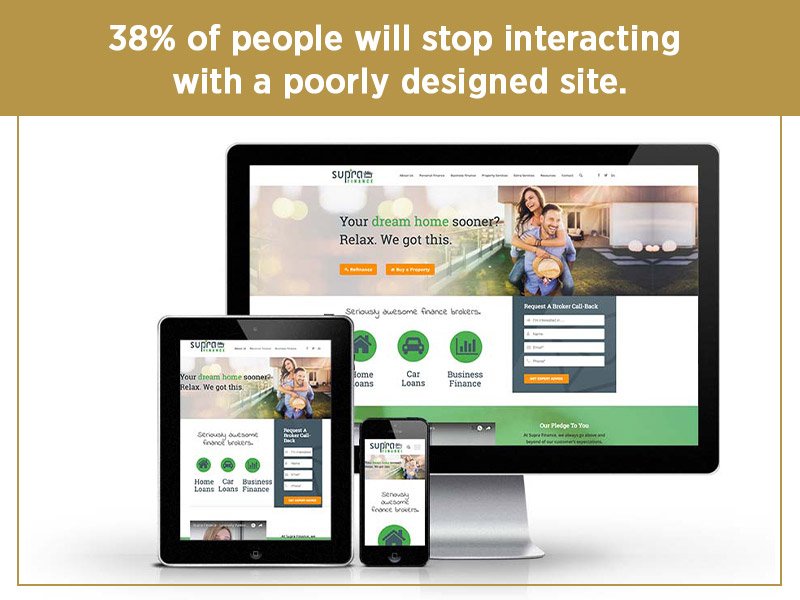 If you don't have a website yet, building one should be your top priority. Every mortgage professional needs their own website if they want to remain competitive in today's market.
Although you may receive a significant amount of leads via phone calls, many consumers are looking for mortgage services online. If you don't have a website, several prospects will quickly be routed to the next mortgage professional with a web presence.
If you do have a website, it's essential to update and maintain it. Making sure it's easy to access and view from a smartphone is a must. If it's not yet mobile-friendly, contact your web development company to fix the problem immediately as most consumers now browse the internet primarily on their smartphones.
If your website isn't engaging, responsive, or doesn't work well on mobile, your reach will be severely limited. A lively online presence begins and ends with a great website.
Read More: MORTGAGE BROKER MARKETING WITH GOOGLE ADS
5. Engage on Social Media
In addition to a website, social media accounts are essential marketing tools that every mortgage professional should use.
Platforms such as Facebook and Instagram offer many opportunities to advertise for free. Once the account is up and running, start posting quality content on a regular basis. Content may include success stories, links to blogs, and other materials encouraging consumers to visit your website.
We recommend focusing your energies on a few social media platforms. Create accounts on the most popular platforms for your target audience. As mentioned earlier, identifying your ideal audience is essential to jump-starting your digital marketing strategy.
6. Start an Email Marketing Strategy
Email marketing is a very effective tactic in the mortgage industry. You can reap the benefits over time by sending regular emails to previous customers to wish them a happy birthday or to let them know about refinancing opportunities.
These messages will keep your business top-of-mind whenever customers decide to purchase another home or are looking for refinancing options.
Email marketing can also be used to convert prospects into qualified leads. Add their email address to your list when your team receives information about a prospect via a contact form or phone call.
Pull customers deeper into your sales funnel by sending relevant, concise, and engaging emails. This way, a mortgage expert can close more deals.
A top-notch mortgage CRM makes it easy to send effective marketing via email. Add dates and tags to buyers so you can create emails to remind them to celebrate their home-buying anniversary, for example. A CRM can also send custom messages when appointments are upcoming.
7. Retarget Quality Prospects
Retargeting is a method of targeting specific ads to users who have previously visited your website. This strategy is very effective, especially because most clients don't choose a mortgage professional after a single visit to their website.
Customers who have provided contact information, clicked on multiple pages, or interacted with your content are the best candidates for retargeting.
You can set up retargeting campaigns through Google Ads. If you're unfamiliar with the platform, the best mortgage CRMs often offer tools that make it easy to create new campaigns using their platform.
8. Highlight Client Reviews
Consumers are sometimes skeptical of advertisements. However, they are much more receptive to information provided by other consumers. This concept also applies to the mortgage industry.
Encourage customers to rate your business online. The more positive reviews you get, the better. Reach out to past customers and politely encourage them to leave reviews through surveys or on Google. This can be quickly done using a CRM that sends an automated request about a month after closing the loan.
Once you've collected a few positive reviews, highlight that customer feedback on your website or email to share some success stories in your marketing campaigns.
You can also use this social proof to improve your customer service. These assessments help mortgage professionals identify what they are doing well and what they need to improve.
Read More: PPC FOR MORTGAGE BROKERS: THE ULTIMATE STRATEGY
9. Network
The mortgage industry is built on relationships. To complete a loan, you must work with buyers, realtors, title agencies, and other industry professionals. Don't just use these relationships to close mortgages; use them for marketing your services.
By collaborating closely with mortgage industry experts, you create mutually-beneficial agreements that help generate leads while supporting your business. If you are a new mortgage professional, consider working with a more experienced professional. They can help you develop your lead-generation skills and better serve your customers.
10. Work With Influencers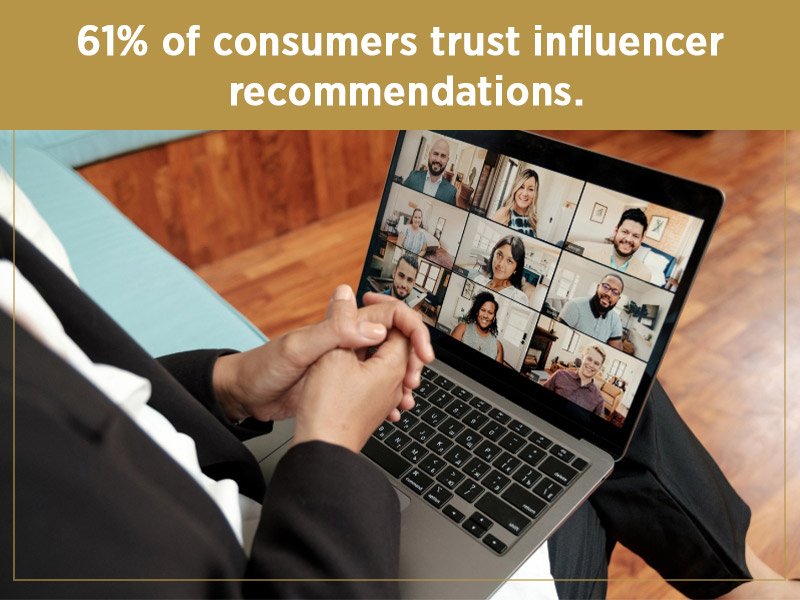 Building a social media following can be very time-consuming, just like generating organic traffic. If you want to reach a large audience quickly, consider partnering with social media influencers. These individuals are social media personalities with thousands or tens of thousands of followers.
Influencers help promote your services on social media. This relationship gives you access to a vast audience. In return, influencers receive payments, free services, or both.
When looking for influencers, you shouldn't necessarily focus on their follower amount. Instead, make sure the influencer you work with has the right type of audience for your needs and the capabilities for creating content that will drive value.
Take Advantage Of Mortgage CRM Tools
Implementing these tactics can significantly improve your lead generation skills. However, tracking and distributing your leads effectively is a must.
So, what's the best way to do that? By using an innovative mortgage CRM like Go High Level.
Go High Level is a software solution designed to help you manage customer relationships, automate your sales process, and enhance your lead generation efforts. Sometimes it takes several hands (or, in this case, several heads) to get things done. That's where a CRM tool like GHL comes in.
Go High Level helps your agency run smoothly and efficiently so you can focus on what you do best: deliver outstanding results for our customers.
Here's a quick rundown of what Go High Level can do:
Build a sales funnel.
You can create a website and connect your domain to it.
Create a landing page about your offer.
Manage and maintain customer relationships without losing track of projects.
Make appointments and set calendars to manage your time and projects better.
Track calls like a boss.
The Membership Site feature allows you to create and sell online courses and membership programs.
Automate your email marketing campaigns to help you create effective marketing campaigns.
SMS marketing, which is also a quick and easy way to reach potential customers.
The Bottom Line
As the mortgage industry continues to fluctuate, it's more important than ever to find the right mix of mortgage marketing strategies to help you succeed. However, if you really want to take control of your marketing, you should consult with a marketing professional partner who can help you craft the perfect plan for your business.
Hiring a digital marketing agency is a cost-effective strategy for companies looking to improve sales and grow their mortgage businesses. Digital marketing agencies help companies attract new customers, improve brand awareness, and generate more revenue. Ready to start growing your business with Gold Lion Technologies? Contact Us for a session for a FREE business audit.