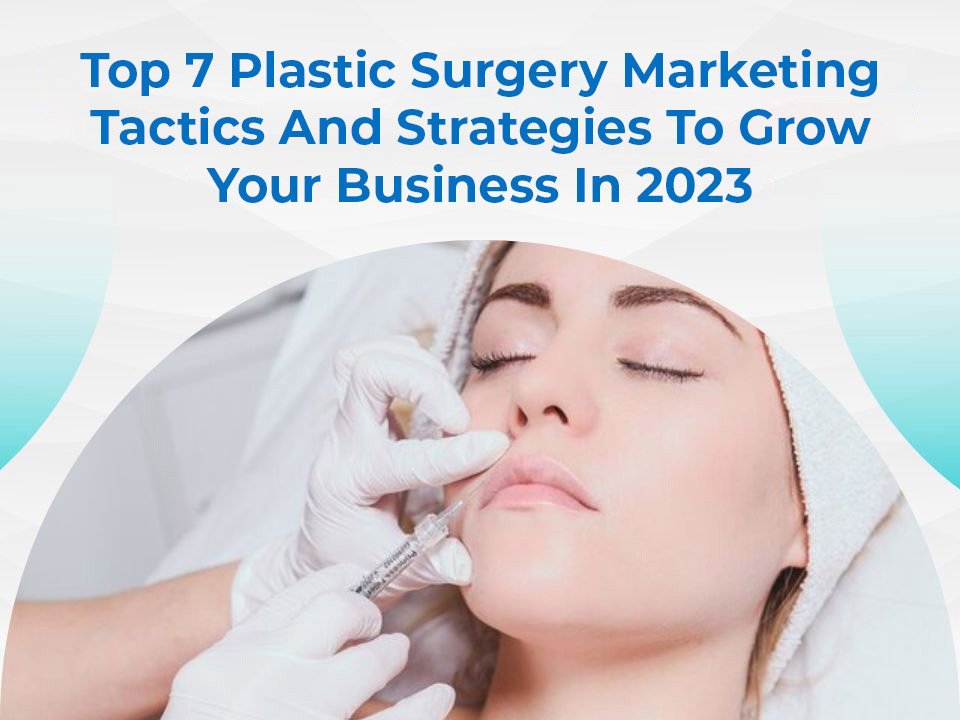 Top 7 Plastic Surgery Marketing Tactics And Strategies To Grow Your Business In 2023
Plastic surgery providers use marketing strategies to bring in new patients and make more people aware of their business. In the past, plastic surgery marketing relied heavily on print advertisements (i.e., magazines and newspapers). However, nowadays, almost 100% of advertising is done online since that's where potential patients are looking for information about cosmetic procedures. With increased social media usage, many people are now turning to plastic surgeons to enhance or change a wide array of cosmetic issues they may have been born with or developed over time.
Nowadays, people looking into cosmetic surgery are worried about the quality of care they will receive and if they can trust their surgeon. More often than not, individuals considering various procedures will do research online before making any decisions. Consequently, it is crucial to have a dependable marketing strategy for your plastic surgery practice that captures leads at every stage of their journey- from when they first start researching to when they book a consultation with you.
Plastic Surgery Marketing
Before improving your marketing strategy, think about what objectives you want to achieve. This will help direct your marketing plan, which is tailored towards hitting those specific goals. Some common business goals are:
Gain brand recognition
Increase social media reach
Increase web traffic
Gain new clients
Your final goal might be to obtain new clients, but there are a few ways you can achieve that. Your marketing strategy will differ if you want to attract organic website traffic or Facebook ads. Once you determine your path, then you can start thinking about how to tailor your plastic surgery marketing strategy. The more detailed and comprehensive your plan is the better your chance of succeeding.
We want to help your business grow, so we've listed 7 plastic surgery marketing tactics and strategies you can implement in your marketing plan to gain new clients and grow your business.
7 Plastic Surgery Marketing Tactics And Strategies To Grow Your Business

1. Build A Website

It's no longer surprising. By now, you should understand the importance of your website. These days, you can't look up a plastic surgery clinic in a phone book or even go to a physical clinic if you want to inquire.
Before anyone visits a physical clinic, they do an initial survey online. Most transactions are now done online, so it's imperative that your business appears online. If you have a website, you're already gaining business.
But the website's importance doesn't stop there. Website design and content are just as important as having a website. Your website becomes an extension of your clinic. Here you can make an excellent first impression and show authority and credibility.
Think of it like this: Your website is your gateway to introducing your plastic surgery business to potential customers. It should look professional and contain the information you want to know.
These factors influence a potential customer's decision to trust you. So make sure your website provides valuable information to your visitors.
2. Reviews, Testimonials, Before And Afters

Reviews are very important for businesses on the internet. They play an important role in the decision-making process of potential customers. For this reason, the best reviews from previous patients should continuously be published on the website. If these are missing, request them. Most people are happy to provide positive testimonials if they are satisfied with your service.
All companies end up getting some negative reviews along the way. If you do this and they show up on Google or any other site that showcases your business, you should fix it immediately. Reply to the person and explain the situation or offer to resolve it personally. You can get a lot of value out of these negative reviews. Others will be able to see that you've responded honestly and got the situation right, which can serve as a learning experience to improve your business.
Another visual check is before-after. These photos consistently grab people's attention online and speak more than 1,000 words. Visitors can see for themselves how the procedure affects patients. Include only pictures of the steps you provide, and keep them as relevant as possible.
Read More: SOCIAL MEDIA COMPETITOR ANALYSIS: THE COMPLETE GUIDE
3. Use Content To Your Advantage
Content is one of the best ways to increase your website's SEO ranking and organic traffic. It plays a crucial role in attracting leads who may eventually become patients. Content can also anchor your subject matter expertise in website visitors' minds.
You must post relevant, engaging, and educational content to do well. Examples include blog posts, infographics, photos, and videos.
Blog: The most important thing when writing blog posts is to target relevant keywords. This means that you should use a keyword tool like Google Keyword Planner to help you choose which keywords to include in your blog posts and improve your SEO. Blogs are a very effective marketing tool for plastic surgery clinics. Patients want to know more about the procedure before they try anything. There is a very wide range of topics, such as skin care, post-operative care, details of each procedure, etc.
Infographics: Infographics are very trendy these days. People are three times more likely to share infographics than any other type of content. It's visual and engaging enough to lure the brain into reading for visual reasons.
Photo: People are naturally more attracted to images than text. Because of this, his website on social media tends to be more visual, and you can't get enough of it. Post high quality photos of your clinic, patients, before and after shots, products, and more to your social media channels to increase user engagement.
Video: Try incorporating video into your content marketing strategy. Try recording some reviews and tutorials or handing out tips and other instructional videos, so your audience gets something of value.
4. Try Out Social Media

Social media is becoming an increasingly popular tool for plastic surgery marketing and advertising. Research shows that social media influences individual desires for plastic surgery, especially among women.
Social media is a cosmetic surgeon's best friend. In other words, your target audience will likely be avid social media users, so use social media platforms to your advantage. You are more likely to find your target market on social media than on any other digital marketing platform.
You can do many things with social media to grow your plastic surgery business. Social media helps you reach, engage, and connect with a broader audience. So ensure you consistently post relevant content on your account and take advantage of it. You can also participate by promoting special offers, linking to site content, answering questions, live streaming, posting photos, videos, and tutorials, and even placing ads.
5. Get Paid Ads

Digital advertising works differently than traditional print, radio, and television advertising. The beauty of digital advertising is that you can target your audience to maximize your advertising and marketing efforts.
Digital advertising uses a pay-per-click (PPC) format. This means you only pay when someone clicks on your ad. Ads are also highly dependent on the keywords you use.
There are many advantages to paid advertising, like:
Faster results
Track and evaluate your results
Easy to manage
Optimize your budget
The use of social media to market plastic surgery has become increasingly popular in recent years. Facebook and Google Ads have proven to be effective ways for plastic surgeons to reach potential customers. For those unfamiliar with the process, these ads involve paying a fee to place your advertisement on either one of the platforms.
Facebook Ads are a great way for plastic surgeons to target particular demographic groups and interests that are most likely interested in what they offer. These ads can be tailored according to geographic location, age, gender, and even hobbies. With Facebook Ads, plastic surgeons can reach out to their target audience easily and effectively.
Google Ads is another great option for plastic surgery marketing. Through Google Ads, plastic surgeons can place text ads on top of search engine results pages related to plastic surgery services. This helps them reach potential customers more quickly and efficiently when they are actively searching for a service provider in their area.
Read More: TEN SOCIAL MEDIA MARKETING TOOLS THAT WILL HELP YOU REACH YOUR TARGET AUDIENCE
6. Start Email Marketing

It may be hard to believe, but according to email marketing statistics, plastic surgery email marketing is still one of the top plastic surgery marketing. What works now is the strategy, and it's sticking. The number of emails sent each year continues to grow, and so does the number of email addresses created.
Email marketing is still the best and most effective tactic for nurturing leads, but it only works if it's written in a way that convinces your audience to use your service. It should be creative, unique, and interesting, so people want to open it.
You should start with a subject line that grabs your attention. Next, write the text. The email text should be concise but still, contain important information. You should also be able to link to your website or blog strategically. The last thing you need to do is include a compelling call to action. After all, without action, there is no point.
7. Develop Your Brand
Think of branding as the personality of your business. Branding is how people perceive and remember your business. Your brand represents your company as a whole. It's no exaggeration to say that an established brand with a clear message is essential.
What message do you want to convey as a plastic surgeon to your audience? Once you understand that, you can build your brand around that message, but make sure your message is realistic, honest, and positive. please confirm. Put yourself in the shoes of your potential patients – what are their pain points? What are their barriers to coming to you? What would convince you to proceed with the steps?
Another essential element in branding is visuals. Your branding design will be your first interaction with your potential patients. This includes everything from office designs, logos, website designs, and letterheads to small things like your fonts.
To engage an audience, plastic surgeons, clinics, and brands must create designs representing her message. Try to use images that reflect your work. Your design should be so attractive and comfortable that potential patients and past clients will want to return.
Bottom Line
There has never been a better time to get into the field of plastic and cosmetic surgery. The future is bright, so execute an effective marketing strategy and build your practice. Today, there are more opportunities than ever to attract new patients. To do this, you must implement innovative and strategic marketing strategies to differentiate yourself and build brand awareness and practice.
The fact that prospects are now moving targets explains why digital marketing works. It's all about future patients until they finally choose you as their private surgeon. Does the idea of marketing your clinic excite you, but do you need more time or an idea of where to start? Contact us! Let's build your brand together.