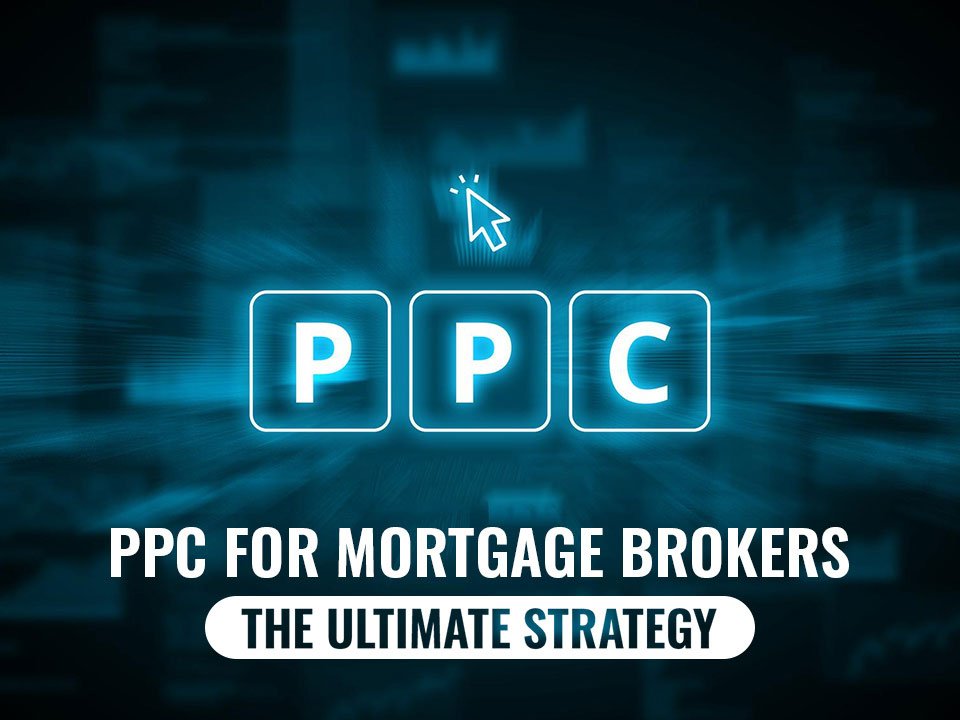 PPC for Mortgage Brokers: The Ultimate Strategy
What is PPC?
Mortgage PPC, also known as mortgage pay per click, is an internet marketing model where brands pay for ads that drive traffic to a website. SEO is a long-term approach, but it's also essential to your business's long-term success. Once you've got a handle on it, though, paid online marketing such as: will be the next step.
Google Ads Pay-Per-Click campaigns
YouTube Ads Pay-Per-Click campaigns
Facebook/Instagram Ad Campaigns
Advertisements for your company, service, or product can provide quick, fast, and effective responses if done correctly. They are a method to have your business show up at the top of search results and in the social media feeds of your target audience with a single click. They also produce long-term subscriptions that you may turn on and off whenever you choose.
What is the Real Value of Mortgage Broker Pay-Per-Click Advertising?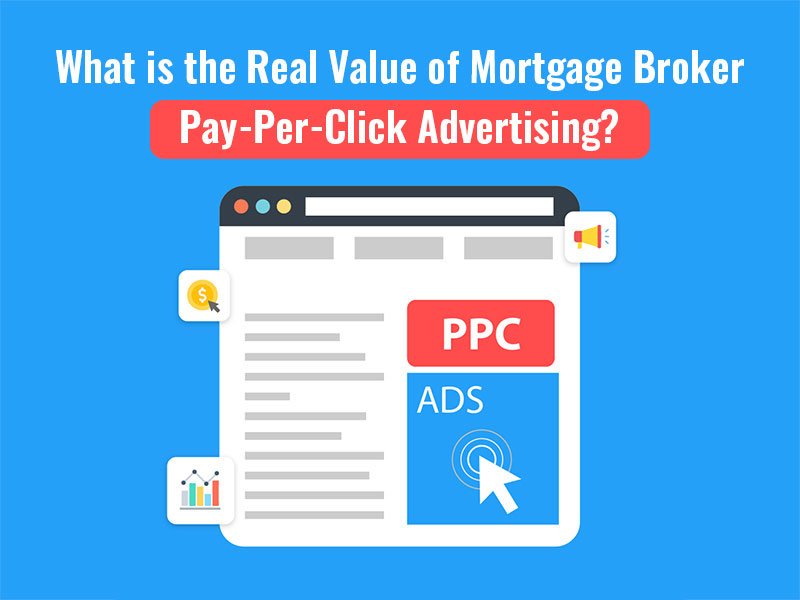 So what's the real benefit of Pay-Per-Click advertising like Google Ads and YouTube Ads?
You can set up entire campaigns in a day, publish them live, and be at the top of Google for search terms like "mortgage broker" or "mortgage company (your city)" with a single click. SEO may take anywhere from 6 to 12 months to achieve this.
You may target your ad to unique regions, demographics, income levels, and other criteria. Google has a wealth of information; you may use it to advertising to your target demographic.
You're advertising to individuals who are already seeking your products and are at the bottom of the sales funnel in the buying process. You may be able to acquire that client through your ad.
Pay Per Click Platforms: What's the Difference?
There are many PPC platforms available. However, the most popular are Google AdWords (AdSense) and YouTube Ads. These are the two we concentrate on and utilize in every mortgage broker marketing campaign. Google has a commanding market share of over 80 percent, but YouTube is a hidden gem that few people advertise and can provide excellent results. As a result, we put our mortgage broker clients' budgets for PPC at roughly 85-90 percent and the remainder into YouTube Ads. This provides us the opportunity to evaluate how each platform performs as well as diversify the demographic pool. YouTube will be considerably less expensive than Google in terms of costs.
How the Process Works
Let's talk about how the Google Ads auction system works. There is a lot of incorrect and misunderstood information out there. Many believe the AdWords auction procedure is based only on the cost per click. They'll tell themselves, "Well, if I just bid higher, I'll be in the #1 position and get more clicks and leads.
However, we must return to Google and its desire to provide relevant results to its users. As a result, they cannot simply give the highest bidder the top spot. They utilize the "quality score" to determine paid advertising on their platform. If Google's advertisers obtain clicks, they make more money, so they need to serve highly relevant adverts to consumers for this strategy to be more successful.
Quality Score
The Quality Score is Google's assessment of the quality and usefulness of your keywords and PPC ads. It is used to calculate your cost per click (CPC) and ad rank in the ad auction procedure based on some criteria. The following are some examples: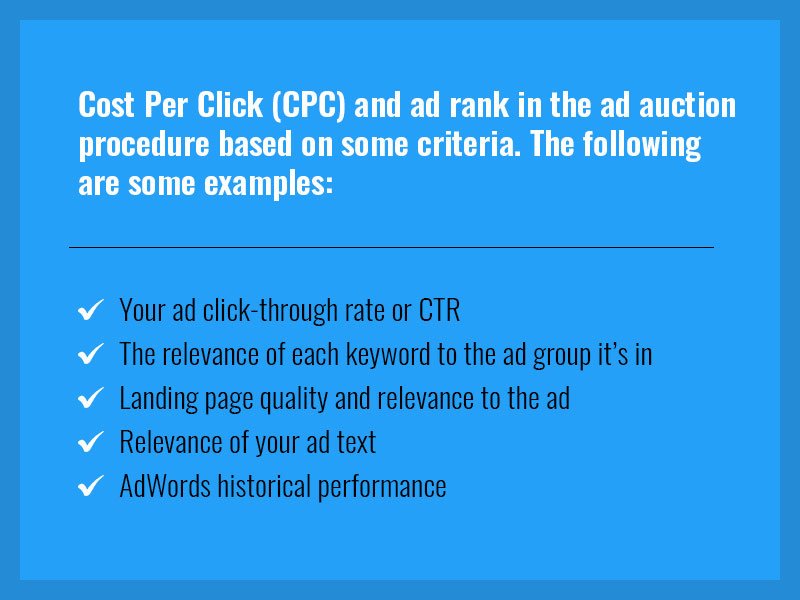 There's no way to know precisely how much each component contributes to Google's Quality Score algorithm, but it is understood that click-through rate is one of the most critical factors. This shows Google that your advertisement was relevant and beneficial to consumers, which is precisely what they want. Because of this, Google may improve your ad ranking and reduce overall CPCs. That's why it's critical that your advertising be relevant and get the consumer's attention!
Read More: THE ULTIMATE GUIDE TO GOOGLE ADS: LEARN HOW TO CREATE SUCCESSFUL CAMPAIGNS
How Can Mortgage Brokers Get a Return on Their Investment With PPC Advertising?
What exactly should you do to ensure this isn't a mistake? How can you maximize the profitability of your pay-per-click advertising campaign?
The first thing we'd advise is to set up ad groups based on particular services. We're going to break those down for you as we go. We want you to write a specific and compelling text ad that matches the keywords or those groups of keywords. Then, instead of landing visitors on the home page, which might not be relevant to what they searched for, If you implement this, your AdWords campaign will be more successful and have a better quality rating.
Here's how we utilize PPC to run successful campaigns:
Make a Budget and Calculate Your Numbers
Before setting up your PPC campaigns, you must first establish how much money you will spend on monthly advertising. This is crucial to have a number in advance since it will determine where your keyword research priorities should be.
We recommend a minimum monthly advertising budget of $2,000 for mortgage brokers in even more miniature cities. Anything less than that in the mortgage business will be almost impossible to work with and ineffective since your data will be limited. In larger metros like Houston, Los Angeles, and others, $2000 is insufficient. When the cost per click goes over $30 -$40 for specific terms, $2,000 isn't much and can disappear in fewer than 30-35 clicks.
In the end, it's all about return on investment. If you spend $2,000 and get one home loan for $4,000 in profit, was that expenditure worth it? Every time we say yes, you just double your money.
Sales Numbers: What You Need to Know
Knowing your sales numbers for Google Ads is crucial to understanding what could work for you. For every ten leads you get, you close 3 of them on average. A 30% closing percentage. You have a $2,000.00 monthly ad budget. Your average cost per click is $20.
$2,000 / $20 = 100 clicks
So you'll get 100 clicks for your $2,000 budget.
Then calculate the conversion to lead percentage, which is usually around 10% for us.
10 * 100 = 10 leads.
So on average, you'll get ten quality leads for $2,000, about $200/lead.
Now say your close percentage is 30%. So you close 3 of those ten leads.
Let's say, on average; you make a $3,000 profit per home loan. $3,000 x 3 = $9,000.
Congratulations, you just spent $2,000 to earn $9,000. That's a great return on investment.
Read More: THE 10 BEST KEYWORD RESEARCH TOOLS TO HELP YOU RANK HIGHER IN GOOGLE
How to Create the Best Mortgage AdWords Campaign
Here are the necessary steps you need to follow to set up a campaign that will generate non-stop leads:
Keyword Research
Now it's time to determine the keywords you want to bid on. There are many tools you can use to find keywords:
Google Ads Keyword Planner
SEMrush
Ahrefs
Or you can head over to our mortgage keywords page we created for you.
To succeed in this domain, you must first understand the tools used to manage your Facebook ads and group them based on similar keywords. So, for example, suppose we want to bid on general mortgage terms in your city, house loan, and refinancing words.
We've already found some keywords that would work grouped:
General Mortgage Keywords + City: mortgage (city), mortgage broker (city), mortgage companies (city), mortgage (city), mortgage services (city)
Home loan Keywords: home loan mortgage, home loan mortgage brokers, home loan mortgage companies, home loan mortgage services
Refinance Keywords: refinance services, refinance mortgage brokers, refinance mortgage service.
These are only examples, but you can see how they're grouped. These will eventually become your ad groups. So right now, grab a piece of paper or open a spreadsheet and begin researching based on what you want to be discovered for and categorize each set of keywords separately.
Campaign Settings
It's also critical to have a solid grasp of the fundamentals before diving into PPC. You'll need to follow several procedures when you launch a new Google Ads campaign.
Campaign Goal: Select New Campaign, and then select a goal for your campaign. We'll choose "Leads" as the target goal.
Campaign Type: Next, we'll look at picking a campaign type. We always recommend beginning with a "Search" campaign. These are Google's regular advertisements appearing in the top search results. In more advanced phases, we offer additional options for our customers, but the search is the way to go if you want fast results.
Title Your Campaign: If this campaign is about mortgages, we propose calling it that. We run different campaigns for various service types entirely, but if the subject of the advertisement is a mortgage in general, we will have one campaign called a mortgage.
Networks: There are a few options in the networks section. We always want to start our first campaign on the "Search Network." A check box is selected to include Google search partners automatically. Because we've discovered that the search network isn't as successful at conversions, we recommend leaving this unchecked. Unchecking both boxes is also a good idea because they aren't as effective at converting leads.
Setting Up Your Ads
Setting up your advertising is simple, but there are a few factors to keep in mind:
We want our ads to be highly relevant to the ad group
We want our ads to catch the audience's attention and make them WANT to click.
Example of a powerful Ad
Headline 1: Include the primary keyword you're targeting
Mortgage Broker Chicago
Headline 2: Include Trust Components, Benefits, or Numbers to encourage clicks
A+ BBB Accredited Company
Display Path: Use your Main Keyword again
/Mortgage/Chicago
Description 1: Reiterate the benefits of your service and include a call to action with
40 Years of Experience. 100% Satisfaction Guaranteed. Get a Free Consultation!
We recommend setting up two ads per ad group and switching out little things in the headlines. This way, you can test to see which one performs better over time and eventually use the better-performing ones.
Ad Extensions
Adding a variety of relevant ad extensions to your ad groups and campaigns is critical to the success of a campaign. These will boost your quality score since they encourage people to click through. There are several different sorts of ad extensions available.
Location Extensions: This is the most popular extension we use to destroy advertisements for our clients. You're connecting your Google My Business account to your advertising account. This enables you to display your location information in your ads. Still, more importantly, it allows you to place an ad in the top 3 organic maps business' 3 Pack of Organic Maps above the #1 ranked maps service. This slot will show your review stars and barely looks like an ad, making it a no-brainer win-win situation: earn people's confidence, receive many calls, and get a fantastic ROI.
Call Extension: Another popular one that we utilize. Call extensions allow a phone number to appear beneath your top ad and provide you the option of including a tracking number in your Map Pack ad. This is important to grasp how effectively your advertisements are converting.
Callout Extensions: Callout extensions allow you to show your business's benefits – they're short sentences highlighting advantages. We use calls outs like "Best Industry Warrant," "Family Owned & Operated," 0% Financing, etc., to catch people's attention and resonate with them.
Sitelink Extensions: The last extension we commonly use is site link extensions. These take up the most real estate in ads and can cause your ad to appear much more extensive than your competitors, which is a significant advantage.
Conversions & Call Tracking
Setting up conversions for your ad campaigns is critical, just like developing the ads yourself. There's no way to tell which keywords are working and which aren't if you don't set these up correctly. It destroys the whole idea behind marketing in the first place.
There are three types of conversions we setup:
Contact Form Submissions (place conversion code on thank you page after people submit)
Calls from Landing Page (People click on the ad and then call the number on your landing page. You can use Google's call tracking numbers or set them up yourself).
Ad Extension Calls (These are for the phone number that appears in your ads if people call directly rather than clicking on your ad to go to your landing page)
If you're not tracking all 3 of these, you need to set this up now!
Landing Page
You should have separate pages on your site for each ad group to reach that goal. A Mortgage in (Your City) page, a Home loan, a Refinance, and so on are all good ideas. Landing sites should satisfy the following criteria:

Monitoring
It's time to let the advertising take action after everything is in place. However, that doesn't imply you should just sit back and do nothing. You need to monitor your ad campaigns and analyze the data over the first few months, determining which ad groups and keywords are working and which aren't.
Find out which advertisements are effective and which aren't. It's a never-ending cycle of fine-tuning until you can reduce your conversion cost as low as possible. From there, it's easy to scale up. After expanding, you may continue putting another $1 into the Ads machine and getting back $5 on the backend. That is the power of Pay Per Click advertising.
Facebook Advertising
There's another segment of leads that aren't quite as far down the sales funnel. These people may fit your target market but aren't quite ready to purchase a home or haven't thought about it yet.
This is where Facebook & Instagram ads come in. Facebook & Instagram ads are a way to introduce yourself and your brand to potential customers who might not even know they need your services. You can use Facebook & Instagram ads to target people based on interests, demographics, and behaviors. For example, you could target people who have recently moved to your city or have shown an interest in real estate. The great thing about Facebook & Instagram ads is that they target these people with relevant ads and content, and you can start to build relationships with them.
The Bottom Line: PPC for Mortgage Brokers
A mortgage PPC campaign done correctly may help your mortgage company grow its traffic and revenue, all from the web! It can aid in ensuring that your business is consistently visible in your local area while also providing a sense of trust that will encourage consumers to contact you. Higher ranks equal more visitors = more consumers for you.
A well-designed PPC campaign takes time and patience to execute correctly, but the long-term benefits are always worth it. Mortgage Broker Marketing doesn't only employ experienced PPC Managers on your campaigns; we're intimately familiar with the mortgage business. Wouldn't you want someone that understands how your competitors operate to handle your search engine optimization requirements?
Ready to start growing your business with Gold Lion Technologies? Contact Us now to schedule a Free Audit and Strategy Session. We'll present you with a strategy for getting the most out of your system so that you can become your region's #1 mortgage company and steal many leads from your competition.