20 Fun and Engaging Instagram Story Ideas for 2023
Instagram stories are a fantastic tool for nurturing your audience and engaging on a more personal level. According to Hootsuite, more than 500 million people use Instagram Stories every single day.
Instagram Stories are a fun way to share content that doesn't take hours to make. While you can use it to share spontaneous and unedited photos and videos, it can easily get boring for your audience. To keep your followers engaged through Instagram Stories, you also need to plan and get creative.
This goes beyond creating aesthetic Instagram Stories and involves keeping the content itself fresh, interactive, and fun. If you're having trouble coming up with content to post on Instagram, look no further! This list contains the best ideas for Instagram Stories, categorized by content type.
20 Instagram Story Ideas for Follower Engagement That Will Make a Difference
1. Conduct a Poll
Running a poll on your Story is an excellent way to engage your audience and learn more about them. The beauty of a poll is that it can be about anything. You can make a poll on their interior design preferences, buying decisions, and favorite décor trends if you're a home decor brand.
The next day, you can ask followers for specific feedback on their experience with your brand's products or services. The possibilities are endless, making this an excellent idea.
Additionally, polls can help content marketers by giving them a way to get more ideas from their audience interactions. For example, if the social media marketer for a home decor brand discovers that its audience doesn't know how to choose a rug size for a room, they could create an informative post about it in the future.
2. Host a Q&A Session
A Q&A allows your audience to understand your brand and its products/services.
There are several benefits to answering your followers' questions through your Stories:
You can quickly and directly connect with your audience in a low-effort way.
You will discover information gaps between you and your audience.
You can create a "Frequently Asked Questions" highlight that will live on your Instagram profile. This can also be useful for your website.
It gives you the chance to position yourself as an industry expert.
3. Spotlight Your Customers
Highlighting your customers kills two birds with one stone: you continue building a relationship with them while attracting new leads. You're leveraging social proof by showcasing customers enjoying your products/services. This, in turn, adds to your credibility and serves as a testimonial for your products/services.
Read More: IS SHOPIFY A GOOD PLACE TO START A BUSINESS ONLINE OR A STORE IN 2022?
4. Quiz Your Followers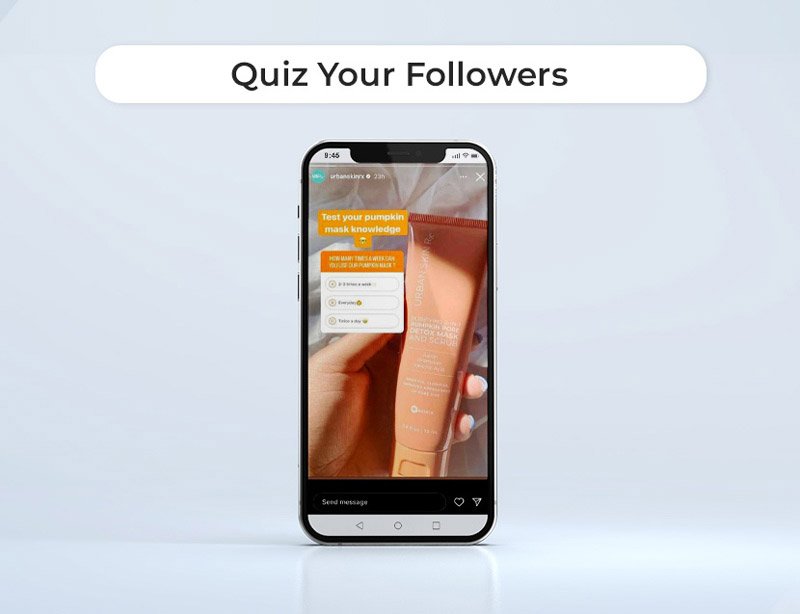 The new quiz sticker on Instagram Stories is perfect for gathering audience feedback and increasing your audience engagement. Instagram quizzes accomplish the same with your audience and can be quite useful for gaining interesting consumer insights.
5. Repost User-Generated Content
If you're struggling with content ideas, reposting user-generated content is the easiest way to get over this task. In this case, your audience has done the hard work for you; all you have to do is find it and repost it.
Here are a few ways to do it successfully:
Start a branded hashtag and encourage your followers to use it for your products or services whenever they post.
Search relevant hashtags to find posts that feature your brand but aren't tagged.
6. Host a Giveaway
If you want to increase your reach, hosting a giveaway is a great way to do this. It incentivizes your followers to share your brand with their networks while strengthening their loyalty.
When hosting your giveaway, you'll want to create an in-feed post with the details of the giveaway — this way, users can access it at any time. However, when it comes time to promote this giveaway, do so on your Story. Don't be afraid to post about the giveaway multiple times during its run to remind users to participate.
7. Start a Challenge
Challenges take off like wildfire on social media. If you can be the brand that starts a viral challenge, that can significantly increase your visibility. One of Instagram's most recent Story features is the "Add Yours" sticker, which allows users to add a Story connected to a specific topic.
For a home decor brand, this could be "Add your favorite room in your home" or "Add your favorite home purchase." It's engaging and fun for everyone involved.
Creative Instagram Story Ideas for Your Team/Company Spotlights
8. Introduce Your Team
Consumers are no longer easily swayed by brands without a face in today's social media space. Followers crave transparency and this includes knowing who is behind their favorite products and services. By introducing your team, your audience will connect with your brand which will foster a sense of community. This is particularly true for small brands just entering the market and having to find fresh ways to differentiate themselves from the competition.
For small companies, introductions can include the CEO, the social media manager, the operations manager, and other relevant roles. In the case of larger companies, this can be limited to a specific department, such as the social media team.
Read More: TEN SOCIAL MEDIA MARKETING TOOLS THAT WILL HELP YOU REACH YOUR TARGET AUDIENCE
9. Share Behind-the-Scenes Footage
Sharing behind-the-scenes content is another way to pull back the curtain and give your followers a glimpse into your business processes. BTS content is more intimate and establishes trust between you and your viewers, which can translate to stronger brand loyalty.
What you share will vary depending on what's going on in your company, your production processes, and your current goals. Have a pop-up event coming up? Show a sneak peek of the location. Launching a new product? Share a video snippet of the product photography.
Over time, you'll notice what kind of BTS footage your audience enjoys the most and from there, you can focus on that type of content.
10. Celebrate Milestones
Taking the time to celebrate with your followers is essential. Brands on social media have the unique opportunity to share company milestones with their online community. Did you recently reach 1,000 followers? One year in business? $500K in revenue? Whatever it is, it's worth celebrating with your followers.
This is also a great opportunity to tie in a giveaway, discount, or unique offer that your customers can benefit from.
11. Do a Takeover
Takeovers can give your page an instant boost when the monotony of posting Stories sets in. A takeover involves someone managing your Instagram account for a designated time (usually 24 hours) and posting from their point of view. This is popular among influencers, brand ambassadors, and even brand employees.
12. Share Company Updates
Company updates aren't just for internal stakeholders. They can also be valuable for your social media audience. For instance, say you've hired a new director or opened a new store in another city, those are exciting facts your online community would like to know. Keep your audience updated as your company grows and evolves — it will do wonders for strengthening your relationship.
Cool Instagram Story Ideas for Products/Services
13. Share Testimonials and Reviews
Customers write reviews everywhere: Yelp, Google My Business, and social media (mostly on Facebook and Twitter). When you find a positive review, turn it into a creative, aesthetically-pleasing IG Story.
Read More: WHAT ARE THE BEST TOOLS FOR YOUTUBE MARKETING?
14. Highlight Products/Services
Although Instagram has its own shopping feature, you should promote your products in Stories. Let's say you have a sale going on. Using the shopping sticker within IG Stories is a great way to drive traffic to that product and generate sales. If you have an upcoming product launch, you can tease that product in your Stories and create buzz surrounding the release.
15. Announce Discounts and Specials
Everyone loves a discount. So, whenever you have one, you want to ensure it reaches as many potential customers as possible. If there's a big sale season — think holiday season — start working on creative assets to share on your Instagram Stories.
In addition to sharing deals, you should include link stickers that lead to your sales page. This will create a seamless shopping experience since users will find what they need quickly, which can boost your chances of making sales.
Cool Instagram Story Ideas For Educational Content
16. Share Industry News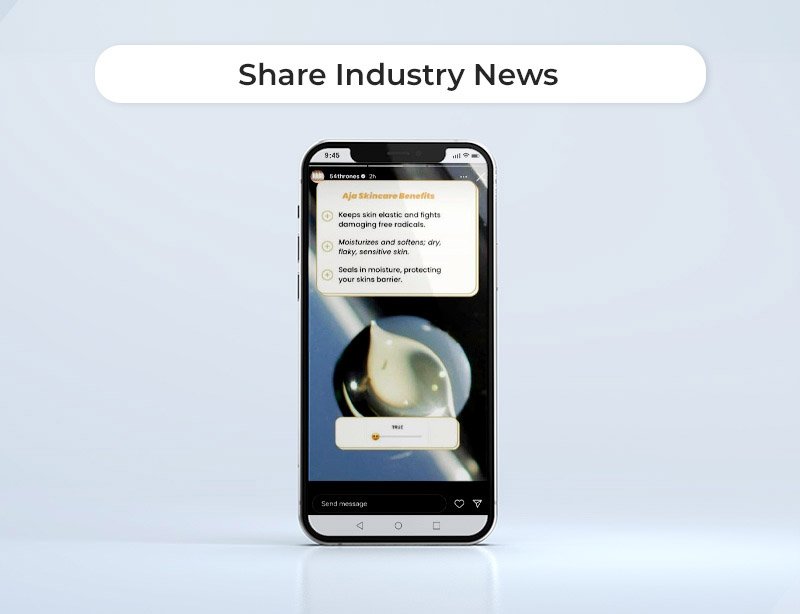 Sharing educational content is one of the best ways to add value on social media. Every once in a while, a trend or news story will make its rounds within an industry. Whenever this happens, consider sharing the news with your audience in a Story and share your thoughts or perspective. There are three key things to do when doing so:
Provide the context for the news or update.
Share what it is quickly and concisely.
Reveal its potential impact.
Being a reliable source of information will build trust with your audience, and sharing your opinion could help you become a thought leader in the space.
17. Create Quick Tutorials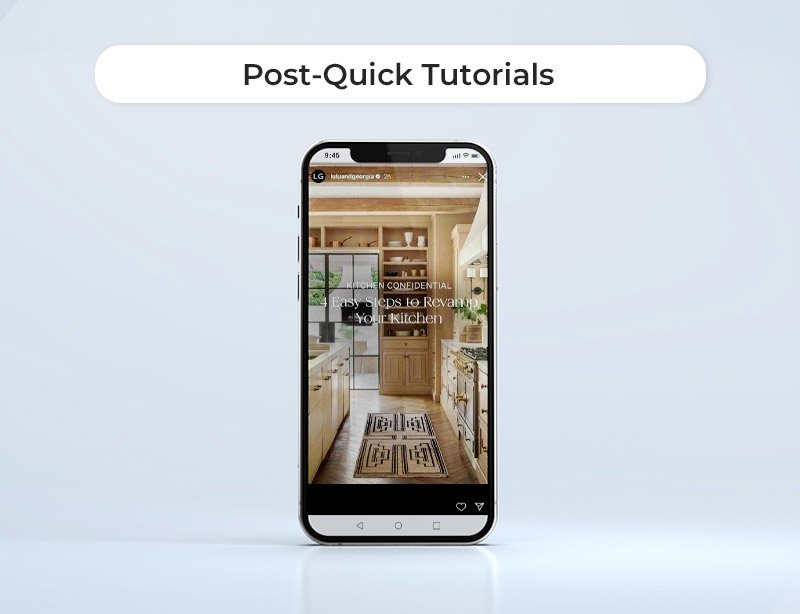 Another way to add value is by creating short and easy tutorials. For this to work successfully, your tutorial has to be the main event and include strong visuals that will capture your audience's attention before they swipe right.
Back to the home decor company example, you could create a quick tutorial on selecting the perfect rug size for your bedroom. Something as simple as this can not only helpful to your audience but is also very shareable.
Cool Instagram Story Ideas for Miscellaneous Content
18. Direct Traffic To Other Sources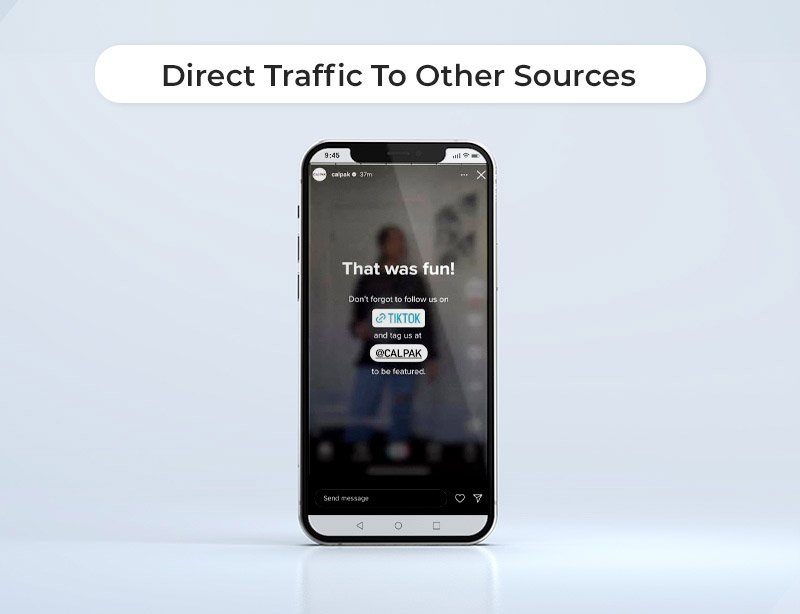 Instagram is where many consumers discover brands, but it shouldn't be where it ends. If you have a website, other social media platforms, or content on other mediums, you should use your Instagram Stories to drive traffic to them
Let's say your home decor brand wants to increase its newsletter subscriber count. Using Stories to promote the newsletter and driving traffic to the newsletter landing page is a great way to go. This is particularly valuable because Instagram limits where and how creators and brands can place links. Stories are one of the few places to direct users outside the platform, so take advantage of that.
19. Start a Countdown
If you have an event coming up and want to create buzz around a product launch, you should use Instagram's countdown sticker. It allows you to set up a timer countdown via Stories in which users can set up reminders so that they are notified once the event starts. It's a low-effort way to promote exciting possibilities for your brand.
Read More: WHICH SOCIAL MEDIA PLATFORM IS BEST FOR GENERATING B2B LEADS?
20. Promote New Posts
With Instagram's ever-changing algorithm, brands are no longer sure that their posts are getting in front of their desired audience. One way to drive traffic to your post is by sharing it on your Stories and using a "New Post" sticker.
Bottom Line
There you have it, a comprehensive list of Instagram Story ideas to ensure you never run out of content. The content on Instagram Stories must be engaging to catch your audience's attention. It's up to you to create that personal connection so try out one of these 20 ideas and let us know how it works out for you.
Suppose you need more guidance on Instagram Story best practices to grow your business. In that case, hiring a digital marketing agency is cost-effective for companies looking to improve sales and grow their business. Digital marketing agencies help companies attract new customers, improve brand awareness, and generate more revenue.
Ready to start growing your business with Gold Lion Technologies? Contact us now to schedule a free audit and strategy session. We'll present you with a roadmap for getting the most out of your Instagram page so that you can become your region's #1 company and steal many leads from your competitors.