How can I do Effective Off-Page SEO for my Landing Page?
Off-page SEO refers specifically to the optimization strategies you can implement beyond the confines of your site. Everything that happens beyond your site and contributes to your rankings is considered off-site SEO. This includes the influencer market, social media, the use of mentions (direct and indirect) and Guest blogging (sometimes black-hat).
Also known as off-site SEO, this kind of optimization for search engines gives search engines insight into how users and other digital entities around all over the Globe and Internet read your website's general features. Off-page SEO is a synonym for terms like links building or promotional activities; however, the entire process isn't only related to links. It's many other things. We'll go into the subject a bit more later.
Implementing more effective off-page SEO techniques, you're trying to convince your visitors and search engine crawlers that the website is reliable, authentic, and relevant. It could be well-known in your particular field. The benefits of using good off-page SEO strategies are numerous; however, let's mention some of them: an increase in search engine rankings, an increase in PageRank, more visitors and more mentions on social media, and more exposure.
On-page activity is active and active the work, while off-page can be inactive since it occurs after you've made an effort to create something unique and quality. In terms of the result, the off-page content is more significant and valuable than what's happening on-page. Having new and rich information and a well-designed website but with no followers, shares, likes, mentions, or even hyperlinks across the internet is not a good idea and is futile.
Following are a few techniques for you to do effective off-page SEO for your landing page.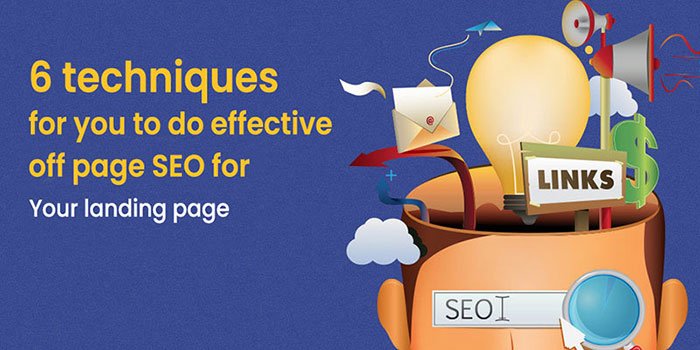 1. Build and Chase Quality Link
Professionals all around the globe use link building as their most common marketing strategy. It is, in some sense, the most desirable consequence of all. It's so significant that, despite Google's assertion that content is the essential ranking element, the masses often favor the notion of producing and giving new, high-quality material. Nonetheless, content plays a significant role in your linking strategy.
Links can be translated into the equivalent of applause or votes to your site and overall recognition of your business—this same effort to build connections led to the growth of what's now known as black-hat SEO. Sometimes, people are so eager to acquire hyperlinks that they begin playing with fire and then perform these actions: forum signatures, enroll your website in link exchange schemes linking directories for blogs, networks comment link (a.k.a. comment signature) guides for articles, and so on.
There are three sorts of links that may be found on the internet:
Natural links: A user/customer/reader is familiar with the material on your website and has a favorable impression of your services, therefore the link to your company as a gesture of trust, gratitude, and endorsement.
Links that are manually built: They are obtained via direct link-building activities. Intentionally requesting that buyers connect to your goods or that influencers spread your material;
Self-created links: when submitting your website link in comments (also known as a comment signature), online directories, forums, press releases, and other places (most of them enter in the black hat category)
The rational course of action would be to engage in natural connection building. The most straightforward approach to this is to create material deserving of links; links will naturally follow. Guest blogging is also an excellent option, but take care not to overlink to your website, making your contribution seem more spamy than valuable. Additionally, create your connections at a regular, typical rate, which is gradually, or Google will believe you're using black-hat techniques.
2. Use the Power of Social Media
Facebook, Twitter, Tiktok, Facebook, Twitter, and Instagram are the most talked-about words. They've never been this powerful and successful in all their years of existence. They certainly can connect with people, offer them the tools to inspire and encourage, provide them with the people they need (although they are, most times, they are only available on the internet), Serve them the shares and likes they are so eager for.
We suggest you consider three factors while using social media:
Be responsive – people will speak about you when they are delighted with your services or when someone asks for a suggestion or feedback from friends. Always be compassionate and interact with your fans. Customer help may be done online or offline, on your support website or social media.
Find thought leaders, influencers, recognized experts, or merely skilled group administrators to help you spread the word about your company. One, by sharing your material or mentioning you, two, by following you, or three, by just impacting your growth as a businessman or marketer. Make friends with social media experts and learn from them by taking what you like and avoiding what you don't. Birds of a feather, they say. Follow the good men for results.
Monitor your internet reputation — brand mentions are valuable assets for your company. Brand mentions do count as links in Google's search engines. Get a reliable brand monitoring tool and check who has mentioned you on social media (and not alone), what they say about you, and contact them to get new consumers or clients.Read more about HOW TO BUILD BRAND IDENTITY
3. Add an RSS Feed Subscription Box
It's better to have fewer users who visit your site frequently rather than having a lot of occasional visitors. This is why websites, whether they are reputable or not, and brands have the RSS sign-up box displayed on the walls of their sites. RSS refers to Rich Site Summary. It seems to say everything. RSS boxes/stream RSS/channel RSS, also known as subscription boxes, provide information about the page accessible to users in XML format. Users are attracted by the trigger word "subscribe" and leave their email address to receive updates without the need to search the internet for it.
Blog Commenting
Blog commenting is an incredible off-site SEO practice for increasing organic traffic to your site and improving your SERP position. Give your opinion on subjects and draw attention to yourself, but don't sign your comments. Include your brand inside the body of essential and relevant suggestions, and make its presence relevant there.
Guest Posting
Like blog commenting, you should begin by defining your motivations for participating in this manner. Guest posting regularly will not only help you establish quality backlinks (duh!) and drive more organic traffic to your website but will also do something else. Yes, you demonstrate professional behavior by posting on your blog and contributing to others.
Be Present on the Web
Off-page SEO methods can boost brand recognition and credibility. Make sure you are present at this moment and get your brand noticed. Find easy ways to present your brand's message to your clients and entice customers with top-quality services. Let them feel unique. Learn how to communicate with all segments of customers, or at a minimum, identify your intended audience instead of bouncing around the market without any idea of what you are doing.
Finally, avoid playing with fire by using black hat off-page SEO tactics. You may make adversaries out of search engines, visitors, and subscribers. Google may penalize you, visitors can ban you, and subscribers can blacklist you. That is something that no one desires.
To conclude on a positive note, just be yourself, and everything will be OK. Off-site SEO may assist you.