5 Tips to Build SEO Friendly Landing Pages
A landing page is sometimes known as a "squeeze page" or "lead page." There are many different theories for landing pages floating around the internet.
It's the first impression a visitor gets when they come to your website. A landing page/single web page on a website serves to warm up prospective customers. A landing page is not always a web page. The landing page is generally minimalistic, with a form simply for collecting data from visitors. It's an effective way to get visitors from search engine results pages (SERP). Landing pages are often used in SEM efforts, such as Google Ads campaigns, to target a specific audience, such as those interested in downloading your eBook. A visitor generally arrives at a Landing Page after clicking on an online marketing call.
In addition, landing pages are generated in email campaigns, where the user is sent to a landing page developed specifically for that email campaign. The success of an SEM or SEO campaign is determined by the quality of the landing page since the user will either interact with the page (e.g., purchase a product) or bounce off.
Purpose of Landing Page
Landing pages are tried-and-true marketing methods for entrepreneurs and businesses operating email marketing and PPC campaigns. In general, the goal of a landing page is to:
Encourage visitors to click on it to go to another page on your website (or, in the case of affiliate marketing landing pages, another website);
Persuade your audience to purchase from you;
Persuade visitors to stay in contact with you (by registering on your website, signing up for your newsletter, and so on) and to participate in follow-up campaigns (by receiving phone calls or messages from you);
Encourage visitors to learn something or obtain access to certain information (by downloading material, participating in a discussion, and so on);
Persuade visitors to book a meeting/call with your firm for a product/service demonstration;
Encourage visitors to spread the word about your business, goods, and services by asking them to share something about them.
Landing pages come in many forms and sizes, but we construct them for nothing if they don't generate the correct quantity of traffic for the right sorts of conversions. If the page does not rank, it is a waste of time and money on excellent copywriting and perfect design.
The problem with SEO-friendly landing pages is that they don't provide you with many options for optimization. So, how does one construct a search engine-friendly ranking landing page when the material must be kept short?
It's conceivable for a landing page to appear in search engine results. Because it requires some effort and patience, you may not want to use it for landing sites that are only relevant for a short period. However, performing SEO on your landing page is worth working on for long-term or seasonal campaigns.
Importance of SEO Friendly Landing Page
1. Enhancing the user experience
You must provide a pleasant user experience if you want site visitors to take action and return. It all starts with a Google search for them. Users will then come across your landing page and click through to it. Finally, visitors have the option of dismissing the page or pressing the CTA button to proceed.
By optimizing your landing page, prospective clients will have a simpler time finding the items or services they need. Furthermore, a positive user experience will aid conversions and lead to recommendations or referrals.
2. A higher-quality page rating
Regarding search engine optimization, page quality is one parameter that most people neglect. While search engines calculate many ranking factors automatically, page quality is determined by human judgment. As a result, Google pays professionals to assess the performance of pages. According to Search Engine Land, these "quality raters" conduct searches based on real-world Google searches and then evaluate the quality of the results.
Strategies to Build SEO Friendly Landing Page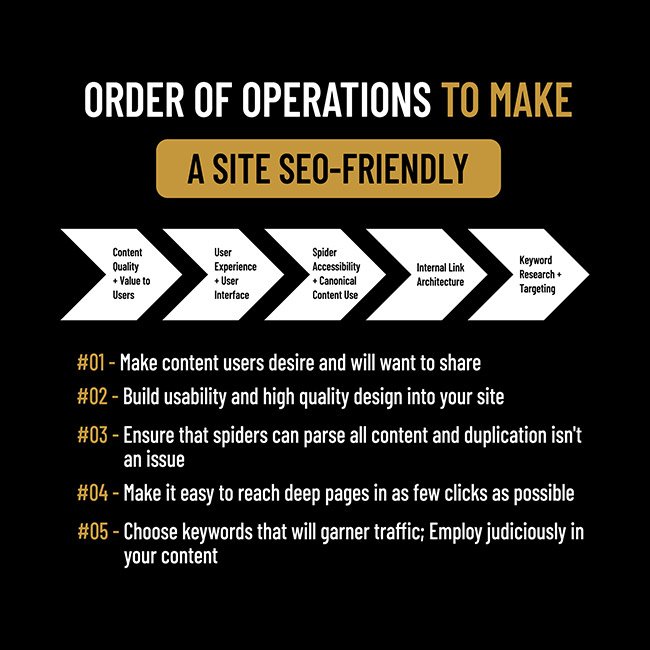 Implementing the best SEO practices on your landing pages is like doing so elsewhere with some minor adjustments. Here are some SEO aspects to remember as you build your landing page:
1. Create a URL for a custom landing page on your domain
Having a personalized domain for your company website is one of the most acceptable practices to adopt, regardless of whatever website builder or content management system you choose. On the other hand, landing pages are usually added after your website has been developed. When it comes to the landing page URL, it should always be linked to your website.
2. Choose Your Keywords Carefully
You want your landing page to rank for specific keywords in search engines, attract traffic, and convert visitors, right? In this situation, extensive keyword research and selecting the ideal long-tail keywords for your website are critical tasks that no company should overlook.
Although advertising (of any sort) drives traffic to a landing page, you can't discount the possibility that visitors may put something into their search engines and "land" on your page because it meets their needs.
3. Metadata & Heading Tags Optimization
When you look at the HTML code for your landing page, you'll see an H1> header element. Following that are H2>, H3>, and so forth. The primary H1 title on an SEO-friendly landing page should clearly define the landing page's goal and include the most crucial keywords. If you use subheadings, they should consist of keywords closely linked to the body content underneath them.
When people visit a website, they don't see metadata, but you can locate it straight immediately in the HTML code for your landing page.
The meta title, URL, and meta description will be tagged with a meta> tag. They inform Google about the content of your page and why it is significant. As a result, your primary keyword should appear in each piece. Using the exact wording in the URL and meta title, for example, can help your landing page rank higher in search results.
Because search engines can't read pictures, every photograph on the landing page should include a written description (also known as alt text). This brief paragraph of text summarizes the contents of the picture, enabling Google to recognize it and include it in search results. Remember to include your selected keywords in your alt tags. This work is required for all pages, eCommerce goods, blog entries, and other elements of your website.
When deciding on all of these aspects, don't forget to optimize Google title length and meta description length. Also, make a point of tailoring your headlines to elicit emotion and intrigue.
4. Content that is optimized for keywords
If you want your SEO-friendly landing page to rank, all written material on the page must include your keywords. You may examine what keywords your landing page is ranking for in a specific period using a tool like Google Search Console. You may then make sure that those keywords appear in your landing page text.
5. Collect high-quality backlinks for your landing page
Are you familiar with the concept of backlinks? A signal to Google and consumers that you support people in your profession. Backlinks, as you may be aware, have varying degrees of power. A backlink from an anonymous blogger to your fashion items landing page, for example, has less energy than a backlink from a primary news site advertising your new collection.
Obtaining "juicy" backlinks for your website, blog posts, or landing pages takes time, work, a perfect outreach plan, some social media research, and the assistance of a few influencers. Regardless of how much time this procedure takes up, be sure you conduct it wholly and often. Begin with bloggers, social media buddies, and websites that are eager to link back to you out of a sense of community, then work your way up to top influencers in your field, prominent publications and websites, news sources, and so on.