What is the best way to generate business leads from LinkedIn?
As a marketer, you're probably aware of some of the most popular social networking platforms for generating leads. I'm sure you've heard about the value of Instagram, Facebook, and Twitter, and you may believe you're all set if you utilize all three as part of your lead-generating plan.
If you're a B2B company, though, you might be losing out on a huge chance to develop both brand awareness and income if you're not utilizing LinkedIn. According to surveys, LinkedIn is the most effective sponsored and organic social channel for B2B enterprises, with 82 percent of B2B marketers claiming success on the network.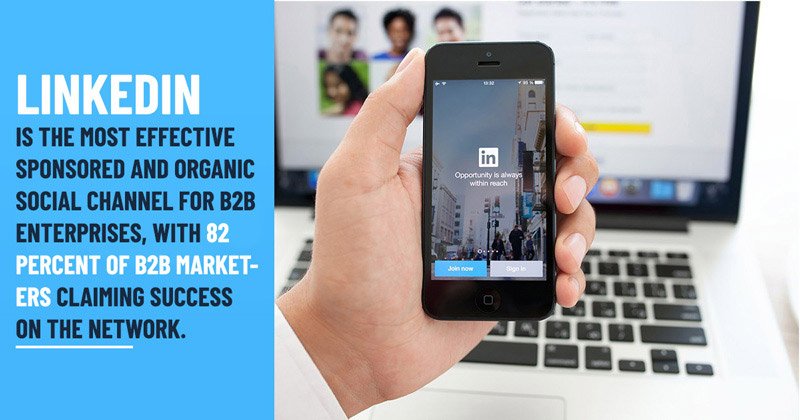 These figures make sense, particularly when platform-specific demographics are taken into account. The typical Instagram user browses through their feed, likes photographs of friends, watches their favorite celebrity's Story, and utilizes the site to locate and buy things on occasion.
On the other hand, the ordinary LinkedIn user is looking for professional-oriented information. They're already looking for knowledge to help them expand their companies, so meet them where they're already looking.
Of course, saying it is easier than doing it. The work of lead creation on LinkedIn might be difficult if you don't have a straightforward approach in mind.
Read more about BENEFITS OF USING LINKEDIN FOR BRAND AWARENESS
Generate Leads with LinkedIn
Lead generation refers to all of the actions and methods you do to attract new consumers. Lead generation is crucial because nurturing leads may turn into paying customers who utilize your goods and generate income.
LinkedIn's usual audience consists of professional decision-makers with buying power, allowing you to talk directly to prospective paying clients. We'll go through how to utilize LinkedIn to generate leads in the section below.
1. Target the Right Audiences
One of the most significant advantages of marketing on LinkedIn is that you have access to the overwhelming majority of prospective clients in one location, all of whom have a business mindset. With that in mind, consider the following:
Choose the most significant possibilities for your company. LinkedIn's advanced targeting technologies assist you in delivering your content and adverts to users who are more likely to act and convert into qualified prospects.
Retargeting is an excellent way to keep prospective buyers interested. With LinkedIn Lead Generation, you may nurture new consumers by creating target audiences of current LinkedIn members who have shown interest in your goods or services by visiting your website, registering for an event, watching a video, or filling out a Lead Gen Form.
Know more about LINKEDIN MARKETING: A BEGINNER'S GUIDE
2. Recognize the Value of Your Leads – They Aren't Just For Filling Out Forms
To determine the actual quality of the audience you're capturing, consider not just how much it takes to convert a lead but also how much that information is worth in the long run. Casting a broad net does not necessarily imply excellence.
It's critical to have the tools to assess the quality of your leads after you've started your campaign. You may utilize LinkedIn's Conversion Tracking to determine the actual quality of your audience. This gives you information about your campaigns that can help you better understand what's going on, such as:
More Comprehensive Metrics: You'll get access to both post-view and post-click conversions, providing you a complete picture of your advertising's overall effect.
Attribution Features: You may choose how each ad interaction counts for conversion across different campaigns when setting up your conversions. Each movement or a single drive might have its attribution scheme.
More in-depth insights: The demographic data gives you details about the converting people, such as their employment, titles, industries, and businesses. This will assist you in improving the targeting and content alignment of your campaign.
You can learn how to nail down the basics and move toward optimizing lead generation practices by using these features and others covered in the course.
3. Update relevant content and posts.
To ensure that your LinkedIn profile and LinkedIn page are secure, think about posting different kinds of content that include videos. The inclusion of this relevant content on LinkedIn can aid in establishing your profile as a credible source and establish relevancy and trustworthiness with prospective clients.
If you're considered an insightful and valuable source, you'll start to make connections with other professionals that match your ideal profile of a customer. If you regularly post you'll be an established user on their feed. Being familiar with them helps to begin additional conversations.
If you believe that the people you connect with on LinkedIn are professionals in the field you work in, they may bring you into new circles through the content you share. When your contacts click "Like" on an article that you've posted, it might appear in the feed of a potential lead. The lead will notice that the person you shared with them has liked your blog post and will be able to confirm your authority and credibility, and may even prompt them to ask to connect.
To ensure that you're making content that people would like to be able to see, monitor your page's analytics to find out what content resonates with your audience the most, and then create content accordingly.
4. Join LinkedIn groups where your customers and clients are on.
LinkedIn in its essence is a platform for social interaction just like others. Similar to Facebook users can make groups that are focused on specific industries and should be a part of these groups and engage in conversations with fellow professionals.
You can publish articles and updates to spur discussions on relevant subjects or just speak about your services. If you've chosen to join groups with care, prospective customers will look at what you post and start to see you as a source for useful information.
Groups can also be used to gain insight into your target audience. If the members are active, take note of the opinions of members and find out the most common issues in the industry and how leads would like to see to address these issues. Utilize this knowledge to your advantage and come up with hyper-specific value propositions that you can contact them. They should be directly to the customer's needs.
5. Make connections with your current clients and customers.
LinkedIn's major draw is networking. It is advisable to make use of the feature in lead generation.
Connect with your clients and customers connect with current clients and customers on LinkedIn and find out the people who are their connections in industry because they could be pertinent to you too. If you are connected to customers you already have a relationship to, ask them for recommendations for references or discover how to make contact with the connections you have with them that matches your profile of a customer.
Since LinkedIn is an official network, such solicitations aren't as solicitous, spammy, or salesy as calling someone cold when you find their phone number online. Leads will receive your invitation to connect, look through your profile and view your connection shared as a sign of confidence.
Additionally, when you interact with leads who are new by way of warm outreach, you're doing so. This means that you have a basic understanding of them and you can make proposals that are relevant to the interests of their customers, offering benefits right from the beginning.
6. Keep a constant presence across the platforms
Like all other social media platforms, LinkedIn requires consistency. If you write each week, you post an article and then go off and then log back in, you're not building yourself as a reliable presence among your contacts. Also, you must be consistent with your contacts.
Refusing to appear during the conversation isn't an attractive appearance and can do exactly the opposite of enhancing their desire to deal with you.
As previously mentioned, utilize platform analytics to discover the preferences of your target audience, when your posts have the greatest impact and then create strategies that keep your profile visible and present on LinkedIn.
For marketers, leads are worth their weight in gold. Strong lead generation tactics are at the heart of the most effective marketing efforts. You may develop and improve your lead generation efforts by utilizing the tools, tactics, and partners given to provide clear and persuasive outcomes.