Benefits of Using LinkedIn for Brand Awareness
If you are reading this article, then chances are that you or your business has a LinkedIn profile. And if you don't, you will probably create a profile by the end of this article. LinkedIn is ideally a social media platform for professionals. Many use this platform to get jobs, hire people, network for partnerships, and everything else related to business and careers.
Many companies and businesses have received positive progress by using LinkedIn to improve some aspects of their business. This is because the platform is one of a kind and works for those who know how to use it. Some have even managed to raise and spread brand awareness using this business's social media profile.
LinkedIn for business lets you tell your story, engage users, and increase your marketing efforts. Through these aspects, you can raise brand awareness, and there are plenty of benefits from using LinkedIn for this function.
Why LinkedIn?
Before you learn about the benefits, you might be wondering why you should use LinkedIn in the first place. Well, statistics show that this is the 4th most popular social media site, and it is dedicated to business and careers. Therefore, you stand a chance of engaging people from all over the globe who share some interest in what you and your company have to offer.
Currently, there are well over 200 million registered users on LinkedIn, and more than 35% use the platform daily. If you are in the business-to-business industry, this is great! It means that you have access to employees representing over 2 million businesses. The chances of getting your brand into the spotlight are greater with LinkedIn.
Benefits of Using LinkedIn for Brand Awareness
You Reach Your Target Audience, Globally
LinkedIn is a social media platform first and a popular one. There are millions of users on the platform representing various companies and businesses. So, your target audience is somewhere among these users. Therefore, with proper strategy, your brand identity will reach these users.
Moreover, you will have access to different target audiences across the globe. The ease of interaction with people millions of miles away is something that social media has granted the modern century. So you are no longer limited to what physical marketing tools can do. You can reach millions in different locations from the comfort of your city.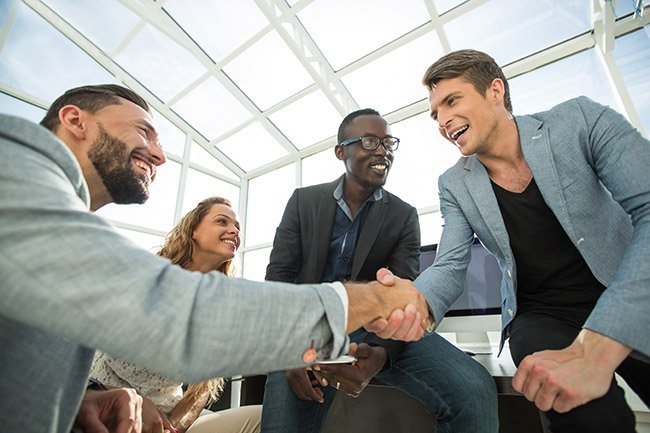 It Is The Perfect Place To Build A Reputation
LinkedIn is designed to favor businesses and professionals. It offers an excellent platform for professionals and companies to tell their stories. It also allows you to post achievements, showcase milestones, and it is even easier for users to track your progress.
When it comes to brand awareness, these elements play a crucial role in gaining consumers' trust. You can build your reputation in front of your target audience quickly. As you gain users' confidence, they become more familiar with your brand, and soon enough, you will have a reputation that can travel to different people in various places without ever leaving LinkedIn.
You Can Get Recommendations And Reviews
And speaking of reputation, reviews and recommendations can really amp your profile to a more trustworthy place. One of the benefits of using LinkedIn for your company or business is that it allows you to request recommendations from connections. Additionally, you can receive reviews on your product pages.
The more reviews and recommendations you get, the better. Furthermore, if they are all positive, they go a long way to secure your brand as trustworthy and reliable. Therefore, connections will have a clear idea of your brand and relate it to reliability. The same goes for those who have not connected with you yet.
You Can Create Engaging Content For Your Audience
Brand awareness is also about keeping your users engaged, and you can do this by sharing interactive content. By sharing engaging content that repeats the same brand messages, logos, colors, and values, you will keep users hooked to what you have to offer. Luckily, LinkedIn has all the features of a social media platform.
Therefore, you can share videos, images, links, articles, and more with your connections and relevant target audiences. If you maintain uniformity, consistency, and repetition in your messages, your brand becomes easier to identify among contacts. Additionally, it becomes easier to market your business when the time comes.
It Is A Great Place To Stand Out From Competitors
As previously mentioned, LinkedIn is an excellent place for businesses and companies. As you build a profile for either, you will have multiple chances to talk about your brand, tell your story, share products and services, share company culture, and more.
This is an opportunity to stand out from competitors. You can unlimitedly share photos, info-graphics, videos, testimonials, links, and artwork, just to mention a few. These give the users an authentic experience, different from competitors and other profiles. And as you know, standing out is the whole point of brand awareness.
You Can Link To Multiple Platforms
Lastly, one of the benefits of using LinkedIn for brand awareness is that you can link it to other platforms. This includes your website, app, other social media accounts, and even your helpline. As you design your company profile on LinkedIn, you can incorporate some of the existing features of your brand, including logo, company colors, values, and culture.
Then, when you link this account to the others, you create some uniformity. When you post or add something to LinkedIn, you can share it to the linked accounts, creating consistency which is ideal for branding. This consistency makes it easier for users to identify your brand no matter what platform it appears on.
In Conclusion, LinkedIn is a promising brand awareness and marketing tool for those who know how to use it. As a business owner looking to stay ahead and improve sales, you should consider what this and other social media platforms can do for you. Just be sure to partner with experts to ensure that you get it right the first time.