Top 7 Email Marketing Strategies For Mortgage Professionals In 2023
What works and doesn't in mortgage marketing has changed tremendously over the last few years. There is a lot of hype about email marketing strategies. They are complete game changers for closing more home loans and increasing net profits. Email marketing should be the workhorse communication channel for your business. The key to success in this field is all about knowing how to do email marketing well.
Email marketing for real estate professionals includes using auto-responders, email newsletters, and behavior-triggered emails to build trust with leads and stay connected with previous clients. Investing your time, energy, and finances into real estate email marketing ideas will become necessary for any agent or broker who wants to maintain relationships and build their business. This article will reveal seven tips to ensure you're getting the most from your email strategy.
The Email Marketing Cycle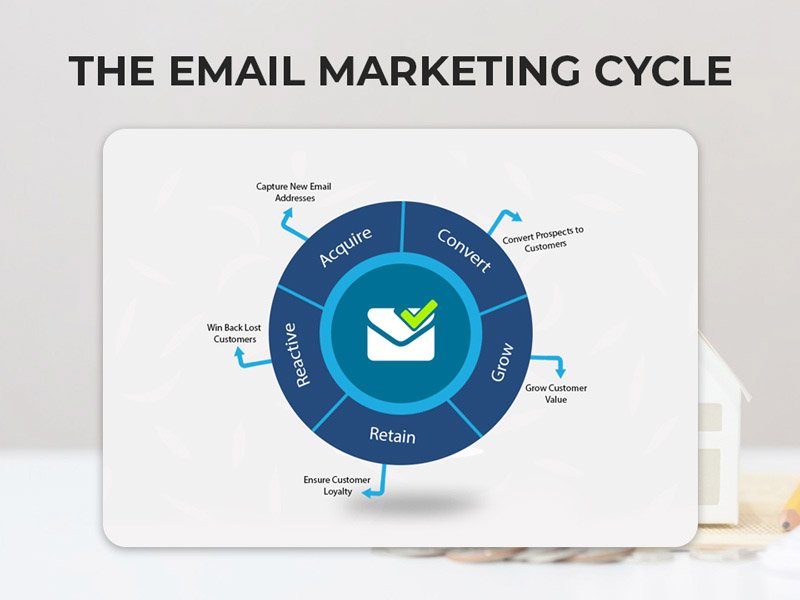 Some years ago, it was challenging to convince mortgage professionals and borrowers to use email. However, once people began using email regularly, efficiency and productivity increased significantly in the mortgage lending industry. Like everything else – from direct mail to cold calling Facebook – real estate also goes through its own cycles. Unfortunately for e-mail marketers, this cycle meant consumers became overwhelmed with spammy messages and tuned out completely. But eventually, the market corrects itself by filtering most of the junk out.
The new Gmail inbox tabs and regulations have scared off many scammers, making email marketing a cleaner landscape for mortgage professionals, brokers, and lenders to stand out. Popular social media sites and Super Bowl commercials may indeed attract attention. Email marketing, on the other hand, is a critical channel to be included in all serious mortgage marketers' mix.
There are still millions of people who don't use Facebook or Snapchat daily. In the mobile-first digital world in which we now live, with an ever-increasing number of new iPhone releases, individuals are rapidly changing phone numbers or may be unreachable. That's assuming they even pick up the phone anymore. Do your homework, and you'll find that many of your best potential loan originators read emails and respond best to them. These professionals make money, have better credit ratings, and can be reached out to when they're ready to act.
Why Email Marketing Is Important?
Despite the rise of social media and unsolicited spam email (which is never a good marketing strategy, by the way), email remains the most effective way to nurture leads and boost customer loyalty.
There are many reasons you should make email marketing one of your top priorities for mortgage marketing, but here are the top 3:
1. Did you know that at least 99% of professional consumers check their email on a daily basis? That can't be said of any other communication channel.
2. You own your list. On any social media platform, your account (along with all your fans and posts) could be suspended or deleted at any time, for any reason, without notice. However, you own your email list. No one can take those leads away from you.
3. Email just converts better. People who buy products marketed through email spend 138% more than those who do not receive email offers. In fact, email marketing has an ROI (returns on investment) of 4400%. That's huge! And if you are wondering if social media converts even better, think again: the average order value of an email is at least three times higher than that of social media.
Email is simply the best way to make sales online. Now that you know the importance of email marketing let's learn the best ways to go about it.
7 Effective Ways To Use Email Marketing For Mortgage Professionals
Here are some strategic tips and best practices for those looking to succeed in mortgage professionals' email marketing.
1. Email Newsletters
Email newsletters are the most common type of email in email marketing. As the name suggests, they often contain news and updates, aiming to keep the audience engaged. At the same time, they are designed to push users toward conversion gently.
Send out timely email newsletters to keep your prospects and clients engaged. Make sure they pick you when someone they know or trust has a funding need.
2. Get People Back To Your Mortgage Blog & Website
Keep people coming back to your blog and mortgage website for more opportunities to sell by sending out clips of your newest content. Make sure you're writing high-quality content that does a great job of covering a unique angle on your topic. Don't just rehash the same stuff over and over again!
3. Bump Up Your Social Reach
By sending emails to contacts with invitations to connect across social media channels, you create multiple opportunities to contact them. This way, even if they change their email address, you won't lose touch.
4. Market Updates
Regular email marketing messages show your value, help boost your brand as an authority and go-to resource, and keep prospects interested. From product updates to event invites to random blog posts, emails support every single aspect of your business.
5. New Product & Opportunity Announcements
Email marketing is a very effective way of reaching out to prospects. The people on your email list expect you to share news related to your product. Therefore, there is a big chance they will convert. Keep your customers in-the-know by emailing them about new loan products, features, and opportunities to refinance or get home equity lines of credit.
6. Customer Loyalty Initiatives
To maintain a good relationship with your clients (and have the potential of their business for life), email is a great way to keep in touch. Offer them discounts for referrals, and send birthday and anniversary messages. Though these may seem like small things, if you're the only one who remembered to send a birthday greeting, you'll likely earn their loyalty.
7. Set Up Consultations & In-Person Appointments
Use emails to provide yearly mortgage planning consultations and appointments so you can meet face-to-face, demonstrate your value, and close more deals. Forward-thinking modern mortgage marketers and entrepreneurs may even use email to promote other items and services in order to diversify revenue sources and push profits over the top.
Read More: HOW CONTENT MARKETING FITS INTO YOUR MORTGAGE BUSINESS
What Are The Best Practices For Email Marketing Success?
Email Frequency: Value and consistency, rather than sheer volume, are the keys.
Personalization: By personalizing each message, your customer will feel as though the message was created just for them.
Length: It teaches users how to find the perfect apartment while also providing tips on how to save money and time throughout their search.
Timing: Timing your email delivery for when recipients are most likely to read and react to them
Automate: Consistently send out emails that show your client how much easier their life will be once they sign up for this excellent service.
GDPR: Following the adoption of the new European data protection rules, bloggers have been burning up the internet with sensational advice. The implementation of these new EU regulations has provided bloggers with a lot of fuel to create a stir in the marketing world. To prevent problems, block your website from being used in Europe, use a third-party email service provider that is on top of this, and review your privacy policies and data-gathering practices.
Read More: HOW TO CREATE HIGH-QUALITY EMAIL MARKETING TEMPLATES THAT CONVERT
Bottom Line
Email marketing is a relevant and vital channel that shouldn't be overlooked if you want to succeed in the mortgage industry. Although it may seem like a daunting task, when done correctly, it can really pay off– literally. By following these email marketing tips for mortgage professionals, you'll be on your way to maintaining (and growing) your customer base in no time.
Hiring a digital marketing agency is a cost-effective strategy for companies looking to improve sales and grow mortgage businesses. Digital marketing agencies help companies attract new customers, improve brand awareness, and generate more revenue. Ready to start growing your business with Gold Lion Technologies? Contact Us for a session for a FREE business audit.