5 Winning Facebook Ad Strategies To Try In 2023
Facebook is as much of a social networking site as it is a sales platform nowadays. It's one of the best channels for reaching your target audience and driving online sales since it allows for more than just simple brand-customer interactions.
Even though Facebook advertising is currently experiencing diminishing returns, skyrocketing costs, and targeting challenges due to the ever-changing privacy policies and regulations, it remains an important channel for businesses to consider. It has an astonishing 2.93 billion users, indicating that Facebook is still the largest social platform.
While it's best to use your online store as your command center, you still need third-party platforms as distribution channels to meet buyers where they're at. Facebook Ads offers advertisers some of the most robust targeting options and is a great medium for reaching potential clients.
Some Benefits of Advertising on Facebook
You can make the argument that Facebook ads are becoming less effective than they were in the past. However, it's still the most active social media network with the most active users. It's important to use Facebook ad strategies intentionally to ensure that you're not wasting your budget on ads that won't contribute to the bottom line.
There are several benefits to advertising on Facebook:
Advanced options for targeting your ads to specific audiences.
Seamless e-commerce integration.
Insightful data analytics.
One of the largest social networks.
Access to Facebook's entire Ad Library.
Options for every budget.
Both customer acquisition and retention can be done with Facebook ads. It's a great way to build brand awareness, advertise to new potential buyers, and nurture relationships with people who already know your brand. For each ad, Facebook offers three key goals or objectives to choose from.
Awareness: If you're new to business or advertising on Facebook, use this objective to attract new customers. You could use awareness goals to promote an event or launch a new product line.
Consideration: The next step in our Facebook ad journey is to provide your audience with ads that deliver more information after you've created some awareness. These ads should help you collect leads or drive engagement.
Conversion: Getting people to convert is the final step in the journey. Maybe you want people to visit your website, get directions to your store, or fill out a form to give you their information. This could also be a call to action for the to purchase a product.
There isn't a telltale sign when it comes to considering Facebook ads. Almost every business and budget can take advantage of the platform's opportunities.
Install The Meta Pixel
Before diving into the Facebook ad strategies for your business, you need to set up the Meta pixel. The backend of your website contains a small piece of code called the "pixel." Once installed, it collects data about your site visitors and their activity, which makes it easier for you to run effectively-targeted Facebook ad strategies down the line.
Here's how it works: Once the code is installed, the pixel will track the behavior when a user clicks on one of your ads and visits your site. You can see how much time they spend on your site, which links they click, which pages they visit, which products they purchase, and more.
While those insights are valuable, the real value is in your ability to build audiences and segment your customers. Tailoring the creative and bidding for more effective ads can be achieved by targeting your Facebook ads to specific audiences.
The Facebook-Shopify integration allows merchants to sync product catalogs, easily create shoppable posts, and use Shopify to create, track, and manage Facebook ad campaigns and orders.
Read More: TEN SOCIAL MEDIA MARKETING TOOLS THAT WILL HELP YOU REACH YOUR TARGET AUDIENCE
5 Facebook Ad Strategies To Try in 2023
1. Personalize Your Ads by Targeting Specific Audiences
With some of the most robust ad targeting options out there, you can get super specific with your target audience, promotions, and ad creative. This is extremely helpful if you don't have a lot of existing customer data.
With Facebook's Audience Insights tool, you can get ideas for building your core audience. If Audience Insights tells you your current follower's location, demographic, interests, behavior, and connections, you can apply those parameters to your Core Audiences as you see fit.
Here are a few ideas on how to use the Core Audience targeting options in your Facebook ads strategy.
Target by Life Events: There are many life event targeting options, including but not limited to, engagements, marriages, babies, new jobs, graduations, a recent move, retirement, anniversary, the loss of a loved one, and many more. Think about life events that may correspond to your products or services, and consider the contexts in which your clients will go to you.
Target by Weather: Even though this isn't a native Facebook targeting option, there are third-party tools that you can use to adjust ad creative automatically and activate/deactivate ads based on local weather conditions.
Target by Hobby: Audience Insights are an important part of a Facebook ad targeting strategy. Pick out the hobbies that aren't directly related to your niche or products when looking at the shared hobbies in your audience. For example, if Audience Insights show that there's an interest in country music and concerts, you should consider targeting that audience with ads that suggest that coolers are great for tailgating before concerts and festivals.
2. Nurture Repeat Customers Through Facebook Custom Audiences
The groups of Facebook users who know about your brand are called Facebook custom audiences. This means they've visited your website before, engaged with your Facebook page or posts, signed up for your emails, made a purchase, or engaged with your brand in another way.
When you give customer data to Facebook, they take that data and compare it to their users, eventually matching your customers to individual users. You can target these people with different ad campaigns after Facebook creates groups of them.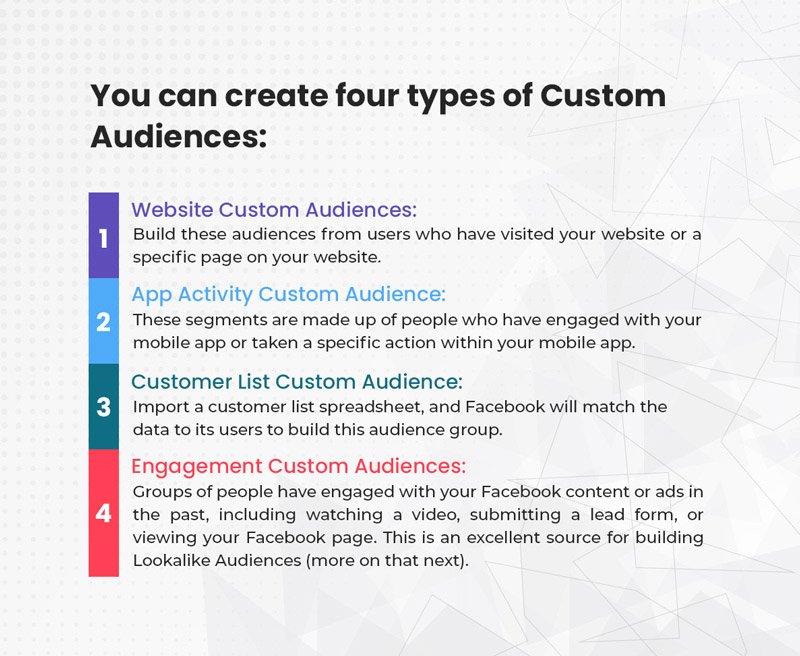 3. Expand Your Market Through "Lookalike" Targeting
You will use your Custom Audiences to create new segments with the same characteristics as the target. Lookalike Audiences are audiences that look similar to one another.
Lookalike Audiences are valuable because they have a lot in common with your existing audiences, so you already know what they like and which ads perform well. You can often use the same ads for your Lookalike Audiences that you're already running for other targets.
This is a great way to acquire new customers because you already know their preferences, so you can use proven and effective ad creatives to introduce them to your brand.
How similar your Lookalike Audience is to your source audience can be determined. You will target a smaller but more specific group if you keep it very similar. A larger but broader audience is what you will target if you allow for a lot of variation between the audiences. There's plenty of room to get creative and experiment with the 500 Lookalike Audiences that Facebook allows.
4. Retarget Previous Visitors To Your Facebook Or Instagram Pages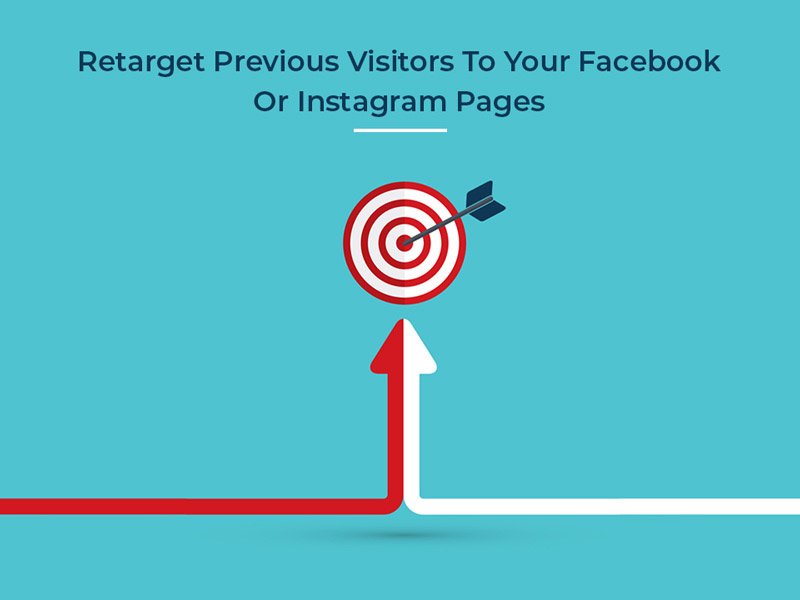 Users who have visited your website or interacted with your Facebook page in the past will be shown Facebook retargeting ads. This Facebook ad strategy can be used to nurture existing relationships. It's possible to target users based on actions they have taken, such as likes on Facebook, products added to the cart, or even specific pages visited.
There are many applications to this Facebook ad strategy that include people that have:
Engaged with your brand on Facebook and Instagram.
Visited your website.
Used your mobile app.
Spent a certain amount of time on your website.
Visited specific pages of your website or viewed a product (called "viewed content").
Added a product to their cart.
Initiated checkout.
If you're trying to sell a particular product, you can retarget users who have visited that product page.
Read More: WHICH SOCIAL MEDIA PLATFORM IS BEST FOR GENERATING B2B LEADS?
5. Check Out Your Competition in Facebook Ad Library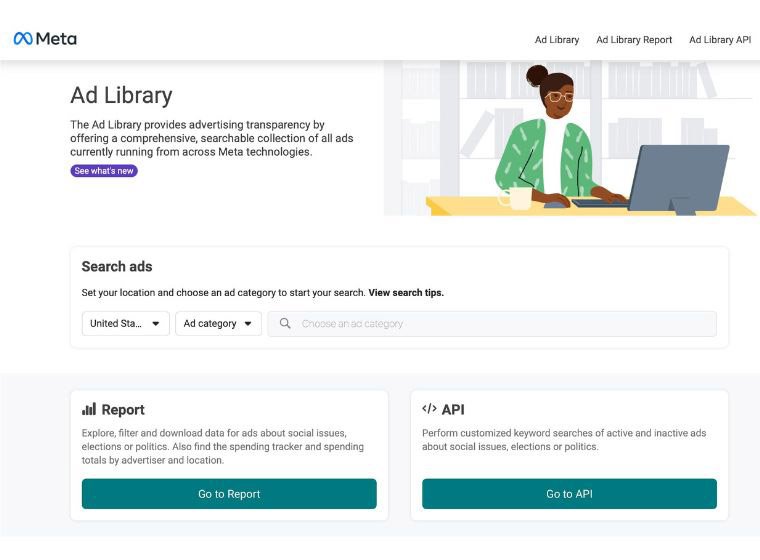 To know what attracts your audience, you must understand what your ads compete against. Once you've developed your Facebook ad strategies and built campaigns to promote your brand, you should also check out what your competitors are doing. Facebook launched the Meta Ad Library to increase transparency for advertisers. A repository for all the current and past Facebook ads run by any advertiser is what the tool serves.
It's important to see which ads your direct and indirect competitors are running on Facebook. The ad creative, including imagery and copy, as well as ad variations, should be looked at closely so that you can find ways to stand out.
Information such as when each ad starts running, which platforms they are on, how many ads use the creative, and if the ad is active or inactive is available for anyone to see. It's possible to understand your greatest chance of standing out by doing a SWOT analysis.
Iterate and Analyze Your Facebook Ads Strategy
It's possible to set it and forget it, but the most effective Facebook ads are constantly adjusted for performance.
Testing your Facebook ads is really important. It will help you learn what works and what doesn't so you can adjust according to those insights. If you want to find out if one type of content performs better than the other, you can test Facebook video ads versus photo ads. It's a good idea to consider the cost of your ads when advertising on Facebook because it's possible to adjust bidding and targeting to get a lower cost-per-click.
The integration with Facebook makes it easy to verify data accuracy and see how it fits into the bigger picture of your online business. When you sell on Facebook with Shopify, you can manage your entire business from a single central command center because everything is at your fingertips on your dashboard.
Read More: FIVE POWERFUL WAYS TO COMBINE SOCIAL MEDIA AND EMAIL MARKETING
Facebook Ads Strategy FAQ
What Strategy Should I Use for Facebook Ads?
You can use any of the five strategies in this post for Facebook ads:
Personalize your ads by targeting specific audiences.
Nurture repeat customers through Facebook Custom Audiences.
Expand your market through "lookalike" targeting.
Retarget previous visitors to your Facebook or Instagram pages.
Check out your competition in the Facebook Ad Library.
What Are the Most Effective Facebook Ads?
The most effective Facebook ads are targeted to a specific audience, constantly optimized to improve performance, and integrated with a larger e-commerce marketing strategy.
What Makes a Good Facebook Ad in 2023?
A good Facebook ad in 2023 is targeted to its audience and optimized for multiple devices.
What Is the Best Optimization for Facebook Ads?
The best optimization for Facebook ads is using the dynamic ads option. Facebook automatically uses the best-performing ad creative to promote your campaigns.
The Bottom Line
Using Facebook Ads to generate leads for your company is fantastic as long as you know how to target your audience correctly and as long as you don't expect every ad click to result in a sale right away. Creating brand awareness is just the beginning of the path to converting these people into customers.
Your landing page must include content that makes you stand out from your competition. Make sure it's an appealing lead magnet so you can develop a mailing list of interested prospects who might benefit from further contact.
Hiring a digital marketing agency is cost-effective for companies looking to improve sales and grow their business. Digital marketing agencies help companies attract new customers, improve brand awareness, and generate more revenue.
Results That Gold Lion Technologies Are Generating for Clients
Ready to start growing your business with Gold Lion Technologies? Contact us for a FREE 30-minute business audit.