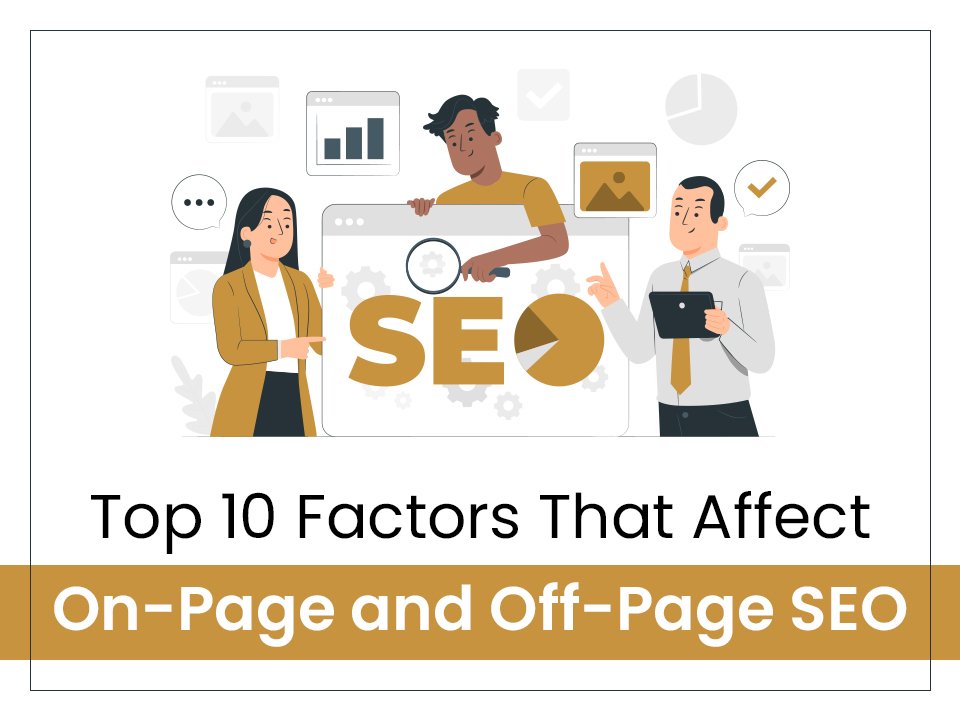 Top 10 Factors That Affect On-page and Off-page SEO
Are you looking for the best ways to improve your website rankings? Which factors are influencing your on-page and off-page SEO? When it comes to SEO ranking factors, the landscape can seem quite daunting. With so many factors influencing your search engine rankings, you may be wondering which ones are most important and what you should focus on first. So here we have compiled a list of the top 10 things you need to know to improve your ranking.
Fundamentals of Search Engine Optimization (SEO)
Search engines dispatch their little robots called crawlers or spiders to discover the different corners of the web. These tiny explorers traverse from site to site through links and compile a comprehensive record known as a search index. As they explore these sites, they also assess each web page's content to determine what kind of data it carries with itself.
This data is then taken into consideration by the search engine's algorithm when deciding how accurately a page addresses user queries. The higher the accuracy, the better it ranks on Search Engine Results Pages (SERPs).
Constantly striving to deliver its customers superior outcomes, Google updates its algorithm continuously. Unexpected changes in ranking serve as a reminder that you need to update your website for optimal rankings.
Crucial SEO Ranking Factors You Need to Know 
SEO is a powerful practice to include in any digital marketing strategy. When successfully implemented, SEO can provide extraordinary results with higher search engine rankings leading to more website visitors and sales opportunities. After all, the most beneficial place for your potential clients to find you when searching for what you offer is at the top of their search engine results — this is precisely why SEO exists! Let's explore how different on-page and off-page factors can influence your online visibility and positively affect ranking positions.
On-Page SEO
On-page SEO, also referred to as on-site optimization, is optimizing website content for search engines and users alike. On-page SEO plays an integral part in the success of any online presence. That's why it's important to understand the key factors that affect on-page SEO. Whether you are just starting or an experienced marketer, understanding these top 7 factors will give you an edge over your competition.
1. Add a title tag.
On every page of your website, be sure to include a well-crafted title that's 70 characters or less. It needs to feature the keyword or key phrase you want to rank for to demonstrate to visitors and search engines what the page is about.
2. Write a meta description.
Although search engines often overlook this element of SEO optimization, it can be a powerful tool to explain the content on your webpage in greater detail. Additionally, including the primary keyword or phrase within this description can have an even more potent effect!
3. Create sub-headings.
With the help of headers, your content will be easier to read and comprehend while also boosting your search engine rankings. Furthermore, they offer a great opportunity to pinpoint keywords and phrases that are relevant to what you're writing about. This implies to search engines that these topics must have relevance concerning what is on the page, meaning it's likely to be relevant information for their users!
4. Build internal links.
This method allows you to reach superior rankings for your pages without any external SEO needed. You should include a link from the shorter posts to authoritative content with greater length. This ensures that the long article ranks higher in search results, strengthening its power and impact on users.
5. Use the image name and ALT tags.
To help search engines better understand your website content and increase its ranking, ensure that the name of each image on your site contains a keyword related to it. This will make it easier for people to find your images when they search using those same keywords.
6. Avoid over-optimizing.
Crafting content for your website is an exercise in balance — too much of one thing can be bad. Your primary keyword should not dominate the content. Instead, you should incorporate related keywords and phrases into your text. Employing this technique could give you a chance to rank highly across multiple search terms!
7. Make your website mobile-friendly.
In this digital age, it's critical that your website loads and functions optimally on mobile devices, given that most searches and social media traffic are coming from such platforms. If your website is not optimized for those accessing it through a cell phone or tablet, you risk suffering poor user experience, which may lead to lower rankings in search engine results.
Read More: HOW IMPORTANT IS SEO IN THE FIELD OF DIGITAL MARKETING?
Off-Page SEO
Off-page SEO is about optimizing the external factors that influence a website's performance in search engine results. Several key factors affect off-page SEO.
1. You must build trust.
Gaining trust is crucial in the eyes of search engines. It's essential to prove that your content is reliable and authoritative, which can be done by constructing top-notch backlinks from trusted sources. Additionally, ensure that all the material created for your website is accurate and of high caliber — this will help you gain trust with visitors and Google!
2. Build backlinks.
For maximum success, SEO experts must consistently craft relationships with other websites rather than spamming links or constructing them too hastily. If they fail to do so, it could lead to the de-indexing of their website. In other words, it's expulsion from search engines forever!
3. Get social signals.
Harnessing the power of social media is essential for achieving higher search engine rankings. Crafting high-value content that your followers can like and share on their accounts will likely boost your visibility in SERPs. Creating engaging posts and distributing them across your channels is important so more people can discover you!
FAQ
Why are both on-page and off-page SEO important?
On-page and off-page SEO work together to improve search engine rankings. By first producing high-quality content to gain high-quality on-page SEO, you'll earn domain authority and increase those backlinks, improving off-page SEO. A good SEO strategy isn't about choosing between the two.
What is better, on-page or off-page SEO?
On-page SEO is about building a website that appeals to users and search engines. Off-page SEO is about getting exposure for a website while building trust and authority for your content.
What is the difference between on-page and off-page SEO?
On-page SEO is what you do to your website to make it easy for search engines to find. Off-page SEO includes the things you do outside of your site besides advertising. This helps make it easy to find by these same search engines.
The Bottom Line
Now that you understand how on-page and off-page elements impact your SEO strategy, it's time to make the necessary enhancements to your website to generate an upsurge in web rankings and sales.
To conclude, many factors affect on-page and off-page SEO. Remember that SEO is a marathon, not a sprint. It's important to remember that it will take time and may require several months of effort for you to understand the advantages. However, when your website begins ranking on the search engines consistently and starts boosting sales, the payoff will be more than worth it!
Hiring a digital marketing agency is cost-effective for companies looking to improve sales and grow their business. Digital marketing agencies help companies attract new customers, improve brand awareness, and generate more revenue.
Ready to start growing with Gold Lion Technologies? Our goal is to help businesses reach their dreams and to be the leading solution for their clients. Contact Us for a FREE business audit.