8 Effective SEO Techniques to Drive Organic Traffic in 2022
The demand for SEO services increased to an all-time high this year. As customers migrated en masse to the online world, even the most established businesses understood they needed to expedite their digital transformation. SEO is the most feasible and cost-effective method of both understanding and reaching clients at critical periods.
Most companies' websites rely heavily on organic search, which is a crucial aspect of the buyer's funnel and eventually leads to a conversion or interaction from the visitor. The primary source of the traffic to a website is almost always organic search results. SEO gives us what our clients need or want, from overall market developments to clear consumer intent. In particular, SEO aids customers in need, and companies and their marketing activities will profit from comprehensive, quality SEO implementation on a brand's website and digital assets.
Do you know, on average, 90 percent of all smartphone searches worldwide are happening on Google?
Search Engine Market Share
However, Google is not the only search engine that you should focus on. Experts advise that individuals often look for relevant material on other websites such as Amazon, YouTube, and Facebook. SEO should no longer be based just on Google's search engine results page (SERP). Even while Google plays an important role, you should also consider other more specific and broader possibilities. Amazon and Facebook cannot be ignored if you are doing worldwide business. This is highly critical for companies that operate at a regional or local level. These are the top 7 search engines that you should focus on.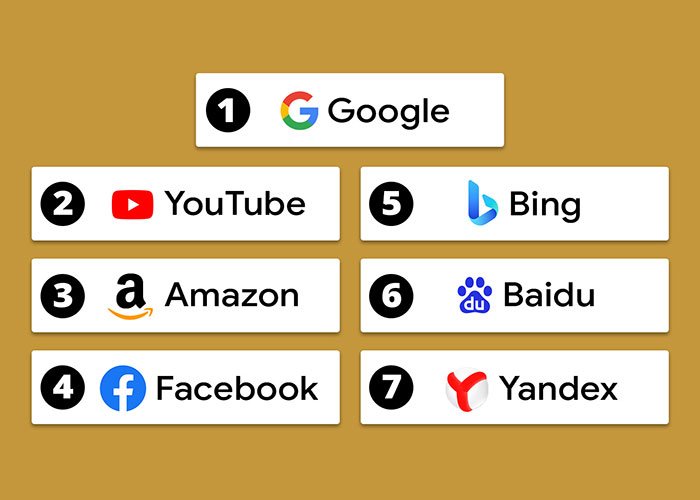 7 Top Ranking Search Engine
It is also known that 75 percent of searchers do not go past the second page of their search results. So, your business must stay on the first page. Though Google changes its algorithms very frequently, it is possible to achieve with practical techniques. Here are the eight most effective SEO techniques to drive organic traffic in 2022.
Optimization of Voice and Image Search
The most effective SEO technique of 2022 is the optimization of voice search. Around 40% of internet users in the United States utilize voice commands, and this number is expected to rise by 2022! Alexa, Siri, Bixby, Google, and other intelligent virtual assistants have increased the number of voice-enabled searches. Voice search may be improved by including long-tail and location-specific keywords into your website's content.
Google Images is responsible for almost 20% of all online searches in the United States. So, if you want to dominate SEO in 2022, you'll need to know how to optimize any picture for search.
Image Search is growing popular 
To Improve CTR, Look At The Meta Titles.
CTR refers to click-through rate, the percentage of individuals that click on your ad or free product listing after seeing it. Meta titles and descriptions are often seen by visitors to a website. Using keywords in meta titles is a great way to improve your search engine rankings. Meta descriptions range from 150 to 160 characters in length, while meta titles are limited to 60 characters. It helps Google comprehend the page's content by providing a keyword-rich title to the page.
EAT theory
E-A-T theory is one of the most effective SEO techniques to drive organic traffic. The EAT (Expertise – Authoritativeness – Trustworthiness) theory outlines the reasoning for Google's focus on a website's reputation. Reviews, ratings, customer feedback, and more are used to determine a website's validity and reliability.
Highlighting all of your honors and accolades on the website is a great approach to keep the information fresh and current. Also, you should respond to criticism with professionalism even if you have received it.
Content quality
Longer content attracts more visitors than shorter content; nonetheless, keeping viewers interested is crucial! In 2021, creating buyer personas has become an essential aspect of SEO and will continue to be so.
The target audience finds it attractive when presented in the proper manner. Also, specify the source when providing data to make the information more legitimate.
Also, users value new material above outdated stuff. When looking for a solution, individuals often check the date. If your postings are all out of date, people will swiftly move on to the following search results.
Prioritize video content
Video optimization is a sure way to improve traffic via search engine optimization (SEO). Add a few specific keywords and hashtags to help the right people see the material. With the aid of a well-written introduction, you may boost your organic traffic significantly.
Improvements to Technical SEO
In addition to content enrichment, stressing the technical components of SEO will be a hot topic in 2022. Everything matters, from the appropriate content per page to the crawl rate and page speed ratio. To promote organic traffic in 2022, make sure that redirects, backlinks, and URL structures are in place.
Concentrate on Local SEO
Adding local keywords to your meta descriptions is a good idea if you own a local company. Google's algorithms can only help your website rank higher in local searches if the location is explicitly stated. Your local company gains credibility when you use GMB and include your name, contact information, and address on your website.
Smartphone responsive websites
In today's digital marketing world, smartphones play a critical role! According to Google's most recent improvements, mobile speed will eventually be an essential ranking factor. Companies should think about creating a mobile-first version and then integrating it with other platforms.
Read more about The 9 Most Important SEO KPIS You Should be Tracking.
Conclusion
It will be all about individuals and tailored experiences in SEO in 2022! To succeed, you must focus on creating high-quality content that is relevant to your audience. To be successful in running a company, you must be aware of the changes that will help you prepare for the challenges that lie ahead.