How Should You Use LinkedIn for Lead Generation in 2022?
LinkedIn isn't the first thing that comes to mind regarding social media marketing. On the other hand, this professional networking platform provides a wealth of B2B marketing chances.
Are you having trouble believing it?
Eighty-two percent of B2B marketers utilize LinkedIn for content marketing, according to the Sophisticated Marketer's Guide to LinkedIn. This is because top-level influencers, decision-makers, and industry thought leaders often use LinkedIn. Moreover, LinkedIn is famous for sharing B2B content as well.
You can attract their interest and build your company while producing leads if you have the appropriate plan. You may also utilize LinkedIn to drive more visitors to your website and strengthen your brand's trustworthiness.
A well-thought-out LinkedIn lead-generating plan may help your company reach new heights. However, advertising your business on LinkedIn might be difficult. You must seize the spotlight and produce leads without coming out as excessively promotional.
Despite its effectiveness in producing leads, LinkedIn seems to be underused. 45 percent of marketers have obtained consumers using LinkedIn, even though just 47 percent of marketers are regularly utilizing the site.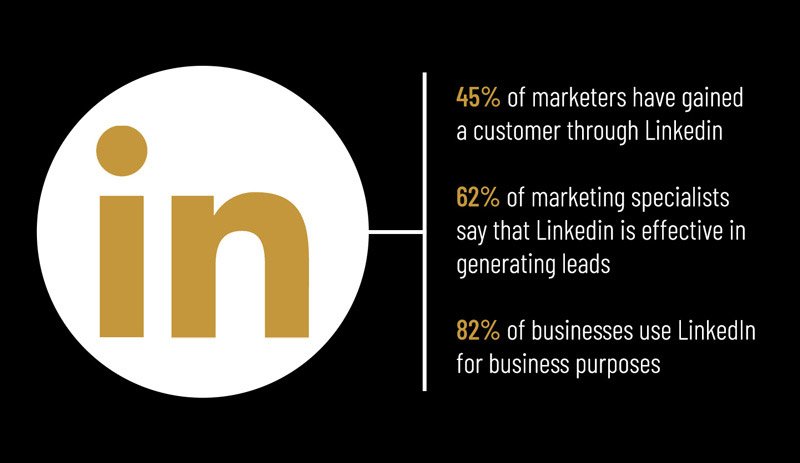 There's a strong probability that your website or blog will acquire many new visitors if you find the ideal strategy to advertise your company. You should increase your income by converting website visitors into quality leads.
Now, let's look at the most acceptable methods for generating LinkedIn leads in 2022:
Make your LinkedIn Profile Complete
A complete and up-to-date profile is one of the most important parts of LinkedIn lead creation. It gives prospective customers and recruiters a first look at your abilities and services. As a result, it must be fascinating enough to leave a lasting impact.
This is particularly vital for businesses and freelancers who want to get new projects and tasks and attract new clients.
Your LinkedIn profile should include detailed and relevant information about you, such as your work experience, job titles, academic background, professional accomplishments, and so on.
You should also construct a Company Page for your business/brand in addition to your one. Provide detailed information about your business, including its size, location, years in business, products/services, and so on.
Your brand will look more trustworthy and professional with an up-to-date Company Page. To increase brand exposure, including your firm logo and website URL.
Make Use of LinkedIn's Adoptions.
If you want to expand the reach of your material beyond your current connections and followers, you should start looking into LinkedIn's numerous advertising alternatives.
The most straightforward method is to write sponsored articles based on your most engaging and valuable content. LinkedIn allows for very exact and accurate targeting, allowing you to reach out to the appropriate people.
HubSpot, for example, used LinkedIn Sponsored Content to create 400% more leads than conventional lead-generating methods.
LinkedIn advertising, like HubSpot, allows you to develop SEO-friendly advertisements and send qualified visitors to your website. Ads with compelling calls to action and targeted content may help you increase conversions.
It has also been shown that the quality of leads obtained via LinkedIn is considerably better than that obtained through other methods.
Don't Underestimate the Importance of Optimization.
Search engine optimization (SEO) isn't only for Google anymore. In reality, you can improve your profile and Company Page using the same methods.
What is the significance of this?
It guarantees that when someone searches for items or services linked to you, both on and off LinkedIn, your name or brand appears. As a result, it is incredibly effective for generating LinkedIn leads.
The first step is to choose the keywords you want to rank for in your profile. This necessitates a grasp of the most common search queries and keywords used by your target audience. To attract more precise prospects, you may improve your profile for long-tail keywords, much like SEO.
Make Contact with Visitors to Your Profile
Every time your profile has a visitor, LinkedIn sends you an email that says, "Someone has visited your profile." The majority of individuals ignore such alerts.
Does this ring a bell?
When it comes to LinkedIn lead generation, however, these emails may provide you with a wealth of information and possibly assist you in locating new clients.
When someone looks at your profile, they are most likely interested in your goods or services. It is recommended that you use the email notice to locate them.
Alternatively, you may utilize the "who's seen your profile" part of your LinkedIn profile's "Profile" drop-down menu. This may assist you in generating leads and connecting with more prospective clients, allowing your firm to expand.
Create Posts That are Conversion-Friendly
In addition to employing tools to write high-quality information, you should include appealing captions, bullet points, and visual elements like emojis in your LinkedIn updates.
You should also include suitable calls to action and links in these messages. This helps you get more LinkedIn leads by increasing traffic to your website, blog, or landing pages.
Make sure your postings aren't filled with self-promotional vocabulary if you want to create leads on LinkedIn. Instead, you should give extra materials to your audience that will assist them in learning more about you and your business.
Join Groups on LinkedIn
Joining all relevant LinkedIn groups is an excellent means of broadening your audience and speeding up the LinkedIn lead creation process. Don't limit yourself to organizations that are simply focused on your business or specialty.
Once you've joined a group, make sure you participate in the discussions by adding relevant information. You may even incorporate links to your blog entries or landing sites to improve website traffic.
It establishes your brand as an industry authority while also developing new contacts. To avoid getting purged by LinkedIn's spam filter, ensure your comments aren't filled with self-promotional information.
Read more about HOW TO GENERATE LEADS ON LINKEDIN.
Use LinkedIn Pulse to Generate Leads
LinkedIn Pulse is a news platform integrated with LinkedIn and accessible as a standalone app.
What difference does it make to you?
You may publish articles there and reach a far wider audience than you can with your site.
Consider it similar to guest blogging but on a platform with a large readership and immediate publication without the need for editor approval. Using LinkedIn Pulse to publish your articles will help you reach a significant and relevant audience while establishing you as an industry expert.
And, since this is a news platform, it's preferable to provide stories about the most recent industry trends and events.
Look for Connection on LinkedIn
LinkedIn is a professional network for people from many walks of life, making it an ideal platform for generating leads. There's no list of LinkedIn lead-generating tactics that don't include manually looking for individuals on the network. Look for connection with prospects to make your business more connected with people.
Furthermore, LinkedIn offers additional search criteria that you may utilize to identify industry-relevant prospects.
Conclusion
LinkedIn is one of the top venues for connecting with industry leaders and generating leads for your company. There are various LinkedIn lead-generating tactics you may use to accomplish this.
You may quickly capture the attention of prospective customers if you use the appropriate method. You must optimize and maintain your profile up-to-date to achieve this.
Effective LinkedIn lead creation, more than anything else, requires a thorough grasp of your target demographic. So, before you choose a LinkedIn lead creation approach, figure out who you want to target.