How do you use Google Search Console to Improve SEO?
Business owners, marketers, and SEO professionals may utilize Google Search Console to improve their site's digital visibility and organic traffic. However, despite its rising popularity, the Google Search Console interface isn't exactly the most sophisticated or user-friendly. Thus, using Google search console to improve SEO comes around quite often. In this article, we will be discussing this issue,
What is Google Search Console?
Google Search Console is a tool that may assist anybody with a website to understand how they are doing on Google Search and what they can do to increase their search visibility and drive more relevant traffic to their sites.
Google Search Console is a free tool that allows marketers and SEO experts to monitor and evaluate their SEO results. Users may also discover and fix technical and page performance concerns to make their website more search engine-friendly. The platform is not only free to use, but it also has the most extensive and up-to-date SEO dataset accessible anywhere.
Google Search Console (GSC) Vs. other Keyword Tracking Platforms
Many digital marketers depend on the most popular SEO platforms such as Ahrefs or SEMrush to collect important keywords rankings. These tools help study your performance concerning your competition. However, since they scrape the SERPs for keyword rankings, they collect outdated and incomplete information.
The tools can see only 30-40% of your site's overall keyword rankings since they crawl a tiny portion of SERPs, and they do not crawl regularly. For instance, you can compare the number of keywords that Ahrefs can see to the Link Graphs GSC Analytics (built on the Google API) for the same site.
This is a significant difference in the data on keyword rankings. In the lookup for SEO facts, none of the other platforms can even close with Google's data.
However, why is it crucial to know the significance of all of the key phrases in which your website's pages are ranked?
Since every search is a new chance for your company to attract real clients and customers.
The Right Way to Use Google Search Console
Various reasons are that GSC is an essential element of any Digital Marketing Strategy. Google is constantly tweaking the Search Console system to enhance the dashboard's features while also offering extensive information about the performance of their search engines.
Although various features have been added or altered over time, however, the primary purpose for the site has been the same: to offer entrepreneurs, marketers SEO experts, and business owners direction in how to improve the SEO performance of their business–from both from a technical and content perspective.
In a nutshell, this is how you can use Google Search Console for SEO:
Monitor keyword rankings, impressions, organic traffic average position, and click-through rates (CTR).
Know the index coverage and ensure you are sure that Google crawlers are correctly indexing web pages.
Submit sitemaps, remove files and file removals.
Find and resolve issues with page user experience The Core Web Vitals and problems with mobile user experience.
Confirm Google sees schema.org markup so web pages can appear in rich results.
Look up security concerns or take manual steps Google has discovered.
Examine the most important backlink information such as the total number of external hyperlinks, internal links, the most linked pages, the top linking websites, and the distribution of anchor text.
These steps are crucial to comprehending your SEO's performance and improving it too. Good SEO is essential for various marketing goals and objectives, including increasing traffic and conversions and enhancing your brand's reputation by understanding your customers and improving your presence on the internet.
Every appropriate keyword inquiry, as previously said, offers a fresh potential for your company to get genuine consumers and clients. When iterating on your website and determining if your SEO plan is on track, Google Search Console's data is unrivaled in terms of accuracy and breadth.
Although Google maintains their ranking algorithms under wraps, they make it extremely obvious via Google Search Console where you should concentrate your efforts to improve your overall search performance. One of the most effective ways to increase your internet presence is by analyzing that data and using it as a roadmap.
Lastly, we will sum up the right way for you to use Google Search Console so that you can measure where your website currently stands and do something about it.
In the next few days, confirm that Google connects your content with the search term you're trying to target, and you'll be able to apply strategies to increase the position of your content in keywords.
You should prioritize which pages Google should crawl so that your targeted pages will rank higher and provide impressive results.
Troubleshoot and fix issues with the experience of your website using Google Search Console's direction.
Perform SEO split tests and swiftly determine which optimizations were successful to later apply it on other pages.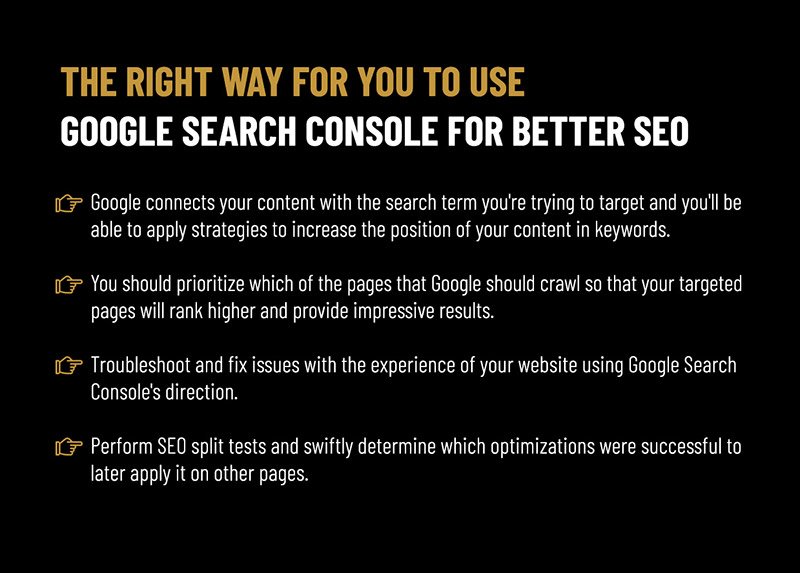 Conclusion
Search Console is a must-have for every company or website owner that relies on organic search for growth. Many website owners who are unfamiliar with Search Console may overlook its significance. Perhaps they're concentrating on other aspects of generating visitors, leads, and sales to their company.
The main reason is that if you have material on your website (which most people have), adding GSC to it or getting someone to do it for you will help you make better business choices in general, not just SEO ones.