Facebook Ads (Lead Gen) for Mortgage Brokers and Lenders
Over the last two decades, the marketing industry has evolved exponentially due to new technologies and marketing platforms like Facebook and other social networks. Using Facebook Ads to find your target consumers and direct them to your website is an excellent method. Over the previous several years, Facebook's popularity has remained stable. Businesses that have made the most of Facebook advertising have acquired consumers in big numbers at a low cost per acquisition.
When starting a mortgage brokerage, Facebook leads are the holy grail: the elusive "if-only-I-hadn't-forgotten" goal. In truth, lead generation is only the first step in a complete social media marketing strategy. The follow-up is what keeps your mortgage pipeline full now and for years to come.
What Are Facebook Lead Ads?
Simply said, Facebook Lead Ads are one aspect of the Lead Generation objective that allows you to gather leads right within the Facebook interface quickly and simply. The Lead Generation objective is one of 11 campaign objectives that Facebook provides advertisers. Each of these campaign goals corresponds to a distinct business outcome, such as brand awareness, website traffic, video views, or genuine leads, as we're concerned with here.
How Facebook Ads Works
Facebook Ads is a pay-per-click advertising platform, just like Google Ads. You may choose only to pay when someone clicks on your ad, as with CPC (cost per click) bidding. You can also bid for your Facebook marketing on a CPM basis, where you are charged each 1,000 impressions (appearances) of your ad regardless of the number of clicks they receive.
Facebook advertising is a form of auction in which the amount you bid for each click or every 1,000 impressions will impact when your advertisements appear. Advertisers can create their Facebook ads using the self-service option or engage the services of a Facebook Ads manager. There are numerous advertisements on the Facebook Ads platform, allowing advertisers to choose whether they want to promote their Facebook page, individual posts on their Facebook page, or their websites. Advertisements may be pictures, text, or video, appearing in people's newsfeeds or as sidebar ads.
Ads can also be targeted to appear on Instagram (owned by Facebook), within Facebook Messenger, and on the leading Facebook site. One of the reasons why advertisements on Facebook are so successful is because they allow you to target people based on many criteria, including location, age, relationship status, employment, hobbies, interests, firms they follow, income level, and parental status. Because Facebook has a rich store of information about its users, both from the data they offer in their profiles and from analyzing their online activities, this degree of targeting is feasible.
Facebook Ads vs. Google Ads
Facebook Ads helps companies reach out to individuals who aren't currently searching for anything but are more than likely to be interested in their services. Suppose a mortgage broker uses Facebook advertising to target people who have previously expressed interest in Rightmove. In that case, there's a good chance those ads will be clicked by consumers looking to move house and, consequently, need a loan immediately.
CPCs for Google Ads are generally higher than those for Facebook advertisements. This is offset, however, because people who click a mortgage broker's ad on Google are actively looking for a mortgage and are more likely to become a warm lead on their first visit to your website.
Example of Lead Ad
This ad is targeting first-time buyers in the Millennial generation. The form will be completed when someone clicks on the Learn More link. The prospect data will be pre-filled into this form, making it easy and quick. The image and content of the form may all be customized to match your consumer avatar. If required, you may ask pre-qualifying questions to filter out prospects unlikely to be a good fit for your specific loan program. You can receive, store, and communicate your data in various ways. It might be emailed to you, kept in a safe document, or simply added to your CRM after you provide information.
Advantages of Lead Ads
Leads: Facebook is an excellent source for leads.
Speed: When a prospect closes their browser and submits an order, Google Ads sends you their contact information as soon as possible.
Ease of Use for Potential Customers: Many users are on mobile devices, so your ad bypasses the cumbersome website forms, and most importantly, Facebook completes the form for them with the information it has already gathered.
Ease of Use for You: Lead Forms in Facebook are generated for you by Facebook, with no clunky forms to construct or develop on your website.
Retargeting: You may retarget prospects with advertisements that have been engaged with and abandoned the form before providing information. This increases conversions on longer sales cycles by assisting considerably in targeting.
Cost: Typically, cost-effective than traditional media or other lead sources like Zillo.
Control and Flexibility: The process is simple, with precise targets, and budgets can be readily adjusted.
Read More: TOP 5 MARKETING TOOLS TO GROW YOUR MORTGAGE BUSINESS
Facebook Ads for Mortgage Brokers
Running Facebook Advertisements to get mortgage leads is much the same as running them for any other type of business. Still, there are a few things to consider if you're a mortgage broker wanting to utilize Facebook Ads. Property buyers are more emotionally invested in their purchases than customers who buy essential goods like clothes or electronics. This will have an impact on the style of marketing that you'll need to use.
It's worth noting that Facebook advertising is only effective if you build an audience. Mortgage brokers who utilize Facebook Ads will also need to be able to vary their method based on the sort of client they're trying to attract. A first-time buyer, for example, will require more assistance and handholding than a seasoned property investor looking to acquire the following property for their portfolio.
Here are some suggestions for mortgage brokers who want to use Facebook Ads to obtain mortgage leads.
Target the Right People on Facebook
Understanding your target audience to show your advertisements to the appropriate individuals and get the most return for your advertising budget is critical. The finer you can define your ideal consumers, the better you'll be at targeting Facebook Ads to appeal to them. This is when focusing on one or a few targeted sectors might pay off.
You should also consider dividing your audience into various client types and utilizing distinct messaging in your advertisements for each type of customer. For example, the Facebook Ads you use to target pensioners will almost certainly need different images and ad text from the ones you utilize to reach buy-to-let investors.
Retargeting with Facebook Ads
Not everyone who visits your website will submit an inquiry during their first visit, even if you have a fantastic website with compelling landing pages. Some of these possible customers may be simply surfing the web for comparisons at this time, while the information on your landing page may not sufficiently persuade others. You may use a Facebook Ads retargeting campaign to stay in touch with these people who don't convert on their initial visit – even if they didn't come because of an ad click.
The more times a person sees your ad on Facebook after their first visit to your website, the more probable it is that they will return by clicking on it. And there's a good chance that, on the following visit, they will convert and submit an inquiry.
Provide Helpful Content on Your Landing Page
Potential clients will mostly form an impression of you based on the content on your website when attempting to establish a business relationship online rather than in person. Your material's quality will significantly impact how many people convert into leads and eventually sales. An excellent landing page should know what questions your potential customers will have and offer them answers. There are a variety of media to convey this information, such as blogs, videos, presentation slides, podcasts, e-books, and webinars.
Suppose you're dealing with a customer with credit difficulties and seeking a remortgage. In that case, you might provide information on obtaining a copy of their credit file and the quickest methods to improve your credit score. If at all feasible, include some video material; it's usually more engaging than written content. You may also utilize videos to identify the most appealing prospects among the people that come across your Facebook ads. A viewer who watches more than half of one of your videos is likely to be interested in your services and should be a good candidate for retargeting. Make sure your material is unique and beneficial.
There's a lot of information about mortgages (and everything else) on the internet, so consider how you'll make your content stand out. Making it extremely specific and specialized is a practical approach to do so.
To Obtain Mortgage Leads, Use Facebook Lookalike Audiences
Lookalike Audiences is a tool available on Facebook Ads that allows you to target people who are similar to your existing customers. After you've gathered enough information, the algorithm in Facebook can examine who has inquired about your services while visiting your website (regardless of how they got there) and identify Facebook users who it believes are comparable. You may then decide whether or not to advertise just to these individuals, whom the theory suggests are more likely to convert into leads.
To Discover Mortgage Clients, Consider Combining Targeting Techniques
You may often get the most excellent outcomes by combining two or more Facebook targeting techniques to pinpoint the user most likely to respond to your advertisements. Assume you've discovered that your ideal remortgage customer is married and runs their firm after looking at your current client bank. You can locate married business owners on Facebook quickly, but you'll obtain a vast audience, and there's no assurance they'll all be interested in remortgaging right now.
You may, however, develop a second audience of individuals who have expressed an interest in the Money Saving Expert Facebook page. These individuals clearly have an interest in money and saving money.
Facebook will allow you to mix these two audiences, thus allowing you to target only those who are both married business owners and fans of Money Saving Expert. These are the individuals who match your ideal consumer profile, as well as people who are likely to react positively to an ad that claims they could save money by remortgaging their home.
Nurture Your Facebook Mortgage Leads
When it comes to major financial choices like a mortgage, you need to take your prospects through a multi-step funnel if you want to have the highest success rate in converting them into clients. It's doubtful that someone would spend time on Facebook, see one of your advertisements, click on it, go to your website, and request a mortgage quote in a matter of seconds.
That's why lead magnets and automated emails are the most effective in terms of Facebook advertising.
Use Multiple Communication Channels
Many people don't enjoy filling out online forms. Instead, they despise phone conversations. Some individuals like texting, while others do not. Because everyone has different communication habits, it's essential to provide a variety of methods for visitors to interact with you after clicking from Facebook to your website to increase the likelihood of your Facebook Ads being effective.
You may also want to consider including a chatbot and perhaps a way for customers to contact you via WhatsApp on your landing page if you make sure that your phone number is clearly visible and that you have a simple inquiry form.
Read More: HOW CONTENT MARKETING FITS INTO YOUR MORTGAGE BUSINESS
The Bottom Line
Using Facebook Ads to generate mortgage leads for your company is a fantastic method of generating leads as long as you know how to target your advertisements correctly and as long as you don't expect every ad click to result in a sale right away. Converting prospects into clients is just the beginning of the path to converting these people into customers.
Your landing page must feature material that allows you to differentiate yourself from your competition. And as a result of this, you should make sure it provides an appealing lead magnet so you may develop a mailing list of interested prospects who might benefit from further contact.
Hiring a digital marketing agency is cost-effective for companies looking to improve sales and grow mortgage businesses. Digital marketing agencies help companies attract new customers, improve brand awareness, and generate more revenue.
What Gold Lion Technologies are Generating for Clients?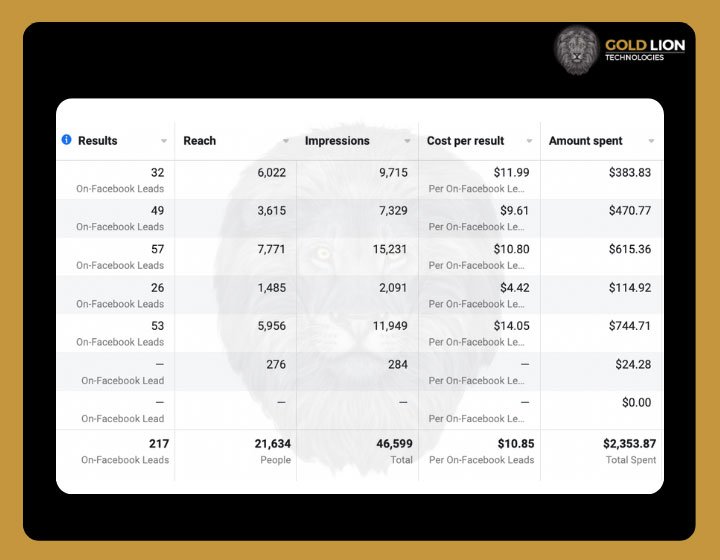 Ready to start growing your business with Gold Lion Technologies? Contact Us for a session for a FREE business audit.