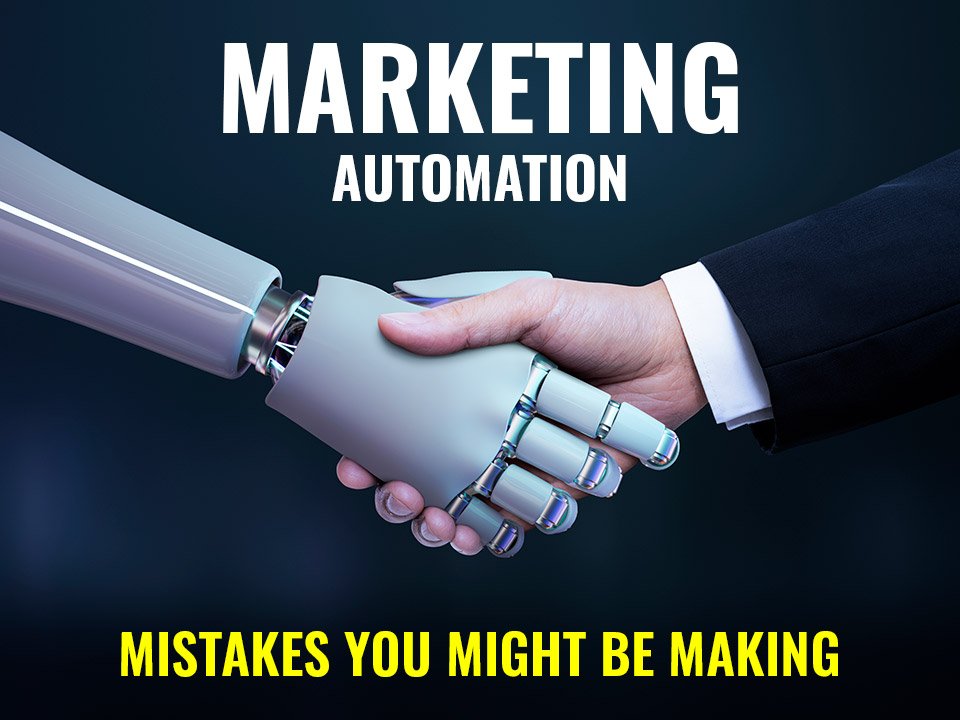 9 Marketing Automation Mistakes You Might Be Making
If you're a marketer, you'll no doubt be aware of several powerful tools and platforms that provide marketing automation services. These promises improve your marketing campaign's efficiency by automating routine activities. But how can you tell whether or not your company is getting the most out of marketing automation technology? When it comes to marketing automation, there are a few traps marketers often fall into. Here are nine of the most common mistakes:
1. You've Been Working With Meaningless Information All Along
The percentage of B2B marketers who think the most effective technique to increase the effectiveness of their marketing automation tool is through high-quality data was 58% in a 2021 state of marketing automation report. Dirty data might cost businesses money and time if they act on incorrect information. Duplicate records, misspellings, and attribution mistakes are all examples of this. This might be anything from duplicate records and naming discrepancies to out-of-date contact information and incorrect attribution.
An uncluttered email list is an excellent example of unclean data. Most likely, your list includes inactive users, spam addresses, and duplicate emails that jeopardize the accuracy of your information. This will result in lower engagement rates, damage to your IP reputation, significant email marketing expenditures, and a loss of leads. You must use clean data when programming your automation to be confident it will be worth the effort you're putting in.
2. You've Chosen The Wrong Automation Software
According to the study, 43.9% of those who don't rely on marketing automation say the most significant barrier they confront is that they can't discover platforms with all the required features. According to a recent state of marketing automation report, 59% of B2B experts feel that their marketing automation tools aren't being fully utilized.
Not only are marketers perplexed with choosing tools, but they're also unsure how to use them. Marketers must choose the proper marketing automation tool since it will influence the success of their strategy. The following are some of the essential features to search for in marketing automation software:
User-friendly, intuitive interface
Advanced analytics and reporting
Knowledge base and customer support tools
Integrations
Scalable options
3. You Have A Disconnection Between Your Marketing And Sales Teams
The worst mistake you can make with marketing automation is to operate in a silo. Marketing is a function that supports sales, products, and other business sectors. As a result, your marketing team must enlist the participation of all relevant stakeholders for your processes to be compatible with groups outside of your own.
This is critical for marketing and sales teams, which convert leads into marketing-ready leads (MQLs), sales-ready leads (SQLs), and customers. Have you considered how your sales staff might benefit from any processes? This might be an automated email from a sales representative once a lead has completed a high-intent behavior. To identify what that conduct is, you must first define it with the sales team.
4. You Don't Teach Your Employees
The State of Marketing Automation Survey found that 31 percent of B2B professionals cited a lack of training as the most significant barrier to utilizing marketing automation solutions, followed by a lack of resources (29%). Automation tools are robust but useless if your staff doesn't know how to use them. Holding training sessions ensures that critical stakeholders are familiar with your tool's capabilities, understand current procedures for creating new ones, and recognize how to develop new processes.
Here are a few tips for training your team:
Maintain close communication with your employees to familiarize them with the best way to perform tasks and be productive. To prevent this from happening and ensure that your sessions continue to be effective, only teach what each team needs to know.
Yes, your service provider reps should be able to help. Nobody knows a piece of software better than its representatives. Contact your provider and inquire whether they offer training seminars.
Hold a multi-step training program – One session will unlikely be sufficient to educate your staff adequately. Make sure you have several sessions, each of which incorporates a variety of teaching methods to assist learning.
5. You Set And Forget
However, while automation may appear to be a set-and-forget process, it is entirely hands-on. The distinction is that you are paying attention to something else instead of production. Instead of concentrating on the output, you can focus on evaluating and improving performance.
6. Only One Type Of Automation Strategy Is Used
This is how you end up missing out on lucrative possibilities. Take advantage of your software tools to help you be more efficient. Undoubtedly, many little activities don't appear to take much time on their own throughout the day. Suppose you add up all the time you spend updating social media accounts and sending and receiving emails. In other activities, you'll find that a significant portion of your day is spent on things that can be automated.
Look into which processes in your marketing automation you can improve. Users may bulk update lead contact information in the HubSpot software, for example, rather than going into each record and changing details. The more processes you automate, the more time you'll have each day to strategize with your team about content, lead generation, and lead nurturing strategies to keep bringing in high-quality leads.
Here are some automation techniques to help you get started:
Chatbots
Task management
Lead scoring
Lead nurturing
Contract/quote automation
Lead rotation
Drip campaigns
7. Your Marketing Automation Software Isn't Linked To Your CRM
A marketing automation system is meant to make the process of marketing more accessible. Customer relationship management software is intended to make managing leads and customers simpler. You do much more work for yourself if your automation software and CRM systems aren't connected. When deciding on marketing automation and CRM systems, ensure they can communicate with one another and that you have the resources to do so.
8. You Don't Have A Goal
Take advantage of the simplicity of using marketing automation software and invest time and resources into determining your objectives first. Once you've established them, you'll want to assign these goals to each automated activity – such as social media campaigns and email processes – so that it's simple to follow improvement.
After all, marketers need a mechanism to evaluate marketing automation's efficacy, and one option is assessing goal attainment. A target may be a new leader who has transitioned into a marketing-qualified lead based on certain actions, such as downloading a specific number of content offers.
9. You Don't Segment Your Email List
You have a database of suitable leads, but you're blasting hundreds of unpersonalized emails. As a result, your leads are churning since your emails aren't helpful to them. The answer is to create a lead nurturing plan that includes email list segmentation, so you may send personalized emails to specific individuals who are more likely to read them.
Creating an email list segmentation plan with the appropriate marketing automation software is simple. Marketing automation is a valuable tool for any company, but it is critical to know how to optimize it and avoid its pitfalls. Keeping these things in mind will guarantee that your automation performs at peak efficiency.
Conclusion
If you avoid these nine mistakes, you'll be well on your way to success with marketing automation. Just remember to do your research, train your team, and monitor your progress. With a little effort, you can take your marketing to the next level with automation.
What other marketing automation mistakes have you seen?