8 Ways to Improve Your LinkedIn Lead Generation Ads in 2022
LinkedIn has grown in popularity as a content consumption platform in recent years. You may visit LinkedIn to see what your connections are up to and what themes are popular in your field, rather than seeing what your great aunt ate for lunch on Facebook or hearing someone rant about politics on Twitter. The targeting tools enable marketers to zoom in on almost any aspect of their audience's profile. Because the site also offers numerous advantages to its users, it's in their best interests to keep their profiles up to date.
According to a study of worldwide B2B marketers, the most effective B2B marketers use Linkedin to build demand for their company.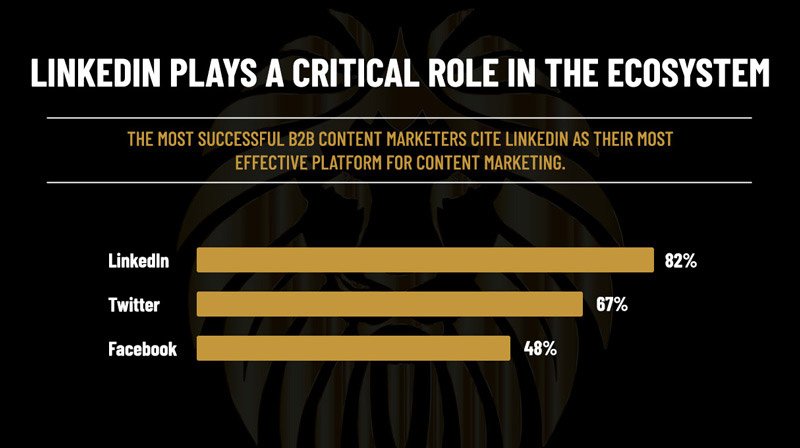 This article will discuss LinkedIn Lead Generation Ads and some recommended practices for maximizing your account in 2022.
That's why, if you want to produce higher-quality B2B leads, LinkedIn is the place to be. However, if that is your objective, you should be aware that not all techniques are made equal.
1. Offer Something Valuable
This is the most significant difficulty I find with LinkedIn marketers. Every company believes its product or service is exceptional, and I'm sure that yours is. But it doesn't make it desirable for someone to start pitching you on their products without first building a relationship with you.
Sorry, but a demo of your product to a cold prospecting audience is unlikely to succeed with LinkedIn advertising.
No matter what form of marketing you use, if the material or offer you have isn't valuable, no one will desire it. As a result, you must ensure that you can provide something of value to your prospects.
This might be anything from a market study to a list of typical problems your consumer base experiences and how to fix them, sometimes without mentioning your product. Do some research to determine what your target market wants, and then provide it to them at the cheap, low cost of one lead generation form fill.
2. Ensure your CRM Follows Up with the Leads Right Away
LinkedIn may enable you to directly interface with your CRM for lead generation ad submissions, depending on the platform you're utilizing.
Although you may export your leads manually, I strongly advise you to link your CRM. For a handful of reasons, it will make life so much simpler.
For starters, it saves you time by eliminating the need to log in and manually export leads regularly.
Second, these B2B prospects may instantly begin making their way through your nurturing funnels. There's almost no time between when a person fills out a form and when they're added to whatever follow-up process any other user would be in after completing a form on your site.
3. Provide a Valuable and Semantic Name
Imagine going in to debug a form problem or to put up a test with new form parameters, only to be greeted with a list of the following form names:
Form 1 (lead generation)
Form 2 (new form)
Form 2 (test form)
What exactly does any of this imply? Not a single thing.
Now you're stuck clicking into each of them, trying to figure out what's going on while forgetting what you just read about the difference between "Form 2" and "New form 2," assuming there was one at all.
Give your forms a descriptive name so you can figure out what's going on right away and use that information in future ad testing.
4. Treat the Text Fields on the LinkedIn Lead Generation Form as a Landing Page.
Because the visitor is unlikely to see your website until the confirmation page (if at all), you should treat the form content as if it were the landing page. Put some time and attention into your form content like you put time and effort into your landing pages.
The user is considering whether or not they are willing to disclose their information in return for what you're selling. If you undersell it, they will not, paying you the costly LinkedIn CPC while providing no advantage.
Read more about LINKEDIN MARKETING: A BEGINNER'S GUIDE
5. Maintain a balance between volume and quantity.
You must establish a balance between the questions you ask and the number of replies you wish to get, just like you would with any other form.
Here are my significant recommendations if you're looking for higher-quality leads:
More questions should be asked.
Use the personalized questions to your advantage.
Don't utilize all "autofill" queries; force the user to put anything in.
This function is especially beneficial for gathering first-party data, which is becoming more crucial as privacy regulations become more stringent when it comes to custom inquiries.
6. If You Need to, Use Hidden Fields.
Just because you've linked your lead forms with your CRM doesn't guarantee that everything will operate properly. It may make sense to use the hidden fields in the state depending on how you measure performance and have leads mapping in your CRM.
Essentially, they enable you to provide extra data to your CRM that isn't available immediately inside the form. These are fantastic for monitoring sources, targeting, creativity, and more in your CRM, similar to tracking landing page views.
7. Provide Consumers with Two Options for Obtaining Information.
It's crucial to realize that not all users are the same. They may have various objectives for when they interact with your material, depending on what you're delivering via your adverts.
I recommend giving users numerous ways to connect with your offer, especially if you're presenting a brochure, industry report, or whitepaper—something they may want to read right now or later.
The first step is to include the website link (if relevant) and the landing page URL in the Confirmation mentioned above. This way, if they need the material right immediately, they may acquire it by clicking on the URL.
Second, whether they interact with the material right away, have your CRM send them another way to log in. Even if it's only a short letter saying, "Here's the industry study you requested," it may go a long way in ensuring that the individual refers back to the material and sees your company as an instructive source, strengthening future relationships.
8. Make use of the Website Demographics Function on LinkedIn.
A handy but little-known feature of the LinkedIn Campaign Manager is the ability to segment visitors to your website from LinkedIn advertisements depending on their job function, business, company size, and more. Go here to discover more about how to use LinkedIn Website Demographics to optimize your ad success.
Lead generation advertisements on LinkedIn may help you acquire more excellent conversion rates from an already costly demographic. Both parties will benefit from using these suggestions to make your campaigns more productive for you and more potent depending on what you're delivering via your adverts for your consumers.