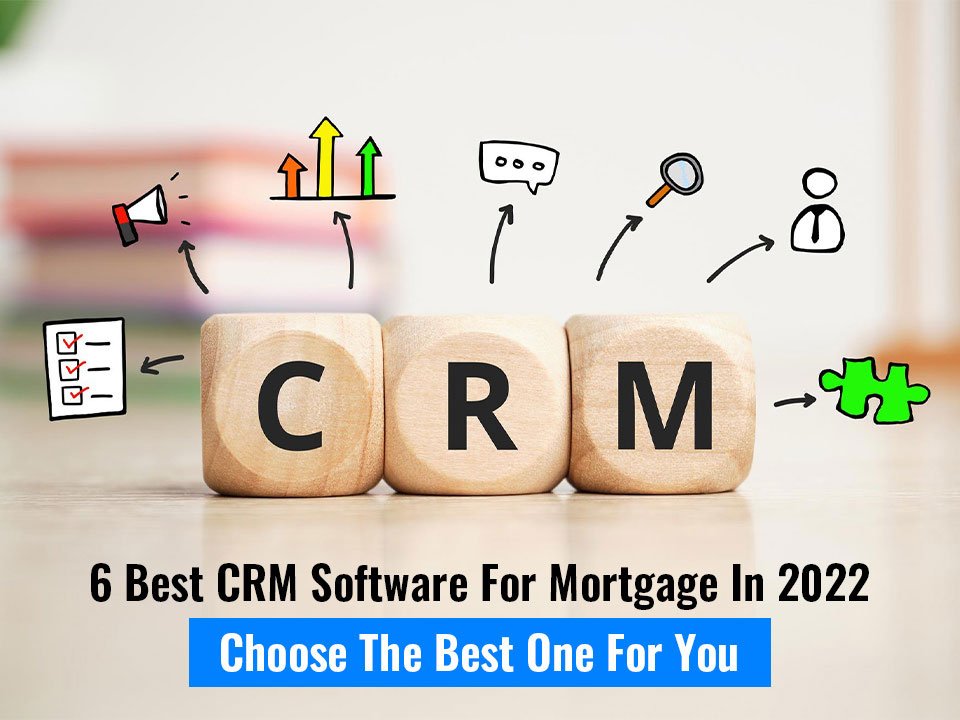 6 Best CRM Software For Mortgage In 2022: Choose The Best One For You
Have you considered the steps you need to take to develop strong client and referral partnerships? Have you done so as efficiently as possible? We now live in a technological age. There are an infinite number of tools at our disposal. While several methods exist to market your business and enhance customer relationships, one device, in particular, is intended to accomplish this – the best mortgage CRM.
The best CRM for loan officers isn't only a database that holds client contact information. It can also be a valuable tool for interacting with clients and gaining a deeper understanding of them. This leads to enhanced customer service and more significant income for you. Does it make sense? Look at mortgage CRM software and what it can accomplish for loan professionals.
What Is Mortgage CRM Software?
Simply said, a CRM eliminates the mayhem of lead management, allowing you to engage, nurture, and close more deals in less time. The ideal CRM for mortgage brokers will connect with your other business processes, such as pre-loan and post-closing, to help you attract more borrowers while maintaining the highest possible conversion rates by leveraging the power of mortgage-specific workflows. But there are a lot more advantages to consider. Let's take a look at some of the most important benefits that the best mortgage CRM may provide for your company.
Read More: 5 MORTGAGE MARKETING TIPS FOR LOAN OFFICERS TO WIN IN 2022
What Can CRM Do? Benefits Of A Mortgage CRM
Mortgage loan CRMs commonly include automation, pipeline management, regulatory compliance, referral management, and mortgage event notifications. Keeping all client information in one place while reducing contact management is easier with a mortgage loan CRM that includes all of these features.
Automation: Humans are good at doing things one by one, which may be a problem.
Pipeline Management: Pipeline integration allows lenders and brokers to access loan reports, maintain records, and update status values in their Loan Originating Software (LOS). This method makes it easier to locate contact information and loan data.
Referral Management: The lending and broker businesses are both reliant on referrals. When a trustworthy referral campaign, such as a drip marketing strategy that may be set up and managed through the top loan officer CRM, is in place, it becomes easier to obtain.
Mortgage Event Notifications: As the name implies, a mortgage CRM is a software program that helps lenders and brokers book appointments with consumers at their leisure. They include important notifications about increasing yearly premiums and upfront mortgage insurance rates.
Regulation Compliance: Lenders and brokers must stay current on housing industry rules and compliance, primarily since their clients rely on them for up-to-date information on how interest rates may be affected. A mortgage CRM has a component that can be configured to ensure that brokers and lenders adhere to FHA regulations.
6 Best Mortgage CRM Software For 2022
Mortgage providers can use contact management software to manage client loans, generate house buyer leads, and keep track of important papers all in one system. Mortgage CRM software lets you stay linked with new, present, and previous homebuyers using communication tools. We looked at dozens of mortgage CRM systems and picked the top six.
Go High-Level: An all-in-one sales & marketing platform that agencies can white-label and resell to their clients!
Streak: Google Workspace is the best overall mortgage CRM software; it's ideal for mortgage firms who use Google WorkSpace.
Whiteboard CRM: A comprehensive solution for mortgage businesses looking for a tool to manage all aspects of their operation.
BN Touch: One of the best mortgage CRM systems that make it easy to organize contacts and opportunities and communicate with buyers.
Jungo: Jungo is a solid pick for mortgage firms that also work in the real estate field.
Surefire: The best CRM for mortgage brokers that utilize a lot of content marketing.
Go High-Level
GoHighLevel is a CRM and marketing automation platform designed exclusively for marketing agencies. GoHighLevel includes a membership platform where you can build unlimited free or paid courses with a total number of users for your clients or your agency. The membership area can be customized and fully branded using the built-in drag-and-drop editor. The high-level Platform is everything agencies need to manage their client's leads, websites, funnels, calendars, and many other services required to maintain a customer. Out of the box, the platform allows you to White Label the Desktop Application.
Pricing
GoHighLevel comes with three pricing plans. The lowest GoHighLevel pricing plan costs $97/month, the other and the most popular GoHighLevel pricing plan is called Unlimited, costing $297/month, and the most expensive pricing plan is GoHighLevel White Label Mobile App + Custom Zap Upgrade, which costs $497/month.
Pros
Going High Level will save you money. High level consolidates the functionality of multiple platforms into one and charges you less for it while doing a better job.
You'll save time. The automation capabilities will be a game-changer for you and your business.
You'll make more sales.
Cons
If you're trying to start a blog for your business and looking for a new platform to launch your blog – Go High Level won't be able to help you much because it's not designed for blogging.
It's not suitable for eCommerce stores with a lot of inventory.
Streak
Streak CRM is a customer relationship management software that works inside your Gmail and other Google Workplace (formerly G Suite) apps. Streak is a fully embedded workflow (CRM) and productivity software in Gmail and empowers you to manage all your work right in your inbox. Streak often replaces entire CRMs and provides email power tools like email tracking. It's an ideal CRM for freelancers, startups, and small businesses, especially as a free plan and a solo version are affordable.
Pricing
The streak has four pricing plans – Free, Solo, Pro, and Enterprise. The free plan is ideal for individuals trying out Streak for an unlimited period. Coming in at $15 per user per month, the solo plan is designed for single users and professionals looking for an all-purpose CRM. Advertised as the company's most popular plan, the Pro plan is priced at $49 per user per month. Priced at $129 per user per month, the Enterprise plan is suitable for businesses looking for deep customization and data validation.
Pros
It is a well-designed tool that combines a robust CRM with the simplicity of Gmail. While it may seem basic initially, the agency boasts some powerful features that can improve efficiency and streamline your emails.
Streak is an elegant solution your entire team will want to use. The ability to archive emails and find This makes Streak a genuinely efficient tool.
Cons
The sync might not operate at times, and the plugin must be reconnected to your Gmail account, which can be inconvenient.
Because of the large number of spam postings generated by this tool, in comparison to other devices, it has a very high spam rate.
Whiteboard CRM
Whiteboard is a mortgage broker CRM system designed specifically for mortgage lenders recently acquired by Daily AI. Users can manage all aspects of a mortgage business, including lead generation, nurturing, loan processing, and campaign marketing, using external integrations and the custom-built CRM design. The "Mortgage Playbook" is a pre-built framework with the system. This CRM integrates loan processing platforms and popular real estate websites to produce buyer leads.
Pricing
Single-tier pricing: $79 per user per month
Setup fee: $299
Free Demo
Pros
LOS integrations, including Calyx and Encompass
Lead generation capabilities through integrations with Facebook Ads, Realtor.com, and Zillow
All-in-one mortgage lead tracking software
Cons
Relatively expensive pricing
No live chat support
No telephonic system built-in or through integrations
BN Touch
BN Touch is one of the finest mortgage CRM systems available, making it simple to manage contacts and opportunities, and communicate with buyers. Users can connect the platform with Calyx, LendingPad, Encompass, and ByteSoftware to manage applications and outstanding loans. The CRM is easy to use and offers a variety of subscription plans for individuals, teams, and multi-department companies. BN Touch's marketing and content creation capabilities are its most distinctive feature. Mortgage brokers may use video, email, SMS, voicemail, and direct mail to communicate with leads, customers, referral partners, and target audiences. The system offers hundreds of ready-to-use campaign templates and various campaign delivery and design options.
Pricing
Individual: $148 per user, per month
Team: From $158 per user per month
Enterprise: Contact for more information
Setup fee: From $79 per user
Free Demo
Pros
Options for multichannel communication include video, email, SMS, voicemail, and direct mail.
Compatible with LOS applications such as Calyx and Encompass
Integrations with Lending Tree, Zillow, and Homes.com, as well as automated lead distribution, are among the lead generation features
Cons
There is no free-forever plan
There is no live chat support
Only the Enterprise plan includes features for managing referral partners and marketing automation.
Jungo
Jungo's mortgage CRM is built on the Salesforce platform, which is the foundation for its success. This allows Jungo to utilize hundreds of Salesforce AppExchange integrations, Salesforce mobile app access, and various bespoke components. Jungo will feel at home with those with Salesforce Power Users experience, while others unfamiliar with Salesforce may need some time to acclimate themselves. Jungo also has live onboarding help and a wealth of information available.
Pricing
Single-tier pricing: Request a quote
Free Demo
Pros
There are hundreds of app integrations
Workflow automation, including loan management
The emphasis is on post-closing marketing
Cons
Hidden price and no free trial
Add-ons are helpful but costly
Steep learning curve
SureFire
Surefire is a specialized CRM for mortgage lenders offering retail and wholesale loans. It provides LOS integrations, content development tools, and powerful automation options for marketing, task management, lead distribution, and any other workflow that Zapier allows. Many mortgage professionals use visuals such as blog posts, videos, and graphics to educate customers and potential clients about the complicated buying process. Surefire's library contains over 1,000 premade content pieces that are fully compliant and ready to be applied to the marketing campaigns of its users.
Pricing
Should contact vendor for pricing
Pros
Content creation capabilities via built-in tools and integrations
Options for LOS integration
CRM system includes a comprehensive mortgage content library
Cons
Lacks transparent pricing
Users report the interface is difficult to navigate
Only has email support
How We Evaluated The Best Mortgage CRM Software
To determine the best CRM for mortgage brokers and home loan providers, we evaluated the program's features relevant to mortgage brokers and home loan suppliers. For example, the capability to connect with a loan origination system was one of the criteria. Creating buyer leads and keeping track of necessary mortgage paperwork are all responsibilities that each CRM must perform. We also looked at product characteristics like price, simplicity of use, and customer service when assessing general capabilities. Perhaps the most significant reason you should invest in a CRM system is that it may help you close more contracts and assist your clients in getting additional loans. Of course, every company's mission is to make money; the ideal mortgage CRM will help you close loans faster and less laboriously than your competitors.
We found Go High-Level the best mortgage CRM because it has a free plan, low prices, and an easy-to-use system. The most effective platform combines the abilities of numerous platforms into one and charges you less for it while doing a superior job. You will save both time and money. You will make more sales for your company. GHL does a few things well: import leads, automate communication, and scale marketing campaigns. These functions can be applied to new lead campaigns, refinance drips, and review management automation.
For this reason, business owners and marketers rely on GHL as their entire sales funnel solution. The automation capabilities will be a game-changer for you and your business. We highly recommend using Go High-Level as a custom mortgage CRM.
Conclusion
Investing in the appropriate CRM for mortgage agents can help you attract, handle, and retain customers. It will also simplify keeping track of particular loan procedures and organizing essential papers. We think any of the six sales software options mentioned on this page would benefit anybody entering or already working in the mortgage industry. Are you in the mortgage industry and looking for automation for your CRM? Book a FREE call with our experts for the complete setup.