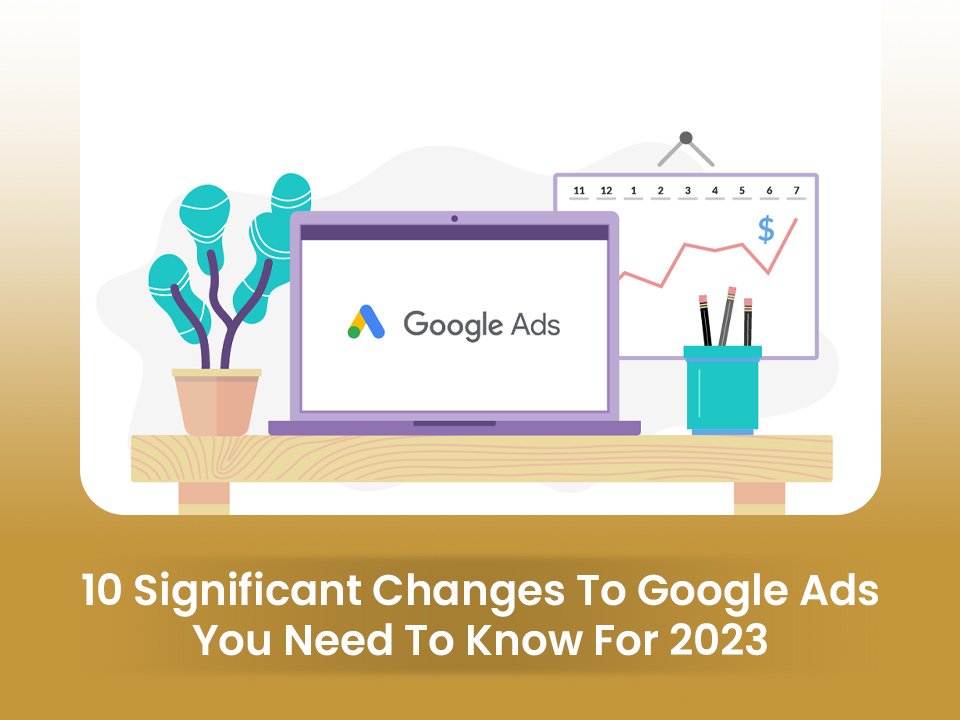 10 Significant Changes To Google Ads You Need To Know For 2023
There is never a dull day for PPC, and 2022 has proven it at every turn. Small businesses have been pushed across borders this year by disruptions in their supply chain, shifting consumer behavior, and soaring inflation. Of course, Google also took some big steps along the way.
This blog post explores the ten most significant changes to Google Ads that happened in 2022, offering actionable tips for adjusting your strategy for each. As you can see, it's a mix of good, bad, and a little sticky. Let's dive in.

1. Cost Per Lead Is Increasing (Almost) Everywhere
WordStream's recently released Google Ads Benchmark report shows a significant increase in cost per lead across 91% of industries. While the overall average growth rate is 19%, the arts/entertainment, travel, and furniture industries saw increases of 134%, 69%, and 54%, respectively.
The stats suggest that factors such as inflation-driven high prices and low commercial search advertising contributed to lower conversion rates and higher CPLs.
2. New Ad Types For Automotive, Finance, and Travel
Over the past two years, multiple industries have been forced to constantly adjust their strategies as supply chain issues, pandemic restrictions, and economic turmoil continue to upend our lives. Some of the changes to Google Ads felt like salt to the wound, but there were also positive ones. Several unique ad formats for specific industries were introduced.
Back in March at NADA, Google introduced vehicle listing ads, allowing auto dealers to highlight their new and used vehicles. Like Google's local inventory ads, this new vehicle listing ad will appear prominently at the top of the SERPs, highlighting the vehicle's image, price, condition, and location. Microsoft Advertising also introduced a similar automotive ad format for local dealerships.
These new vehicle info ads are managed much like Shopping ads and require a valid inventory feed regularly submitted and approved through the Google Merchant Center. Previously, Google Merchant Center had a strict policy that banned most cars from the platform.
3. The End of Expanded Text Ads Is Coming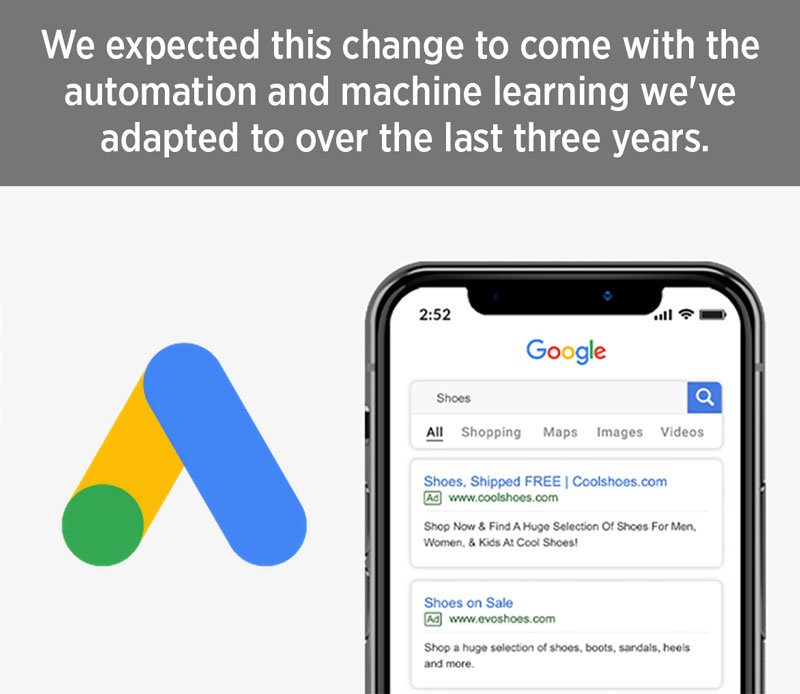 Every marketer takes pride in creating perfect text ads. For 22 years, the advertiser has manually created, tested, and optimized their PPC ads on Google. Over time, though, Google has introduced several new search ad formats. In 2016, Google doubled the size of its standard text ads with its expanded text ads. Furthermore, expanded text ads went big in 2018.
After years of transition, Google finally did away with expanded text ads in June, allowing advertisers to create the format that had defined PPC ads for years. Instead, Google's new default ad type is Responsive Search Ads (RSA). This allows the advertiser to provide several texts that Google can combine to create ads that load on SERPs for each search.
Microsoft had planned to end support for Enhanced Text Display in the summer following Google's change, but they pushed the deadline to February 2023.
4. Smart Shopping and Local Campaigns
E-commerce advertisers are familiar with shopping ads. Google released the Smart Shopping campaign type in 2018, allowing businesses to promote their shopping ads across Search, Display, and YouTube. With just one Google Merchant Center product feed, quality Google placement reach across the web was instantly available to any small business. Similarly, Google launched its local campaign in 2019, allowing local businesses to promote Google Business profiles on their Google Search, Google Maps, Gmail, Display, and YouTube.
Both campaigns delivered significant ROI for small businesses on small budgets and helped automate campaign management. However, earlier this year, Google stopped allowing advertisers to create these two campaign types and began automatically "upgrading" them to Google's newest campaign type, the P-MAX campaign type.
The P-MAX campaign has some unique features and provides even more reach through new ad placements such as Google's Discovery Feed. For many brands, it's a reason to celebrate! With more reach, placements, and automation, many advertisers with lower CPAs can significantly increase conversions.
But not all advertisers are happy with the loss of smart shopping or local campaigns. Google's fully automated P-MAX campaigns require sufficient data and budget to run smoothly. These campaigns can run on any budget, but advertisers see better results with larger budgets of $100 or more daily. Some may welcome this new inventory included in P-MAX as an increase in reach, while others may lament the added and uncontrollable costs.
Read More: 20 FUN AND ENGAGING INSTAGRAM STORY IDEAS FOR 2023
5. Similar Audience
Google introduced Similar Audiences nearly a decade ago to complement the reach of advertisers' remarketing audiences. With the success of Lookalike Audiences on its rival Facebook, Google doubled its Similar Audiences. Since then, they have been the basis of Google Ads campaigns for many advertisers.
However, new data protection standards have hit Google and Facebook's target group solutions hard. So in November, Google announced plans to move from Similar Audiences to a "stronger and more durable" audience solution over the next year. Advertisers have about six months left to use Google's Similar Audiences in their campaigns. Starting May 2023, Similar Audiences will no longer be added to new campaigns or ad groups. Shortly after that, in August 2023, all campaigns will be removed from the targets.
Google strongly encourages advertisers to update their audiences before migration and to rely on their data when creating new audiences for their campaigns, such as customer match data. Additionally, Google recommends using smart bidding strategies and optimized targeting to optimize campaign performance further. Advertisers looking to expand their reach beyond first-party data can benefit from Google's audience expansion after phasing out Similar Audiences.
Interestingly, Microsoft needs to follow Google's lead in this regard. On the same day Google announced its plans to end Similar Audiences, Microsoft Advertising announced that it would expand its Similar Audiences solution to additional international markets.
6. New Insights Into How Your Competitors Advertise in SERPS
In 2021, Google announced that it would expand its advertiser verification program to provide more advertising transparency to users who see targeted ads inside and outside SERPs. Thanks to these efforts, Google launched My Ad Center in October. This allows searchers to see how advertisers are reaching them.
My Ad Center features include a powerful new tool called Advertiser Pages. On these advertiser pages, users can view all other ads that the advertiser has posted in the last 30 days.
Click the three dots next to the ad to view the company's advertiser page. From there, you can view details from verified advertisers, such as the official company name and address. Interestingly, you can also click "See more ads from this advertiser."
From here, you can see all ads the advertiser has served in the last 30 days. You can also filter these results between text, image, and video ads. This new tool is designed to provide transparency to Google's users but could also help existing advertisers spy on their competitors.
7. New Advertising Media for Company Names and Logos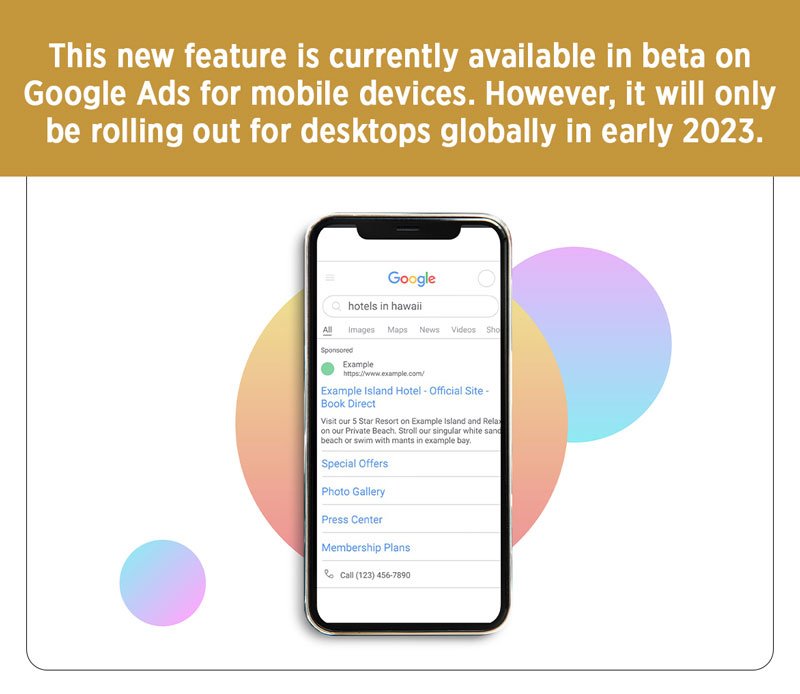 Companies often need help to differentiate themselves on crowded SERPs and defend their brand names to prevent competitors and other advertisers from trying to promote illegally. Sometimes it's necessary. Verified advertisers can now use the new business name and logo ad assets in their SERPs and receive some protection from Google.
These new assets are only available to verified advertisers. These new ad assets are a visually compelling addition to your ads and help improve performance.
Google believes its policies on these company name and logo assets will reduce identity theft and fraud. Advertisers must complete a verification process with Google to take advantage of these new features. In addition, advertisers can only use this feature to highlight exact matches to their legal business name or domain name. Logo assets should also be prominently displayed and verified advertiser IDs must match.
8. New Voice Over Feature for Video Ads
Thanks to the rapid growth of TikTok and its accessible editing features, Google introduced new features to video ad content this summer. Among the improvements, advertisers can now add narration to their existing YouTube video ads without any additional editing. Google previously said that less than half of its video ads contain narration.
Advertisers can choose from eight different voices (four male and four female) for the narration, provide a script, and preview and edit the narration directly in Google Ads. No additional video editing software or video experience is required.
9. Audio Ads Now Support YouTube and Smart Speakers
As streaming content and other OTT services become the norm for most consumers, many advertisers are beginning to change their strategies and budgets. Google enthusiastically announced earlier this year that they would meet this demand from the growing number of music and podcast listeners on YouTube with a new audio ad campaign.
This new subtype of a video campaign is designed to help advertisers reach users while listening to music or podcasts, where highly visual video content typically needs to be improved.
10. Broad Match Beta Testing Leaves Us in the Dark
So there was a mix of positive and negative changes. We'll leave the latter up to you.
In October, Google introduced a limited beta feature that allows advertisers to enable broad keyword targeting at the campaign level. Given that broad match keywords and smart bidding are always pursued, this isn't surprising, but even if it was just a beta test, seeing options without match types is a bit unnerving.
Is there a future without keyword match types? We don't know yet. However, Google confirms that the keyword match type is going nowhere as of now.
The Bottom Line
While the economy and SERP changes cost us a lot, and we lost some flashy features in Google Ads this year, there were undoubtedly some welcome additions to PPC campaigns. We are still determining what Google has in store for us next year, but the only certainty is more change. But with these resources, you have plenty of chances of success in 2023.
Hiring a digital marketing agency is cost-effective for companies looking to improve sales and grow their business. Digital marketing agencies help companies attract new customers, improve brand awareness, and generate more revenue.
Ready to start growing your business with Gold Lion Technologies? Our goal has always been to help businesses reach their goals and to be the leading solution for their clients. Contact Us for a session for a FREE business audit.