What are the Best Tips for Coming Up with a Perfect Brand Identity?
A successful brand identity is more than simply a logo, a website, or business cards; it is a synthesis of graphics and strategy. A marketer's responsibility when developing a brand identity is to consider everything from the logo to the marketing materials.
A good brand identity takes time to develop. You cannot just choose a few colors and put a logo together randomly. You must approach design carefully in order to create an identity that accurately portrays your brand—and can develop with you. This involves critical thinking, a team with excellent communication and creative abilities, and a thorough grasp of who you are, what you do, and how you want to convey your brand to the world.
This effort is not simple, but it is critical for any brand. Therefore, if you're going to do anything, you may as well do it well. Naturally, confronting a brand identity may be scary and perplexing. What should it contain? Where do you begin? Who is required to participate?
Well in this article, we will discuss what it takes to create a perfect brand identity for your business, but first let's take a look at what is brand identity and what constitutes a strong brand identity.
What Is A Brand Identity And How Does It Work?
In a nutshell, your brand identity is how your target customer views your business. Most marketing professionals advise approaching your brand as if it were a real person. You should think of your audience as a group of potential friends with whom you wish to interact. You must favorably affect how this group views you in order to persuade them to enjoy and participate with your organization.
The majority of consumers choose to do business with firms that share their beliefs and provide a product or service that improves their lives. Starbucks, for example, recognizes the value of a strong brand identity and works tirelessly to maintain a positive public view of their company. Starbucks used the power of social media to reach out to their target demographic, resulting in a huge success.
What Is Included in a Brand Identity?
When you design a brand identity, you're essentially creating a toolkit of visual components to aid in successful communication. This might be simple or complex, depending on your brand's requirements.
Regardless, every brand need a baseline identity that consists of three elements:
Logo
Color palette
Typography
You may develop more features to represent your brand across media if you publish a greater range of material (or intend to), such as:
Photography
Illustration
Iconography
Data visualization
The good news is that you don't have to complete all of your designs at once. Start with the basics of logo, color, and typography if you don't have a lot of resources (or don't know what your future demands will be). Additional features may be added as needed.
We have put together a guideline that will help you to create a perfect brand identity for your business,
8 Points To Consider When Creating A Brand Identity
01. You Must Learn More About Your Target Audience
The majority of novices to the realm of brand identity underestimate the importance of getting to know their target audience. Trying to develop an identity without first figuring out who your target audience is may lead to a slew of issues. How are you going to develop the correct identity for your company if you have no clue who you're attempting to connect with?
When seeking to learn more about your audience, you should concentrate on their specifics. Knowing your consumers' age, gender, income, and educational level may be quite beneficial. Take a peek at your competitor's social media profile if you're having trouble finding this sort of information.
In general, you'll be able to figure out who their target audience is and how they appeal to that group. While you should avoid copying ideas from your competitors, you may adapt their concepts and make them your own.
02. Concentrate on Providing Value to Your Audience.
You may start digging for information after you've figured out who your main audience is. Understanding what makes your target audience tick will enable you to provide more value via your brand identity. You can quickly adjust your product to meet your audience's purchasing behavior if you know what motivates them to purchase your items or services.
While some firms may need to give their customers counsel and assistance, others will simply need to amuse them in order to attract customers. If your target demographic is more receptive to humor, focus on developing a brand identity that incorporates a sense of humor.
03. Visualize the Characteristics of Your Company
It's critical to be able to provide a visual picture of your company's personality to potential clients. Consumers expect to be amazed by bright visuals, colorful logos, and engaging video content in today's advertising world.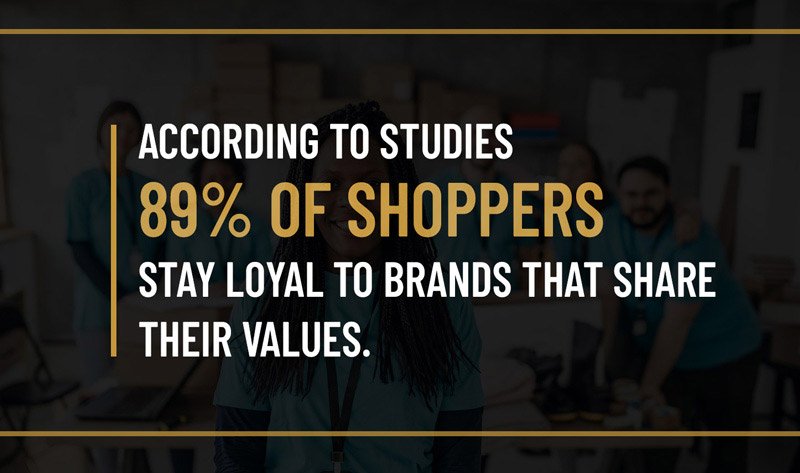 Source: https://www.smallbizgenius.net/by-the-numbers/branding-statistics/#gref
Moreover, having a fantastic blog on subjects that are important to your business is great.
Source: https://www.smallbizgenius.net/by-the-numbers/branding-statistics/#gref
Consumers are more likely to watch and share a video than to read a blog. There are a few ground rules to follow if you want to utilize video to enhance your brand's message. The first tip to bear in mind is that keeping your films short and sweet is a smart idea. It's dangerous to make a video that's longer than three to four minutes. Because today's customers have notoriously short attention spans, remaining on topic and keeping films under two minutes is your best chance.
04. Use Emotion to Reach Your Audience
Using emotions to reach your audience is a terrific concept if you're seeking a guaranteed strategy to connect with them. You want your brand to communicate an emotional tale that people will connect with. In the field of fitness DVDs, this method has been utilized for years.
Advertisements for popular goods like P90x specifically target couch potatoes. They demonstrate to their audience what can be accomplished if they follow their program for 90 days. Many of the infomercials produced by these firms depict the tale of overweight individuals regaining control of their lives with the aid of their treatment. Customers who are having trouble losing weight frequently have an emotional reaction to this knowledge.
It's not simple to come up with an emotional hook for your advertising efforts. This will very certainly need some trial and error. In the long term, the time and effort you invest into improving your brand identity will pay dividends.
Read more about HOW TO BUILD BRAND IDENTITY?
05. Maintain As Much Simplicity As Possible
Complication is one of the most common errors people make while creating a brand identity. Ideally, your brand identification and marketing message should be as basic as possible. Overcomplicating your strategy might turn off potential clients, affecting your bottom line in the long run.
When it comes to choosing a brand identity, using logo design concepts may be really beneficial. Professional logo designers will normally go through many rough versions before settling on a design that works.
Unnecessary parts are often removed from their original designs since they do not bring value to the customer. By removing extraneous information and components from your brand identity, you may make your firm more approachable to today's customer.
06. Maintaining Consistency Is Crucial
You must concentrate on maintaining consistency in order to have a good brand identity. Businesses, for the most part, employ a variety of marketing platforms on a regular basis. These outlets range from social media to full-fledged websites. Hire a skilled graphic designer to create your website and web pages, ensuring that your brand's message and voice are consistent across all platforms.
Failure to maintain this degree of consistency might reflect poorly on your company. If you don't have the time or knowledge to manage your company's branding, enlisting the services of marketing pros is a terrific option. By posting material on a frequent basis, they will be able to keep your message constant. This information should be useful to your audience and relevant to your industry.
07. Social Media Marketing Suggestions
Unless you've been living under a rock for the last decade, you're well aware of social media's influence. When utilized appropriately, social media may aid in the growth of a company from start-up to success. Using social media sites like Instagram, Pinterest, Twitter, and Facebook to spread your company's branding message may help you reach a wider audience.
When you're building new social media accounts for your company, be sure to include your logo prominently. A profile photograph is available on many social networking networks. It's critical to ensure that this image is consistent across platforms. You may develop a feeling of brand consistency that potential consumers would draw towards by doing so.
08. It's Difficult To Respond To Negative Reviews
While many companies wish for nothing but favorable feedback from their customers, this is seldom the case. With time, you will almost certainly be confronted with a negative online review from a former consumer. Maintaining your brand identity depends on how you manage this evaluation. When you get a negative review, your first priority should be to try to resolve the issue that the consumer has with your organization.
Openly arguing with a consumer on the internet can ruin your reputation and may result in a loss of business. This is why, while dealing with these potentially devastating circumstances, you must adopt the "customer is always right" approach.
Follow these suggestions to come up with a perfect brand identity for your company and business.