How To Use Hashtags on LinkedIn: A Step-by-Step Guide
For anyone born before the early 90s, their first instinct might be to call the # symbol a 'pound sign'. And many automated telephone messages do include a 'Press the pound key to…' option. This name came from the symbol's original use, as an abbreviation derived from an old Roman symbol 'libra pondo' or 'pound weight' (in case you ever wondered why the heck 'lb' means 'pound' you can thank the Romans for that one too). It's now more commonly known as a 'number sign', and it's seen before a number to denote its order or ranking in a list. You'll probably see it the next time you order a #2 combo meal special, or on a CD track listing if you're one of the five people that still owns any of those in 2021.
However the internet savvy generation today knows it as a 'hashtag', a name that has its roots in Twitter…sort of. While the hashtag that we've come to know and love originates from Twitter, the man behind the symbol's use -Chris Messina- was inspired by the ways it's used in computers to label something as separate from the rest of the text. It then went on to become a way of labeling chat rooms in the 1980s by different groups and topics. Anyone who uses Slack is familiar with this incarnation of the iconic four crossed lines. When introduced to the microblogging network, hashtags became a way of categorizing messages (#mondaymotivation, #GOTV, #footballseason and so on). It's also taken on a new meaning as a sort of rallying cry, used whenever someone is including a buzz phrase or slogan in their messages; these are often political or socially conscious in nature, but other times it's to show participation in a viral trend (#shareyourdog, #nomakeupselfie, etc).
Not wanting to fall behind, other social media sites have adopted the use of hashtags for the same purposes. Even LinkedIn allows users to add hashtags to their content. Does that sound strange, given that LinkedIn is the 'professional' social media platform? A little. But is it useful for market research, content creation, and branding and design? Absolutely!
Status Update
Hashtags are extremely easy to use. The trick is knowing which hashtag that you should be using. When you create a status update on LinkedIn, pressing # will cause suggested words and phrases to come up as you type. These auto-generated suggestions are based on what's currently trending. When 'market research' becomes #marketresearch we get the following suggestions: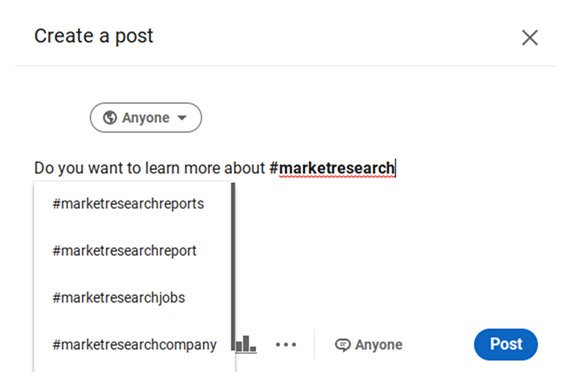 In the bottom left corner of a status update you will also see a button reading 'Add hashtag'. By clicking when the status is blank it will add the # for you. Start typing and then those suggestions will pop up again. If you type a longer status message then it will start to recommend hashtags that you can use based on keywords in your message.
Look at the example status below. 'Branding and design is extremely important for any business that wants to stand out in a saturated market'. The recommended hashtags are 'business', 'design', and 'branding'.
Article
LinkedIn doesn't allow for users to add hashtags to their articles at the moment.
You can, however, add them to the description section of an article that you post.
Business Page
If you have a LinkedIn account then you know how much they love to remind you to complete your profile. If you have a LinkedIn business account then you know how much of a difference it can make if you don't complete it. Adding hashtags here will get that little something extra you need for your content and information to land in front of the right pairs of eyes.
First, go to the homepage for your business account. Go to the suggestions for page completion under 'Build Your Page'. Find 'Hashtags' and click on the 'Add' button. A small separate window is going to pop up. Here you can add up to three relevant hashtags to create a hashtag feed. It allows you to participate in conversations with other industry figures, and to see which hashtags others are using for your own content creation purposes.
LinkedIn Hashtag Dos and Don'ts
Hashtags are a must for anyone looking to expand their professional network and establish powerful new connections as part of a growth strategy. If you have only 50 followers, including a hashtag with 2,000,000 followers will net you far more impact than second-degree and third-degree connections could dream of doing. Even if you have 500 followers, neglecting to include hashtags is severely limiting your reach. So the only 'Do' here is make sure that you do use hashtags!
There are a few don'ts to keep in mind though. Much like SEO content creation for your site's blog, there are keywords that you should include and keywords to avoid. If your hashtags aren't currently popular then you will experience significantly less impact. Make sure that you're not using hashtags which will reflect poorly on you and possibly harm your reputation. If you're attending a conference in Florida. If you're posting on a Saturday then something like #funinthesun is harmless, but #sunsoutbunsout? We highly recommend against it.
Hashtags also fall prey to the universal constant that is too much of a good thing. LinkedIn suggests using no more than three hashtags. And remember that these hashtags aren't meant to replace the actual copy or content, nor do they provide context. They're just labels that like-minded thinkers and entrepreneurs can use to find their peers, like you.
Finding the right hashtags can be a bit tricky because there are so many to wade through. You don't need to use guesswork alone though. When you're on your feed there is a bar on the far left. At the bottom is the list of hashtags you're following, and beneath that is a 'Discover More' button. Clicking on it will take you to a tool which recommends people, jobs, business, and hashtags to follow. Each recommendation also shows the number of followers they have. If you want to find a specific hashtag to follow, simply go to the search bar at the top and type it in. Could it get any easier than this?
Yes, It Can
The work that goes into optimizing your LinkedIn hashtags and content creation strategy can quickly be simplified with the right team on your side. The less time you have to spend on market research, the more time you have to focus on running your business. We'll take care of the rest, just tell us what you need to succeed.