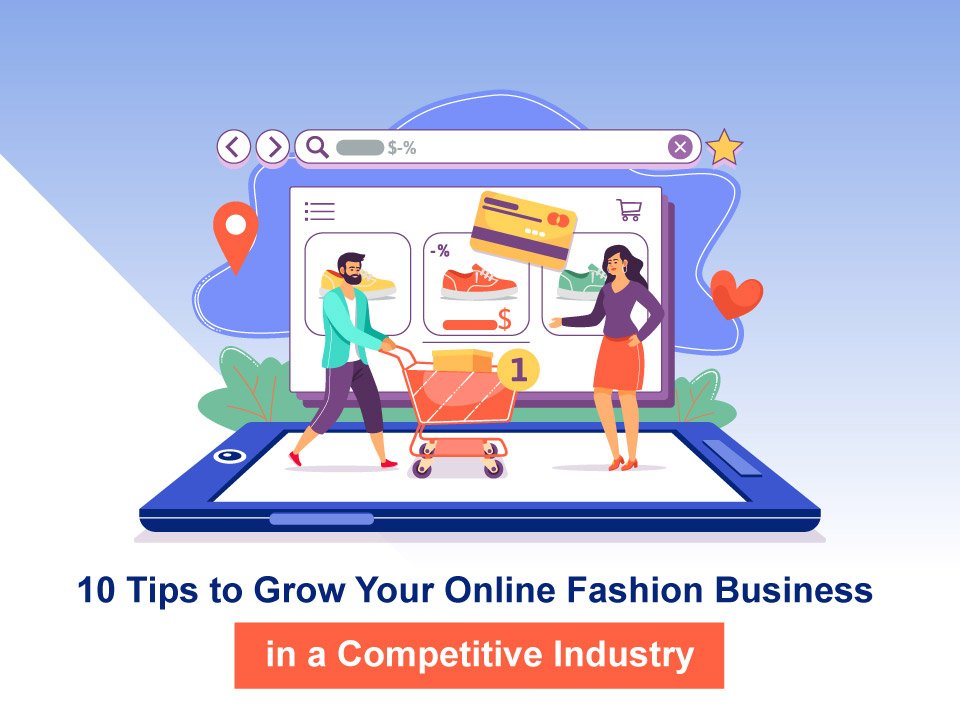 10 Tips to Grow Your Online Fashion Business in a Competitive Industry
The fashion industry is one of the most competitive industries in the world. But that doesn't mean it's impossible to succeed as an online fashion retailer. In fact, with the right strategy, you can survive and thrive in this cutthroat industry.
If you're a fashion business owner, you know that the online space is highly competitive. Despite this competition, there are still tactics you can use to grow your business and stand out from the rest. We'll share ten tips to help you do just that in this blog post. Keep reading to learn more!
Ten Tips to Help You Grow Your Online Fashion Business
1. Find your niche
2. Invest in quality product photography
3. Use social media to your advantage
4. Offer unique, stylish products
5. Provide stellar customer service
6. Invest in search engine optimization
7. Run targeted online ads
8. Offer Incentives and Discounts
9. Make Your Website Easy to Use
10. Stay up-to-date with industry trends
By following these tips, you'll be well on your way to growing a successful online fashion business.
1. Find Your Niche
Online fashion businesses are becoming increasingly popular, but it can be tough to stand out in such a competitive market. One of the best ways to make your mark is to find your niche.
Whether you specialize in vintage clothes, plus-size fashion, or eco-friendly apparel, developing a niche allows you to focus your efforts and better connect with your target audience. Once you've found your place, you can use a few key strategies to grow your online business.
2. Invest in Quality Product Photography
In the world of online shopping, product photos are crucial. After all, your customers can't physically see or touch the items they're thinking of purchasing. That's why it's so important to invest in high-quality product photography.
Hire a professional photographer or use a quality camera to take well-lit, detailed photos of your products. Don't forget to include shots from different angles so customers can get a good sense of what they're buying.
3. Use Social Media to Your Advantage
Social media is a powerful marketing tool, and it's beneficial for growing an online fashion business. Platforms like Instagram and Pinterest allow you to showcase your products and connect with potential customers worldwide.
Make sure you're active on social media and that your posts are consistent with your brand identity. Use hashtags, run contests, and partner with influencers to get your products ahead of as many people as possible.
4. Offer Unique, Stylish Products
In the fashion industry, it's essential to offer unique and stylish products. Customers should be able to find items at your store that they can't find anywhere else.
Invest in quality designs and source your products from reputable suppliers to achieve this. When your customers know they can count on you for stylish, one-of-a-kind pieces, they'll be more likely to keep coming back to your store.
5. Provide Stellar Customer Service
In any industry, customer service is essential. But in the fashion industry, it's necessary. Since customers can't try on or touch the clothing before they buy it, they need to be able to trust that they can return or exchange items if they're not happy with their purchase.
Make sure your returns and exchanges policy is clear and easy to find on your website. Respond to customer inquiries promptly, and do whatever you can to make the process as smooth and hassle-free as possible.
6. Invest in Search Engine Optimization
Search engine optimization (SEO) is the process of optimizing your website to rank higher on search engine results pages. This is important because it helps you attract more organic or unpaid traffic to your site.
There are several ways to optimize your site for SEO, including keyword research and link building. If you're not familiar with SEO, plenty of resources are available to help you get started.
Read more about SEO OR SOCIAL MEDIA WHICH IS A MORE CRITICAL MARKETING PRIORITY?
7. Run Targeted Online Ads
Paid advertising is another great way to attract more visitors to your website. When done correctly, online ads can be highly effective in driving traffic and generating sales.
You can use several different types of online ads, including display ads, search engine ads, and social media ads. When creating your ad campaigns, target your ads to the right audience and use effective keywords and visuals.
8. Offer Incentives and Discounts
Everyone loves a good deal, so offer incentives and discounts to encourage customers to shop at your store. You can submit a value for first-time customers, run seasonal sales, or create a loyalty program to reward returning customers.
Just be sure not to offer discounts too often, as this can devalue your products and turn off potential customers.
9. Make Your Website Easy to Use
Your website should be easy to navigate and understand. Customers should be able to find what they're looking for without any trouble, and the checkout process should be quick and straightforward.
To achieve this, invest in a quality web design and use clear, concise text on your site. Include high-quality photos and videos, and make sure your website is mobile-friendly.
10. Stay Up-to-Date on Industry Trends
To be successful in the fashion industry, it's essential to stay up-to-date on the latest trends. Pay attention to what's popular on social media, read fashion blogs and magazines, and attend trade shows and events. This will help you stay ahead of the competition and give you ideas for new products and designs.
Conclusion:
The fashion industry is a competitive marketplace, but there are several things you can do to make your store stand out from the rest. By offering unique and stylish products, providing stellar customer service, and investing in SEO and online advertising, you can attract more visitors to your site and generate more sales. Stay up-to-date on industry trends and make sure your website is easy to use, and you'll be on your way to success.
Please share this article with your friends and followers if you found this article helpful! Thanks for reading!